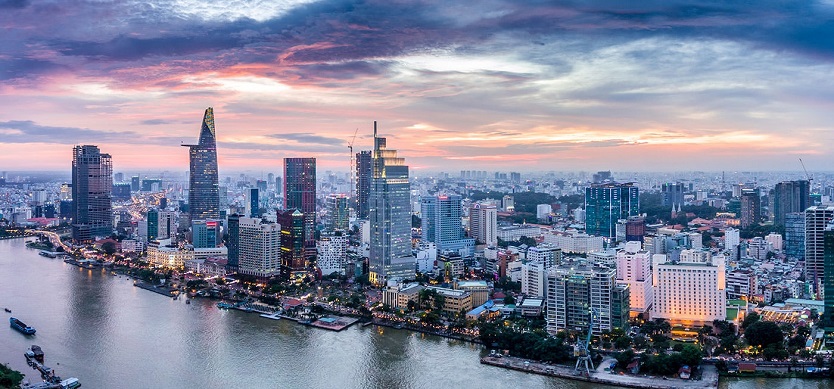 Ho Chi Minh City in Vietnam is known as the beautiful city in Vietnam with amazing and wonderful destinations for travelling and cuisines for enjoying.
Therefore, there are a lot of tourists wanting to visit the city one time when having a chance to take Saigon excursions. It is the reason why the post will introduce the imposing city to all readers.
Weather
It has a tropical monsoon climate, weather in Saigon divided into two rainy season and dry season markedly. The rainy season lasts from June to November with the sudden rains without notice, sometimes when the sun is suddenly raining heavily. However, the rains in Saigon usually do not last long. So, when is the best time to visit Ho Chi Minh City? During 12 months, Saigon is always suitable for tourists to choose as a destination for their vacation.
Transportation
In order to get HCMC, tourists can choose a car, flight or train for transfer.
If you travel from Hanoi to HCMC by train, you can buy a ticket at Hanoi station with types of tickets such as soft beds, hard chairs and beds. Thong Nhat train runs the fastest between Hanoi - Saigon is 30 hours. Furthermore, if you transfer by car, you can easy to buy a ticket at the station of car brands such as Mai Linh, Hoang Long and so on. Price of the ticket will from 900.000VND including food and water throughout the journey.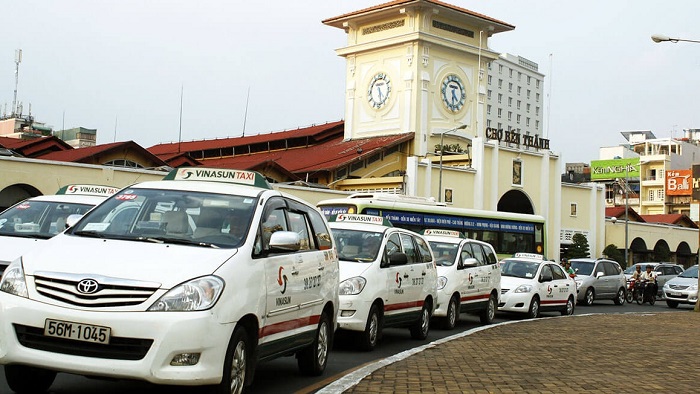 Taxi in Ho Chi Minh City
Time for transferring is over 40 hours depending on each car. However, planes are a good choice for you when not having much time. It takes about 1h50 minutes from Hanoi to get to Saigon. The price of airfare is not too high, if you plan to go on vacation for a long time, you can buy cheap at just about 1,500,000 VND round trip.
Public transport in Saigon is quite rich and polite. If you are on the road, you can go to the attractions, have fun by bus. Furthermore, if you transfer by taxi, you should choose reputable taxis such as Mai Linh, Hoang Long, and etc. However, before entering the taxi, you should pay attention to the meter, car code in case of forgetting luggage or problems arise. Moreover, you can rent the motorbike for travelling around Saigon which is known as the best way of saving money with about 100.000VND/ day. The procedure of renting is quite simple when you just leave your identity card with a small amount of deposit as stipulated that you have got yourself a convenient means.
Hotels or resorts
As the biggest city of the country, Ho Chi Minh City is home to numerous luxury hotels. If you want to save money or travel with a budget, you can set in mind that there are a lot of cheap hotels in HCMC with price from 200.000VND/ day. You can choose hotels located in the centre in streets such as Nguyen Trai, Le Thanh Ton, Ben Thanh market, Pham Ngu Lao street which will help you easy to visit surrounding places.
Places for visiting
HCMC is always known as the wonderful city with a lot of amazing destinations for travelling such as Ben Thanh Market, City Post Office and etc.
Central Post Office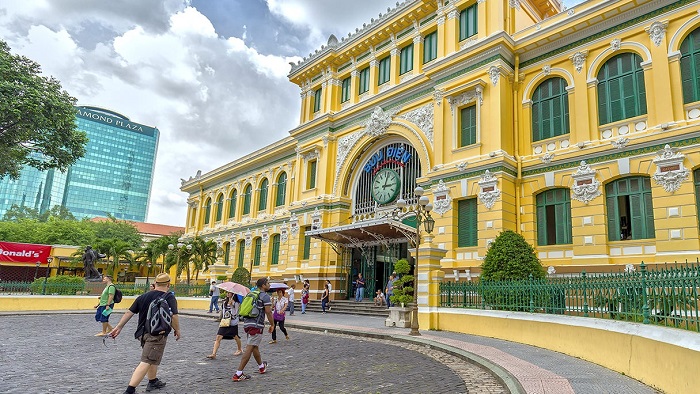 Saigon Central Post Office
This is a famous architecture in Ho Chi Minh City built with characteristic French architecture typical value of the city, with more than 120 years old (1886-1891), the point of no visit. This is considered as the pride of the people, so when visiting HCMC, tourists can not miss out of the place. At this point, visitors not only see the unique architecture of the post office but also immersed in the ancient world, from the mailbox to the telephone call. Furthermore, in front of the Notre Dame Cathedral, when looking to the two sides of the place, you will have the chance to admire high-rise buildings. This harmonious combination transforms this place into a place that brings old beauty and is filled with the breath of modern life.
Independence Palace
Independence Palace or Reunification Palace is a project located on a 15ha land in the heart of the city. It's the bold print of time and schedule but also it's very romantic with a building in the shape of sand (good) in the middle of the green campus with tall trees. The palace has many different names throughout the periods such as Norodom Palace (1889 - 1954), the Prime Minister (9/1954 - 10/1956), Independence Palace (10/1956 - 10/1976) and today is Reunification Hall. This is not only a unique architectural work but also a place to hold many historic events of the city in particular and the country in general.
Notre Dame Cathedral
Located in the centre of HCMC, Notre Dame Cathedral has no fence and adjacent campus. The church is a landmark in urban space, with beautiful views from all sides. The architecture of the cathedral has created a wonderful light effect in the interior, giving a sense of calm, holiness and dignified. It can be said, Notre Dame Cathedral is a perfect architectural work, is a symbolic representation of Saigon. Not only fascinated tourists from far away, Notre Dame Cathedral with majestic beauty but it's close, rustic and simple has become a famous shooting location for wedding couples, artwork.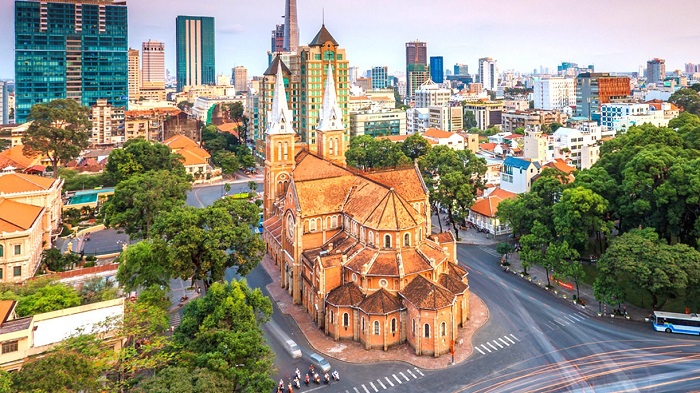 Notre Dame Cathedral
Ben Thanh Market
Ben Thanh Market is considered as a symbol of city tourism. The square is built in the square with four main doors including east, west, south and north. Travelling to Ben Thanh Market, visitors can shop for their favourite items or enjoy delicious food in the dining area. Especially at night, Ben Thanh night market attracts hundreds of tourists to shop and enjoy delicious food from late evening to late.
Opera House
Located in between Le Loi and Dong Khoi Street, Opera House is "must-see" destination in HCMC. Built more than a century ago, the theatre retains the character of Western architecture. The theatre is not just a place for music events, but it is also home to the city's major literary, artistic and social events.
In addition, such attractions as the War Remnants Museum (Vo Van Tan Street, District 3); Ethnographic Museum (Nguyen Binh Khiem Street, District 1); Historical Museum of Vietnam (Ly Tu Trong Street, District 1), Lon Market, Nha Rong harbor, City People's Committee are also full of interesting places you should visit.
Hope that after the post, tourists will have an overview of HCMC and necessary information as well as the best places for travelling in there. If you want to visit the city and get more information, you can visit Vietnam Tour Booking to know more.