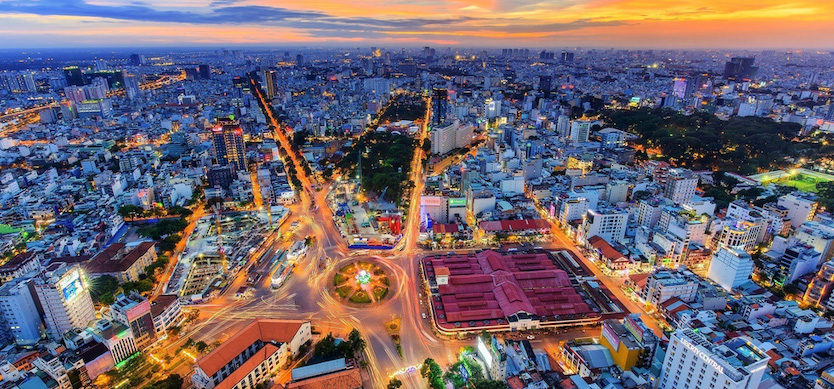 Saigon is the largest city in Vietnam with two distinctive seasons including rainy season and dry season. So, what's the best time here?
The dry season starts from December and ends in April next year, and the rainy season lasts from May to November. This article will reveal some characteristics of the Ho Chi Minh city weather and the climate in Ho Chi Minh city so that you can choose the best time for traveling to Ho Chi Minh city.
Dry season
In the dry season, it can be said that the weather is perfect for the trip to Ho Chi Minh city. The space is surprisingly beautiful with blue sky, floating white clouds and bright golden sunshine going through the area between leaves.
Besides, in the morning, you can take a stroll around the Notre Dame Cathedral, visit the park to drink a cup of coffee or enjoy "banh trang tron" (mixture rice paper). On sunny days, you should visit the famous markets such as Ben Thanh and Cho Lon, all of which are busy and bustling all the time. Besides, we can leisurely sit beside a cup of bubble milk tea behind the Opera House to watch the peaceful space of the city.
Rainy days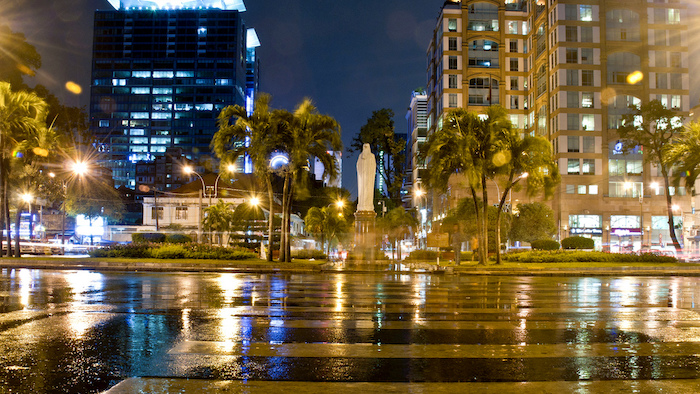 Saigon in the rainy season
Saigon is characterized by a hot and humid climate with high temperatures. Therefore, this city rains so much and has 160 rainy days of rain each year; the average rainfall reaches 1,949 mm per year.
Ho Chi Minh city in the rainy season is like a young lady with unpredictable and changeable characteristics. Sometimes the rain pours down all day and night, but sometimes it drizzles, which is much enough to wet the sunny road.
In case you have Saigon excursions on days of pouring rain, you still can enjoy your exciting trip by entering a lovely coffee shop, sipping a cup of coffee or hot milk and watching the heavy rain.
Traveling in Ho Chi Minh city in the rainy season, the weather becomes mild, and the temperature significantly decreases. After the rain, you can wander around the city to breathe cooling air and admire the shimmering rainbows in the sky.
New Year
Visiting Ho Chi Minh city before the Lunar New Year, you will see the poetic beauty of the city that is covered with colorful flowers. The traditional markets, the spring flower fairs all over the districts and the Binh Dong river wharf have a significant number of boats and canoes carrying flowers. Moreover, Saigon has its famous street that is home to all kinds of flowers.
Christmas
On Christmas, you will have the opportunity to admire the beautifully decorated caves in the religious centers and shimmering and magical lights also light the city center.
Best ways to explore Saigon
Taxi
Traveling by taxi is one of the easiest ways to get around Ho Chi Minh city as you can find several vehicles parked outside famous hotels, landmarks, bars, and restaurants.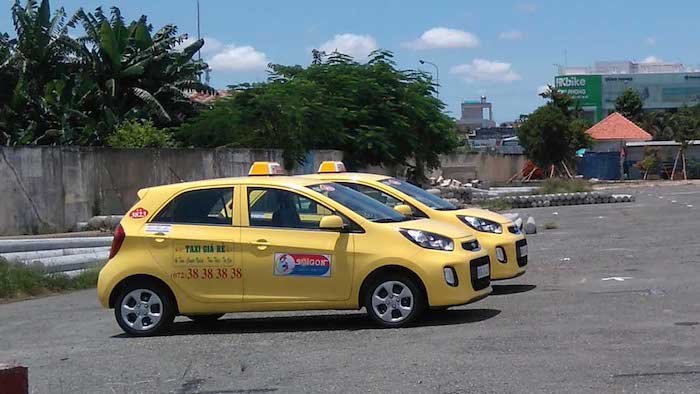 Taxi in Ho Chi Minh city
The standard taxi fare is between VND 10,000 and 15,000 per kilometer. In District 1, you should be able to get to most places for less than VND 80,000. Note that taxi scams are quite common in Saigon, so stick with legitimate taxi companies such as Mai Linh Taxi or Vinasun.
Motorcycle taxi
An accessible yet exciting mode of transportation in Vietnam is a motorcycle taxi, where you will be weaving through the bustling traffic with an experienced driver. It's also relatively inexpensive as it's priced between VND 10,000 and 15,000 depending on your destination (and haggling skills). You can also opt for an hourly booking fare of VND 25,000, which is quite the steal since you're able to explore an entire district within a short amount of time.
You're also provided with a helmet for safety. Just make sure to keep your knees in, and most drivers appreciate you looking out for traffic and hand-signaling a turn. The only downside to xe om is the language barrier, as most locals can't converse in English.
Cyclo
The three-wheeled cyclo is diminishing transportation in Saigon, mostly found nearby famous landmarks, temples, restaurants, and bars. With an hourly rental of VND 20,000, most travelers opt for cyclo to travel between the city sights or short trips within the Dong Khoi district.
Due to the rather bustling traffic in Ho Chi Minh city, we suggest against all-day cyclo tours. However, traveling via cyclo can be quite a memorable experience for thrill-seeking travelers.
Bus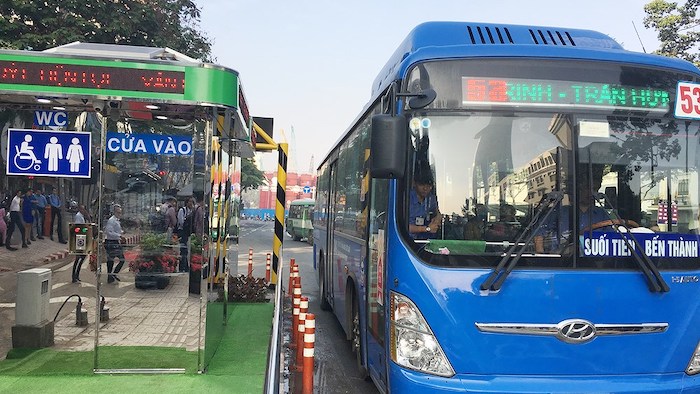 Explore Saigon by bus
Serving more than 100 routes around Ho Chi Minh city, buses are grand for exploring the city on a tight budget. Easily distinguished by its white and green exterior, all buses are fitted with comfortable seats and air-conditioning, with tickets priced as low as VND 3,000. Major bus terminals within the city include Ben Thanh station (where you can get a free map of the Ho Chi Minh bus route), Cholon station, and Western station.
Rental bicycle/motorcycle
Bicycle and motorcycle rentals are available all over Vietnam, though most travelers decide against renting one in Saigon due to the city's chaotic traffic. Most hotels can help arrange for bicycle and motorcycle rentals, but these come with very inflated prices, so your best bet is heading to the Pham Ngu Lao district, where a full-day bicycle with helmet costs from VND 20,000 while motorcycles are about VND 120,000.
You can choose any month all year round to plan a trip to Ho Chi Minh city, but the dry season is probably a better choice. Besides, if traveling here on several special occasions, you also will discover the unique beauty of the city. For further information about Vietnam tours, don't hesitate to let us know or visit our website. Please like and share the article if it's useful for you. Thank you.