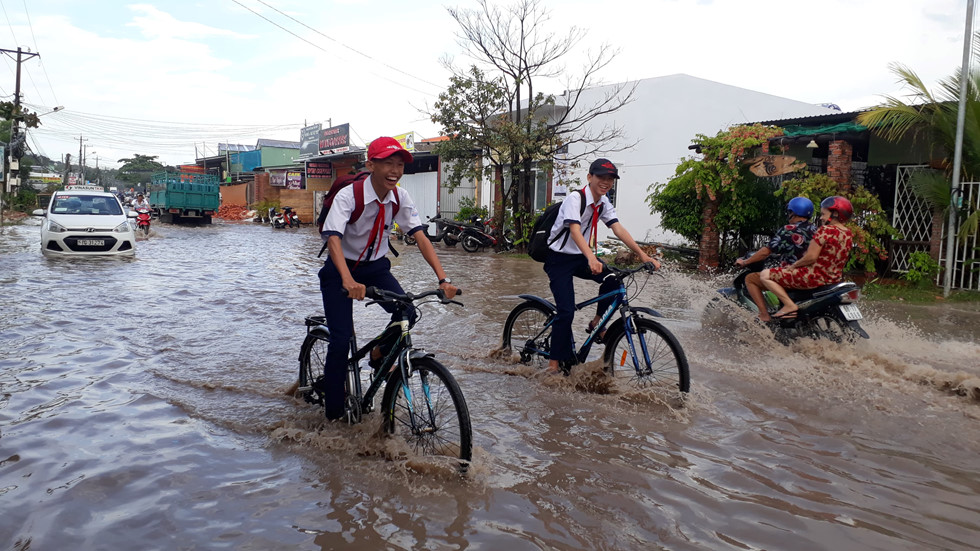 What is more upset than having a chance to visit Phu Quoc but the weather is inconvenient? Read our guides to save the best memory here on rainy days.
Phu Quoc is known as a famous tourist destination in Vietnam as well as "the pearl" island in the beautiful country. The place attracted tourists by amazing and beautiful places for traveling as well as unique dishes, especially seafood. Furthermore, the weather of Phu Quoc island is quite good so that you can visit the site at any time of the year.
However, to have a good trip to Phu Quoc from Mekong Delta during the rainy season (from July to December), you should pay attention to some tips below.
Restrict boat trips
The rainy season is usually the first hurricane season. Phu Quoc is not affected by typhoons. Some hurricanes can affect the movement of vessels. There are delegations to Ha Tien pier and no way to pass Phu Quoc by boat or ferry. Therefore, if you want to be safe on your trip, you should choose other transports instead of the Phu Quoc cruise trip.
Do not go to the road when it rains
Although Phu Quoc is not as persistent as in Saigon, it's usually heavy rain. Phu Quoc has so many trees that the way to the rainy day is hazardous. Therefore, you should not try to go out when it's rain because perhaps it will be dangerous for you.
Avoid going to the forest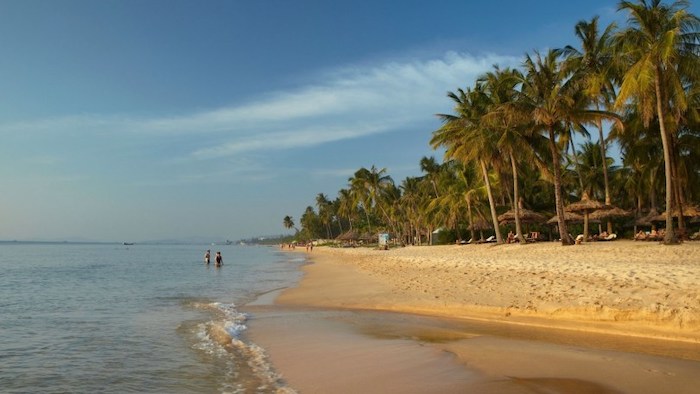 Swimming in Phu Quoc on rainy days is very dangerous
Besides famous beaches, Phu Quoc is known as the home of extensive woodland and Phu Quoc national park with a lot of rare animals and ecosystems such as primary forest, mangrove forest, and cajuput forest.
However, because the trail in the woods is reddish, the rainy season is prone to a slippery slope, and the rain restricts everyone's view. In this case, staying in the hotel is the best option.
Be careful when swimming
Phu Quoc beach is quite peaceful and calm. However, in the rainy season, the sea is no longer quiet with many strong waves. Some days when Phu Quoc is affected by storms, there are often waves. Visitors should avoid swimming or diving in the sea to assure their safety.
Top attractions in Phu Quoc
Sandy beaches
In a vacation in Phu Quoc, immersing in the beautiful beaches cannot be missed that the island is home to a variety of the names that tourists will remember forever and just want to go back: Long beach in the north, Star, Khem, and Truong beaches in the east and south of Phu Quoc island.
Long Beach has a coastline of 1,500 meters long. Along the sandy beach are the high green poplar trees, growing in straight lines. Star beach owns beautiful white sand like ice-cream that is more than seven kilometers long and curved like a moon. In addition to swimming, guests can sunbathe and snorkel to see the coral reef in these green beaches.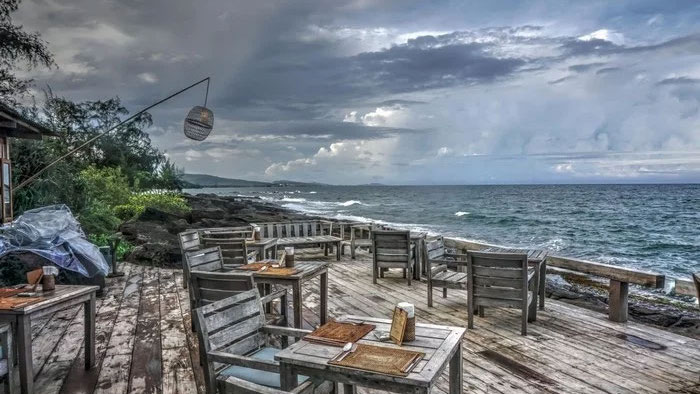 Rainy season in Phu Quoc​
Islands and islets
The chain of Hon Thom islands is located in the north of Phu Quoc island. Here, travelers can dive to see the coral or explore the Phu Quoc aquaculture area of fishers in the pearl farms and famous squid fishing villages.
Also, other islands in Phu Quoc such as Mong Tay, Gam Ghi, and May Rut are pristine, because there are no inhabitants and services like Hon Thom. They are the ideal places to join the outdoor Phu Quoc activities such as camping, swimming, or exploring the wilderness with spreading grassland.
Ham Ninh fishing village
The life of Ham Ninh fishing village is still intact with the rustic bamboo houses. The main occupation here is pearl diving, catching sea cucumbers, and netting crabs. Visiting Ham Ninh in the morning, tourists will have a chance to enjoy the sunrise or the bright moonlight on the island. Moreover, visitors can also taste the sea crabs which are very fresh and firm, accompanying the sweet and spicy flavor of pepper lemon salt.
Seafood and specialties
Phu Quoc island is a place where tourists can enjoy the abundant seafood specialties and other unique products. Eating the raw herring salad rolls with all kinds of vegetables, coconut cure, and fish sauce is very excellent that tourists can feel the fragrance of wild herbs, fatty coconut, and sweet, crunchy fish.
Phu Quoc pepper is famous for its spicy aromas overwhelming pepper in other places in Vietnam. On the way from Duong Dong to Ganh Dau street, tourists can see various beautiful pepper gardens. After visiting, they can also buy dried pepper as a gift to relatives. The largest area is the Khu Tuong garden, about 15 kilometers to the north of Duong Dong town.
These are some tips for visiting Phu Quoc in the rainy season, but if you need more for traveling here all the time of the year, you can visit or contact directly with Vietnam Tour Booking to get more. If you find our guides useful for your trip, don't hesitate to like and share the article with others. Thank you and have an enjoyable time.