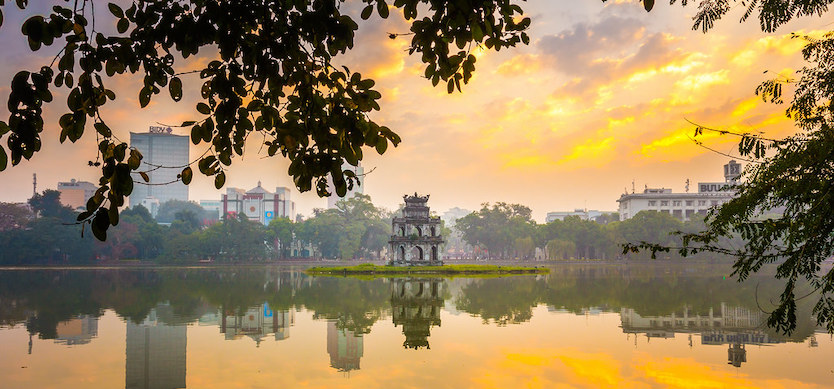 Hanoi is the capital of Vietnam and also a city with a long-standing tradition, history, and culture. Hanoi has preserved many famous cultural relics. Notably, it owns more than 600 temples and pagodas. The passing of time makes some of them not intact with time.
However, Hanoi still has many attractions that draw visitors from various regions. If coming to Hanoi, you should not skip the top points of interest in Hanoi Vietnam below.
Hoan Kiem Lake
Hoan Kiem Lake is located in the heart of the city with an ancient turtle tower lying on a small peninsula in the middle of the lake.
Next to Hoan Kiem Lake are impressive architectural works as valuable treasures of Hanoi such as But Tower (Pen Tower), Dai Nghien (Ink Stand), The Huc Bridge leading to Dac Nguyet floor or Tran Ba Temple and Ngoc Son Temple.
Hoan Kiem Lake is considered the symbol of Hanoi. Hoan Kiem Lake is associated with the legend of the thousand-year-old tortoise, the imposing Turtle Tower, and the sacred Ngoc Son Temple.
One-Pillar Pagoda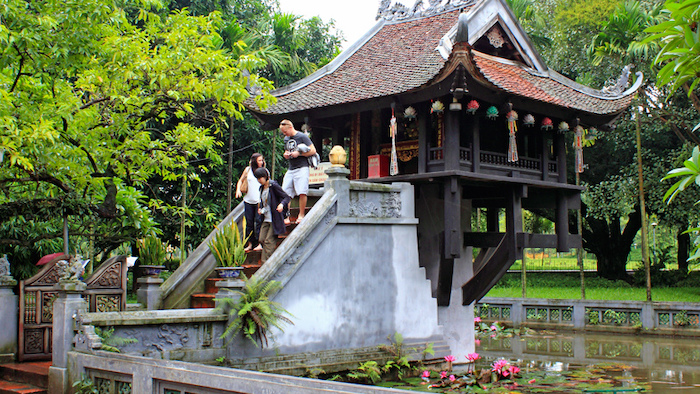 One-Pillar Pagoda
Hanoi is the center of Taoism and Buddhism in Vietnam. Therefore, in the city, there are many hundred-of-year-old temples. The most famous is One-Pillar Pagoda with the lotus-shaped architecture that can be seen as the unique one in Vietnam.
It is also a must-visit place on the trip to Hanoi. Besides, you can go to visit Tran Quoc Pagoda, an ancient pagoda that was built from the reign of King Ly Nam De in the 6th century.
Hanoi Old Quarter
Hanoi Old Quarter is the highlight of Hanoi tourism. The 36 streets of Hanoi are featured by ancient houses and the streets that still retain their appearance from the 19th century till now.
You can spend all day wandering on the old streets and exploring the peaceful places of Hanoi. A trip to Hanoi Old Quarter is also a chance for you to feel the characteristics of Hanoi people.
West Lake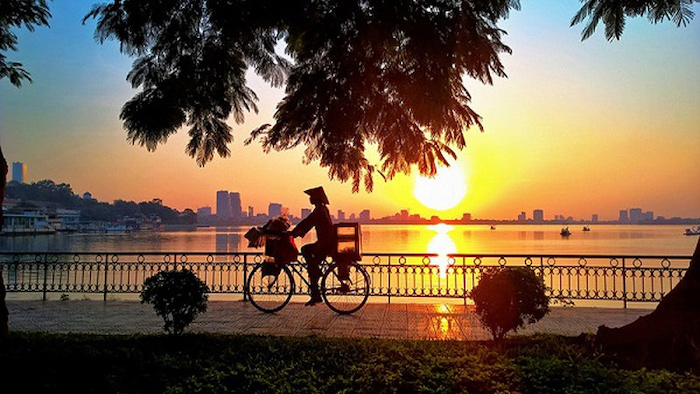 The beautiful sunset on West Lake
Hanoi's West Lake is located in the very center of the city and is surrounded by hotels and villas, large green gardens, and a huge row of beautiful trees along the shore. It is the largest lake what to see in Hanoi.
There are hundreds of things to do in this area. You can rent a water bicycle or take a boat trip around the West Lake. The best time to visit West Lake is at sunset.
Beside West Lake is Nghi Tam ancient village, where the elegant pleasures of the old Hanoi people still retain. Nghi Tam is also known as the flower village. When the spring comes, this village will be filled with fresh flowers.
West Lake also lies near Ngu Xa and Yen Phu villages. The former is famous for traditional bronze casting while the latter is well-known for incense making.
Duong Lam ancient village
Saying goodbye to the noisy and bustling city and going along Highway 32 to Son Tay, you will come to Duong Lam old village, which still preserves the traditional cultural features of Vietnamese people from many generations.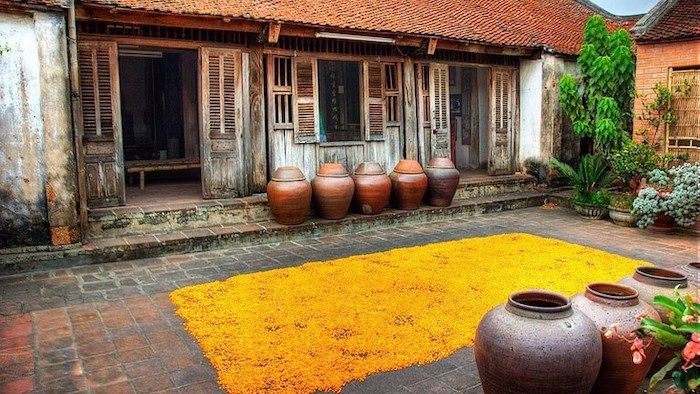 Duong Lam ancient village
Duong Lam ancient village is about 50 kilometers from the center of Hanoi, is located in Son Tay town and next to National Highway 32. That is a rare Vietnamese village where the structure and the daily routine have been kept intact for more than 300 years.
Duong Lam has many valuable historical and cultural relics including Dinh Phung Hung temple, Ngo Quyen Temple, and Giang Van Minh Temple. In particular, in many ancient houses, you are served with a traditional village meal. You can order food and take a rest there.
In conclusion, Hanoi with plenty of tourist destinations will make your trip here unique and memorable. With the points of interest above, hope that you will explore Hanoi a lot and learn more about the traditions and cultures of Hanoi. If you need further information about Northern package tours, don't hesitate to let us know or visit our website. Please like and share the article if it's useful for you. Thank you.