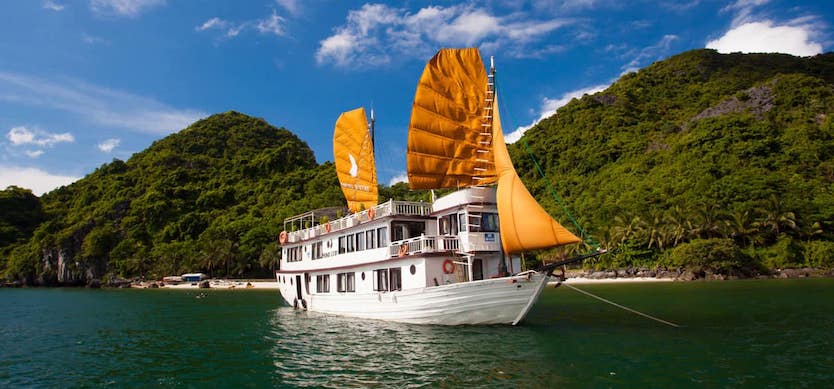 Besides beautiful Nha Trang beaches, travelers have many options to choose from a wide variety of excellent charter services to behold the magnificent panoramic view of the waterways and the caves of Halong Bay. Halong Bay private cruise is considered as one of the ideal choices for family travel or honeymoon.
You are looking for a vacation in Halong bay for family, friends or colleagues? Do you need to rent an overnight Halong Bay cruise?
This article will present some recommended Halong Bay private cruises and the service of a charter boat tour in Halong to help travelers get more new experiences and have a memorable trip with the family, groups of friends and co-workers.
These cruises are rated based on three criteria, including the price, equipment, and services.
Halong Phoenix cruise
Halong Phoenix cruiser is located in the center of Tuan Chau island. This island is a great place for tourist who wants to explore Halong Bay and enjoy the clean beach with romantic scenery.
Cruising with Halong Phoenix cruise, travelers can reach easily to Halong city and transfer conveniently to popular attractions such as Tuan Chau island, Dau Go cave, Lao Cau islet, etc.
Designed fully with the wood material, Phoenix Cruiser brings for tourists a cozy atmosphere and the feeling of being close to nature. The amenity of each room appreciates the quality of this cruise.
All the cabins of the boat are equipped with full facilities such as non-smoking rooms, air conditioning, fireplace, service alarm clock, desk. Moreover, this vessel also offers a variety of recreational facilities including private beach, hot mineral water bath, fishing, water sports (motorized), sports underwater.
In particular, the staff of Halong Phoenix cruiser is well-trained, enthusiastic and creative.
L'Azalee cruise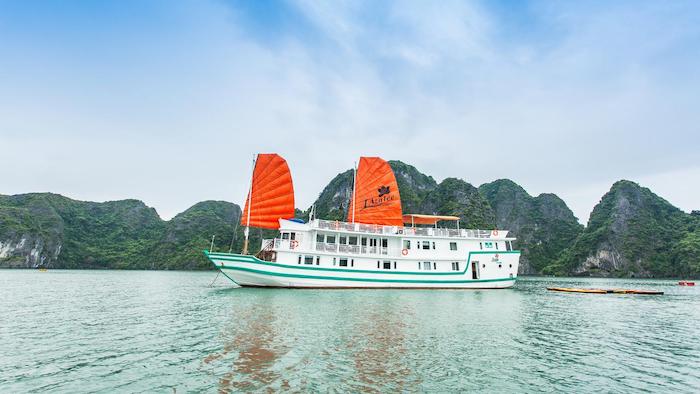 L'Azalee Halong
This private cruise offers an exclusive and very individual experience for couples. The entire trip is an exciting and fascinating excursion as travelers will be admired spectacular isles, fishing villages and immerse themselves in secluded white sandy beaches.
L'Azalee Halong cruise consists of 16 rooms. It is a traditional wooden sailboat traveling around Halong Bay - the UNESCO World Heritage.
The accommodation offers air-conditioned rooms with private bathrooms and serves onboard meals. The ship is equipped with excellent facilities, including water sports (without motor), to help you relax after a day of exploring interesting events in the city.
Besides providing some visits to Dau Do cave, Thien Cung Grotto, Soi Sim island as Halong Phoenix Cruise does, this cruise also provides some services such as kayaking inside the cave and takin visit to Cat Ba island and trekking in its national park.
The L'Azalée Deluxe is the ideal option for groups such as big families but also maintains privacy. Our onboard dining area serves dishes in a bright atmosphere overlooking the bay, while our lounge-style sundeck offers perfect views of the surrounding scenery along with a selection of international-standard beverages.
Prince junk
This cruise is designed to offer 8 pax and 2 kids in maximum. That is suitable for both couples, family or small groups. Although the scale is not too big it's atmosphere is very cozy and comfortable.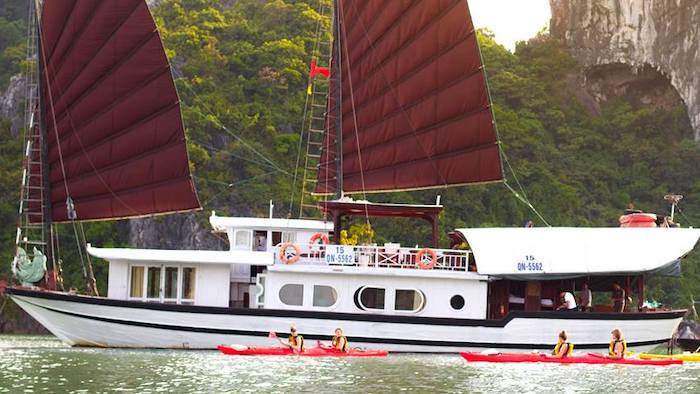 Prince Junk
Moreover, traveling with Prince Junk, tourists will be surely added to their impressive list of the warmest hospitality of the crew. Furthermore, this cruise provides a pleasant and comfortable stay with the sea view window, fully equipped facilities in the room and beautifully decorated cabins.
Relaxing on the sun deck and many exciting activities such as taking the visit to Bai Tu Long bay, Thien Canh Son cave and Vung Vieng fishing village are included in the itinerary of this excursion.
Hope that this article will help travelers have the reference to Halong Bay private cruise to make an unforgettable trip with family and friends. For further information about Vietnam tours, don't hesitate to let us know or visit our website. If you find the article useful for you, don't forget to like and share it with others. Thank you.