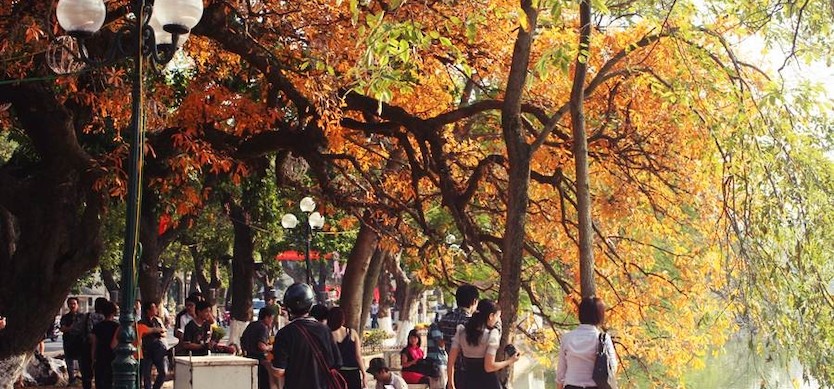 Vietnam lies entirely in the tropical rain belt of Northern Hemisphere. That position has given Vietnam a high temperature. The average temperature of Vietnam is from 22ºC to 27ºC. There are about 100 rainy days annually with the average rainfall of 1,500 to 2,000 mm.
Due to the monsoon effect and the complexity of the terrain, Vietnam's climate always changes in the year, from one place to another (from the North to the South and from the lowland to the highland).
Although Vietnam owns many beautiful tourist destinations, choosing the best time to visit Vietnam as well as each of Vietnam's attractions, travelers will have the opportunity to behold the best sceneries of these sites. Let's note the most beautiful season of each tourist attractions that visitors should not skip to see how picturesque and charming Vietnam is.
Hanoi – the capital of Vietnam
This city has four seasons in a year: spring, summer, autumn, and winter. Each season of Hanoi has its own beauty.
From January to March, there is light rain (also called spring rain) that provides enough moisture for plants to thrive. Strolling around Hoan Kiem lake or streets in this city, tourists will catch the stunning scenery of leaf color changing in trees.
In August, September, and November, Hanoi weather is in autumn with blue sky and cooling wind. The weather is quite comfortable for wandering around Old Street and tasting some Hanoian traditional foods.
Sapa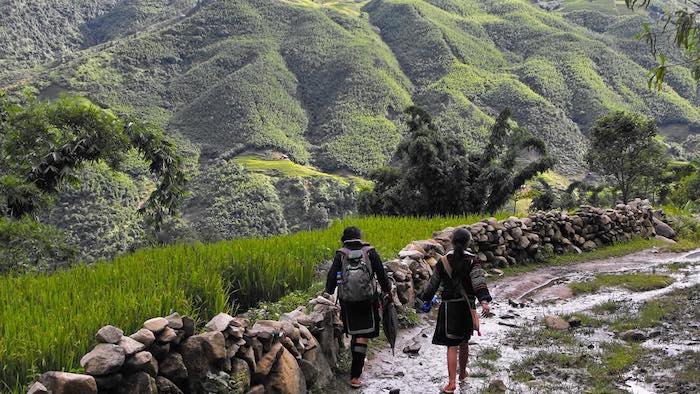 Sapa in April
Located in the most remote northwestern mountain areas of Vietnam, Sapa has long been a fascinating tourist hot spot thanks to its breath-taking sceneries filled with rugged rice terraces, lush vegetation, steep valleys, gorgeous mountain peaks, and passes. Sapa is also famous for its local ethnicities and unique cultural diversity.
Visiting Sapa and conquering Fansipan peak is possible in all seasons. Coming here, travelers will enjoy pristine scenery, fresh atmosphere, and peace. However, choosing to climb this peak in April that azalea flower is blooming will give tourists a memorable experience.
Northwest Vietnam
As a striking blend of jagged mountain ranges, lush valleys and jungle, the northern provinces of Vietnam are culturally diverse and largely inhabited by ethnic minorities. Visiting Northwest Vietnam in May, tourists will be able to capture the magnificent scenery of its terraced rice terraces fully.
Danang
Danang city by night
Danang is rated as a young, dynamic and brilliant city and travelers will feel it extremely clear if spending holidays in the ending of April to attend its firework festival. The International fireworks festival, hosted by Danang, has been held in recent years. A splendid Danang city is waiting for tourists at the end of April to admire it.
Of the few attractions that belong to the city, the Museum of Cham stands out with its rich collection of Cham artifacts. For those who crave for more outdoors activities, My Khe beach is a good place to spend time, either by yourself or with your loved ones.
To the North and South ends of the city, Monkey and Marble mountains store some historical and religious symbols. If you want to escape the heat, Ba Na resort is a miniature of Dalat, only with fewer tourists. Bring some warm clothes if you plan to visit this cottage-full place.
Dalat city
The period of October and November is the blooming season of wild sunflowers in Dalat. Traveling to "the city of thousands of flowers" at that time, tourists will catch the yellow color of wild sunflower stretching everywhere, from hills to valleys.
The Mekong Delta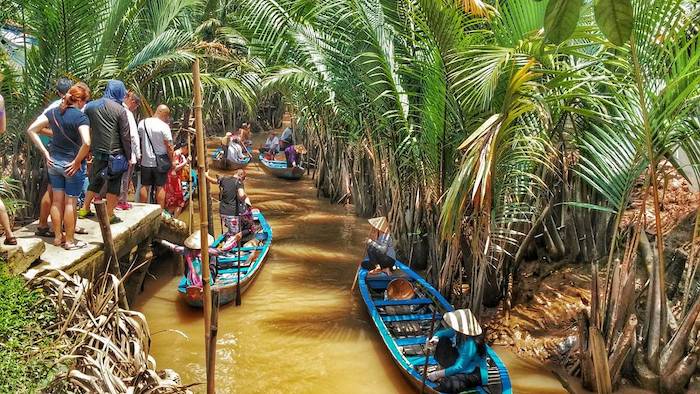 The Mekong Delta
If the highest goal of your trip when coming to Mekong Delta in Vietnam is tasting local foods, taking a trip in June and July is a great ideal for you. Travelers will have the opportunity to enjoy very fresh tropical fruits with various types and low price.
In fact, the list has just shown an overview of the best time to visit Vietnam and some popular destinations in this country. If you want to know more details, Vietnam Tour Booking will help you handle that. Please like and share the article if it's useful for your trip. Thank you and have a fun time.