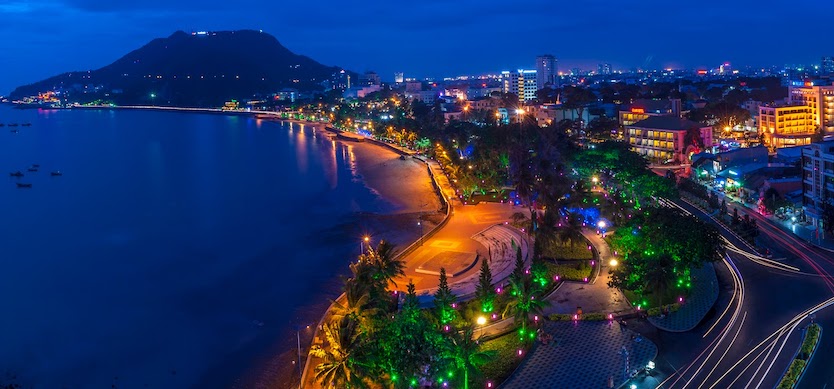 Vung Tau is a famous coastal city in Vietnam, where you will have one of the most enjoyable beach vacations with your friends and family. Explore now!
Vung Tau is just 100 kilometers from the tourist city of Saigon and is famous for many beautiful beaches, blue sea, white sand, golden sun, calm waves. Besides, there are quite a few resorts and places to visit and relax on holidays and weekends. Therefore, you should not hesitate to take a trip to Vung Tau - an amazing beach in Vietnam.
Vung Tau offers everything a tourist enjoying a coastal holiday would want. You can go sailing, or involve yourself in water sports by day and enjoy the well-developed nightlife when the sunsets.
That means excellent fresh seafood, bars, and clubs. It is tiring enjoying yourself so you may not want a late night, especially if you want to make the most of the daylight hours.
Bai Truoc (Front Beach)
Bai Truoc runs along the coastal line to form an arc that is like a crescent moon leaning back to the mainland. This place is the center of countless entertainment activities, luxury hotels, and resorts, brightly colorful cabarets. Almost all the main roads of Vung Tau are all here.
Along Bai Truoc is a line of poetic coconut intermingled with willow, poplar, and porcelain flower, creating a shade. Bai Truoc is also the most beautiful spot in Vung Tau to watch the sunset.
In the evening, walking along Quang Trung street, you will see the pressure burner system together with colorful lights that bring an ideal space to admire the sea scenery at night.
You can also enjoy some fresh seafood at the many stalls and restaurants that have set up shop. They serve some of the most delicious seafood in the south of Vietnam.
Bai Sau (Back Beach)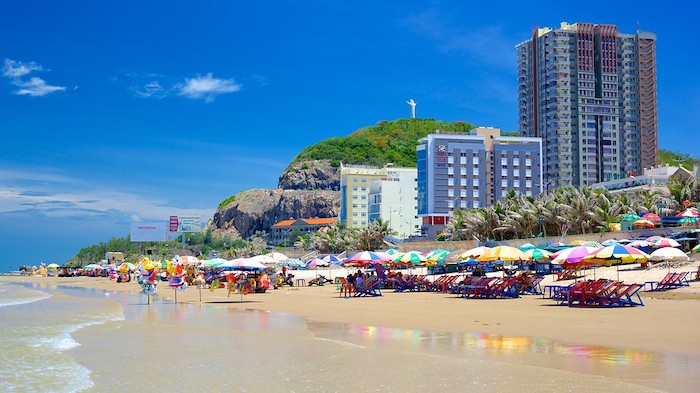 Bai Sau beach of Vung Tau
Bai Sau, also called Thuy Van, has a length of 10 kilometers and leans against white sand hills and immense casuarinas. The temperature at Bai Sau is stable all year round. Sea waves are calm, and the sea is quite clear. Running along Bai Sau is Thuy Van street, which has full of flowers. One side of the road is modern buildings while the other is the beach with various services.
In particular, the beach also has a poplar forest and green casuarina trees standing on the white sand. Under the poplar forests are the wooden houses designed in the style of the communal house that looks elegant and modern, showing cultural features of the Central Highlands.
Ho Coc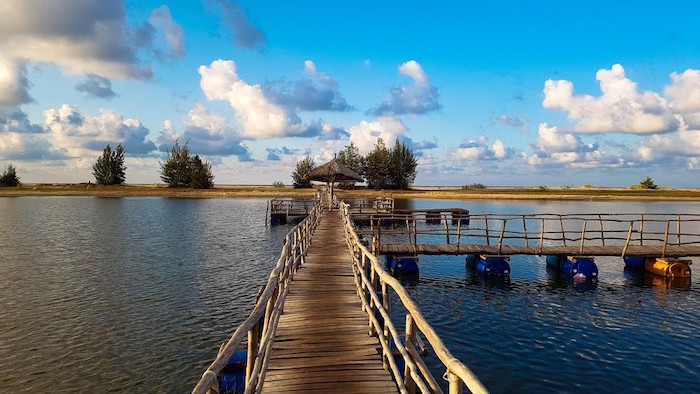 Ho Coc beach
Ho Coc is a pristine beach located close to the forest, so not many inhabitants stay her. For this reason, Ho Coc beach is quite clean and blue. Along the coast are natural mounds with numerous shapes, forming essential traits of this beach.
In addition to the blue sea, long white sand and natural cliffs, Ho Coc are covered with ancient forests located near the coast.
Coming here, you get a chance to have relaxed moments on the beach or take part in a range of activities such as watching sunrise and sunset, taking a stroll on the sand, exploring and taking photos at the cliffs or primeval forests, surfing and riding water motorcycle.
Suoi O
Suoi O is a sea and a freshwater stream that are only a-white-sand-dune far from each other. To go to the sea, you will wade across the freshwater stream.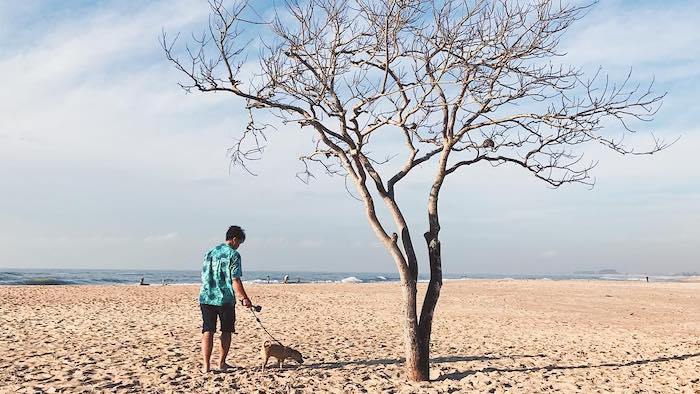 The wild scenery of Suoi O beach
The beach is extensive but the tourist services here have not developed much. Therefore, it is less known and still keeps wild natural beauty. Suoi O beach is an excellent choice for tourists to bath and rest.
Besides, this is an ideal place to organize collective games and activities. More interestingly, you contact the locals to rent a basketball boat to experience the life of the fishing village on the sea.
If you are having a trip to the South, don't forget to spend time traveling to Vung Tau beach. Hope that you will have an enjoyable holiday with Vietnam tours. If you need further information, don't hesitate to let us know. Please like and share the article with others if you find it's useful for you. Thank you.