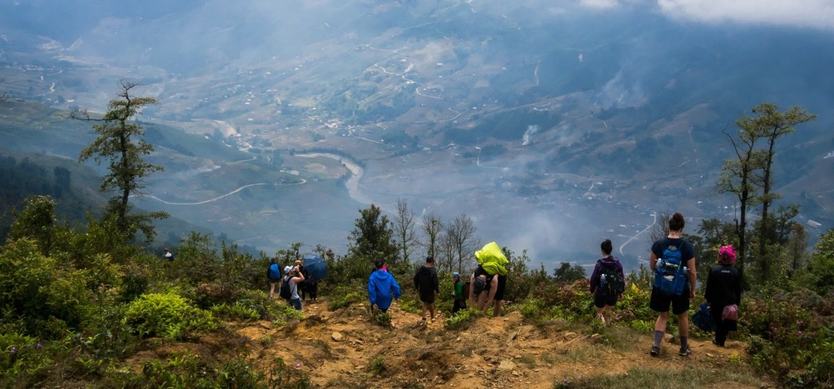 Taking part in a trekking tour, tourists have to go on foot and prepare essential items by themselves. Because destinations, especially in Sapa, are usually on mountains or in forests, it does not appear in any map. It is also the reason why a trekking tour will give participants a feeling of conquest. Another advantage of a trekking tour is the low cost. However, it requires tourists to prepare carefully about the itinerary, luggage, and food. Following are some useful tips you will need for a trekking tour in Sapa.
Level of trekking in Sapa
There are some options for you, including easy, medium, and hard-level trek. The easy trekking route will help you gain a basic understanding of Sapa and the life of residents here. The view on the way is also really amazing.
You will go up and down the hills so of course, you have to have good health and endurance. A typical trip is about 12-15km/day, and you walk approximately 5-6 hours/day.
These difficulties are not the same as when you climb other mountains. The road here is not too bad even though there are no paved roads. That's why after heavy rains, the way becomes slippery in some places. But one thing is sure that anyone with good health can do this.
When taking a trekking tour in Sapa personally, you should make it clear to your instructor about your strength so that they can make the best decisions for your route. Also, you can decide to trek one day or more depending on your ability.
You should find yourself a guide. The guides here are mostly local people, so they know everything about Sapa, every small road, rice field as well as forest.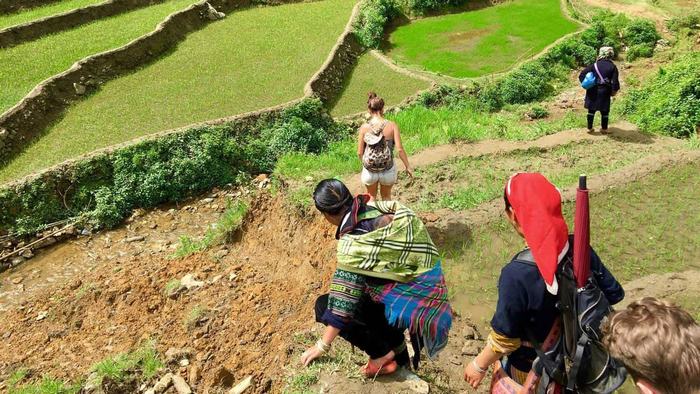 Trekking experience in Sapa
In many ways, instructors can take you to remote locations not on the map, from the main walking paths to the fields and forests. You will feel better and more comfortable when the tour guide shows you where to go to eat and places to stay if you have a long day trip.
Necessary things to pack
Warm clothing, wading boots, sports shoes, and raincoats. Tourists are suggested to wear waterproof clothes or clothes to be quickly dried. If not, it is hard to move.
Shoes and socks of anti-leech types are essential especially if tourists go into the forest. Clothes should have many pockets. Backpacks should be made of waterproof canvas not to be easily torn. Backpacks should have belts to be pressed to the waist.
The medicines of cold, fever, diarrhea, antibiotics, bandages, vitamin and Snicker candy (a kind of candy providing energy) are indispensable. Some cosmetics for skincare are also necessary.
If tourists intend to rest in local villages that offer homestay service then eating is no longer a problem. However, in case that you want to spend nights in forest or food of local people are not your appetite, it is suggested to bring some fast foods like bread, canned meat, packaged noodles, and nutritious biscuits.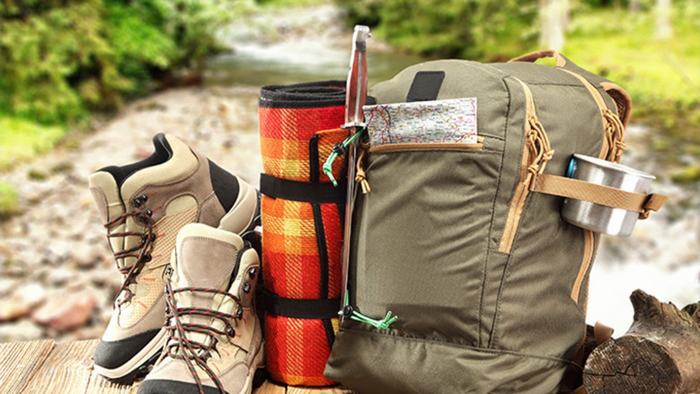 Things to pack when trekking
Some notes when trekking in Sapa
A healthy person can walk from 12 km to 15 km per day. Based on that figure, tourists should research the terrain map to make a suitable plan. Visitors also should calculate the distance so that it is appropriate for health and against dangerous situations.
It is recommended to keep track of the Vietnam weather forecast to get contingency plans ready. Referral should be prepared if your destinations are the borders.
A trekking tour is a genre of the tour on which visitors should go with a group and have a tour guide. A tour guide can keep you from getting lost. A team will help each member in case of an incident. Going alone is never advised especially when crossing a stream or a chasm
When pausing for a little while, you should make use of your backpack as a backrest rather than taking it off.
There are many local villages in Sapa providing home-stay service so tourists can choose any of that to be an overnight stop. Otherwise, tourists' camps should be set near a village rather than in the forest. Local people are happy to help you with cooking or buying ingredients for dinner.
When visiting a village, tourists should get acquainted and talk to local people. It is an opportunity to explore the unique culture of local people and understand the characteristics of upcoming ways.
A trekking tour is truly a worth-trying experience in Sapa. It will help visitors explore the wildest features of Sapa in a whole new way. It is the way that you will never forget.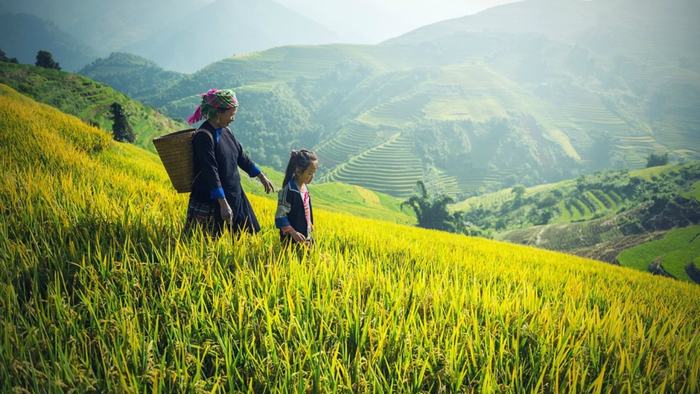 The peaceful scenery of Sapa
We hope that after reading this post, you can prepare well for your upcoming Sapa Tours and get remarkable experiences. For further information about traveling in Vietnam, you can visit our website. Share this article with others if you find it helpful. Thank you!