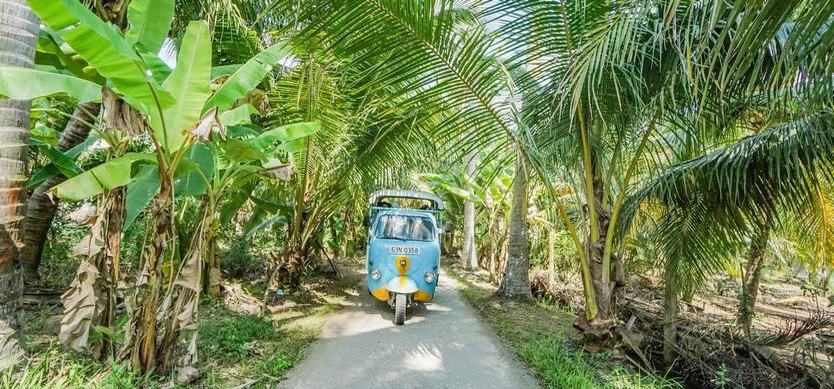 In other places in Vietnam like Hanoi and Hoi An bring ancient appearance, Mekong Delta wears an extremely charming beauty due to the natural beauty and friendly locals.
Rice fields and floating markets are remarkable features of Mekong Delta. For traveling to Mekong Delta without a tour, you can refer to the information below.
Best time to visit Mekong Delta
May, June, July, and August are in the harvest season of Mekong Delta. If you are keen on exploring orchards and collecting fruits, you should choose to Mekong Delta tours in these months.
September and October are in the flood season. In these months, the locals have a bad harvest, and the fields here are flooded with water. However, the water rising high will bring up a lot of shrimp and fish.
In December and early months of the year, you can visit famous flower villages such as Tan Quy Dong village (Sa Dec) and Phuoc Thinh apricot village (Vinh Long).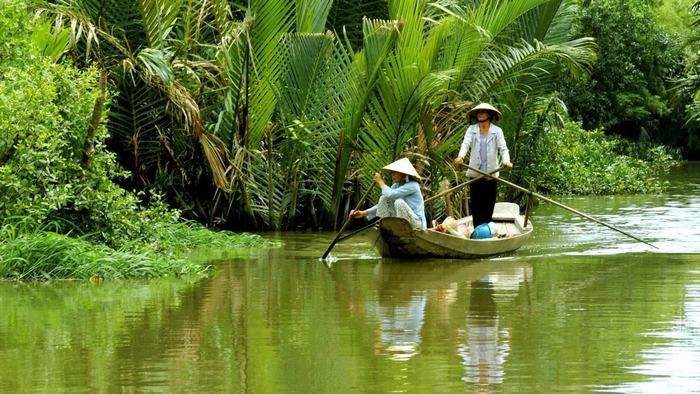 The peaceful scenery of Mekong Delta
Suggested transportation to Mekong Delta
Airplane: Tourists often come to Can Tho airport, then pick up a passenger car to reach other provinces.
Address of Can Tho International Airport: 179B Le Hong Phong Street, Tra An Ward, Binh Thuy District, Can Tho City
Passenger car: Most people choose this transport because quite a few coach trips are taking you to the provinces of Mekong Delta.
Motorbike: This is a good idea for those who love backpacking and exploring every corner of the road.
The places to visit in Mekong Delta
Field of blowers, Bac Lieu
From Bac Lieu city, you go along Cao Van Lau street to move toward the sea. You will reach Dong A hamlet, Vinh Trach Dong commune, which is home to the wind power plant. The distance from the city center to the plant is about 20 kilometers. However, from a distance of tens of kilometers, you can see the wind turbine propellers rotating like the giant pinwheels in the sky.
Tra Su mangrove forest, An Giang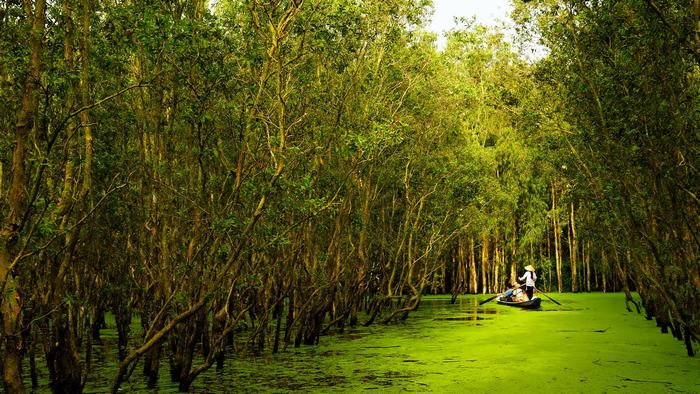 Tra Su Mangrove Forest
Tra Su mangrove forest is located in Tinh Bien district. The forest with rich ecosystems covers an area of about 850 hectares. Sailing boat amid the green water fern carpet, going through nooks and crannies of the mangrove forest, listening to birds' sound on the canopy will bring unforgettable moments. Tra Su mangrove forest is most beautiful in flood season, from September to November.
Tan Lap Floating Village, Long An
Tan Lap floating village is situated in Moc Hoa District, Long An province. In the trip to Tan Lap floating village, you can discover the trail through the 5-kilometer forest and watch towering green mangroves. Besides, you will sit on the boat to admire the sights of the marshes and keep beautiful moments on lotus and water lilies fields.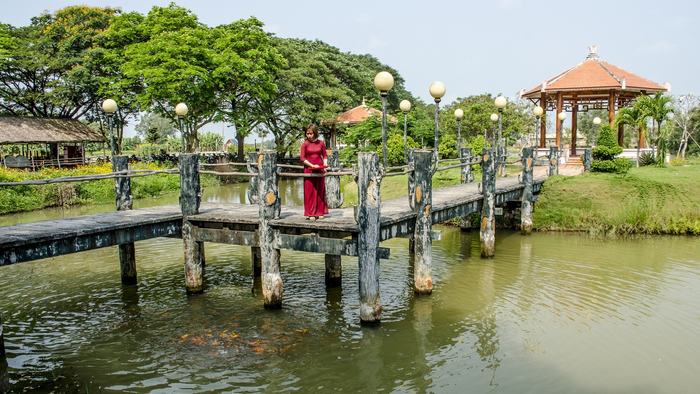 Tan Lap Floating Village
Tram Chim National Park, Dong Thap Province
Tram Chim National Park in Tam Nong District, Dong Thap Province is the largest wetland area of Dong Thap Muoi. This park was recognized as the 4th biosphere reserve of Vietnam and the 2,000th of the world. Here there are over 232 species of birds including rare species such as Painted stork, Threskiornithidae and Spoonbills. It's one of the best itinerary for Mekong Delta Tour 2 days.
Cuisine in Mekong Delta
When visiting An Giang, you should try Sadao salad, striped snakehead, beef sausage, Phu My pancakes, and sauce hot pot.
Bac Lieu is famous for delicious dishes such as radish cake, spicy beef noodles, noodles in coconut cream and longan wine.
Coming to Ben Tre, tourists should not miss aromatic coconut, rice crepes, Son Doc pancake, coconut worm and Phu Le wine.
Cakes made from glutinous rice, grilled sausage, fried shrimp cake and Ban hot pot in Can Tho also make a special impression on visitors.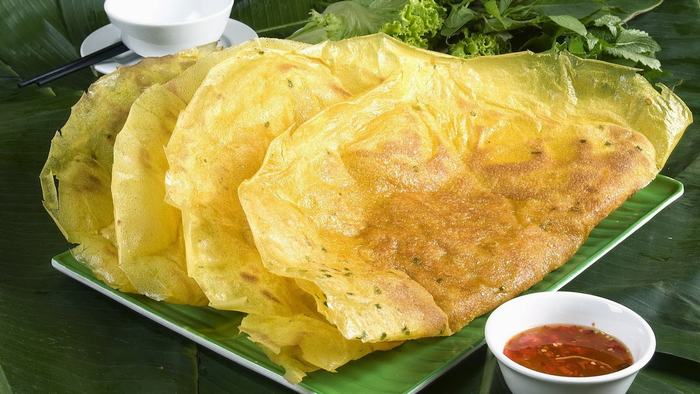 Delicious pancakes in Ben Tre
Also, there are other dishes such as Phu Quoc sim wine, crab cake soup, Ha Tien sticky rice, steamed rice noodle, noodles with dried shrimp in Kien Giang, Go Den wine, fresh sausage, peanuts and fish sauce hot pot in Long An.
Coming to the Southwestern region of Vietnam, you certainly get numerous extraordinary experiences. In fact, you completely can travel to Mekong Delta by yourself. We hope that the information above is useful for your trip there.
You can visit our website to get further information about Vietnam Package Tours. Share this article with others if you find it helpful. Thank you!