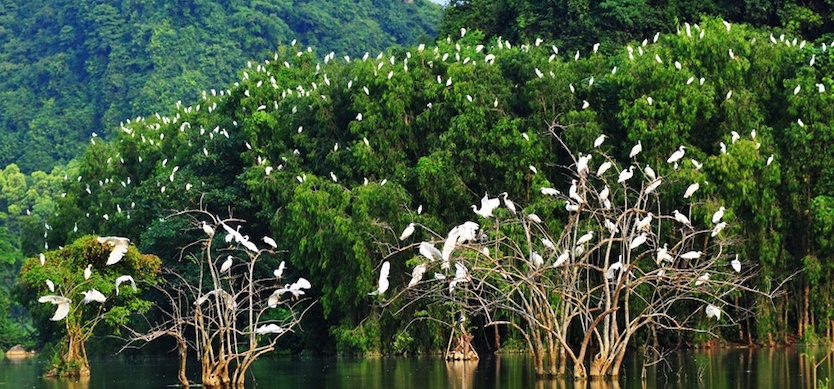 With various attractions of spots, cuisine, culture, and people, Mekong Delta attracts tourists on many Southern 2-day tours. So, what is the best itinerary here?
The Mekong River system with intricate canals, busy floating markets, abundant four-season orchards, and friendly local people attracts a large number of both domestic and foreign tourists annually.
"Best itinerary for Mekong Delta 2-day cruise tour?" is one of the most frequent questions of tourists who intend to take a visit to Mekong Delta – a famous tourist attraction in Southern Vietnam.
Coming to Mekong Delta, travelers will have the opportunity to visit and learn the features of the river countryside. In the peaceful atmosphere, visitors stroll to the orchard with a lot of birds in flight, pinching in the leaves. Warm, sincere and hospitable people will take visitors along canals by canoes to join in the life of the watery region in the sense of closeness. All are included in an itinerary for Mekong Delta 2 days tour.
Best time to visit
With a warm sunny climate all year round, the weather in the Southwest region is very comfortable so that tourists can visit Mekong Delta in almost seasons of the year. Each season brings to the area unique and distinct characteristics.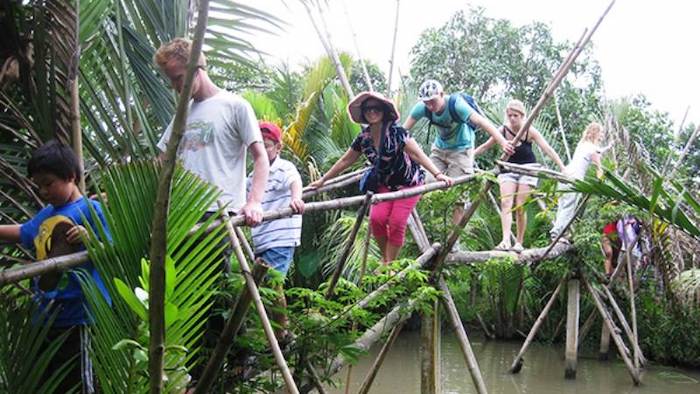 Activities of the Mekong Delta 2-day tours
Usually, summer (June, July, and August) is the ripe fruit season in the Southwest, so if you like to explore the lush fruit gardens, you should go there in the summer. Tien Giang, Ben Tre, Vinh Long, and Can Tho are the most popular spots for travelers with rich sources of tropical fruits.
From September to November is the flood season. Hence, coming in this season, you will have a lot of things to do in Mekong Delta like seeing the rice fields filled with water. Furthermore, tourism in the Southwest this season is most attractive with various activities to enjoy and places to explore, from the canals along Phoenix islet, Tra Su melaleuca forest, rice fields in Ta Pa, An Giang, Tram Chim National Park to floating houses in Chau Doc, Tan Lap, or Cai Rang and Cai Be floating markets, etc.
From December to February is the time right before the Tet festival in Vietnam. Coming to the Southwest, you can visit many famous flower villages such as Sa Dec, Tan Quy Dong, Vi Thanh and immerse yourself in the bustling atmosphere here.
Best itinerary for tourists
Day 1: Ho Chi Minh City - My Tho - Ben Tre - Can Tho
Starting from Ho Chi Minh city, travelers will depart to My Tho as the first stop-over in the itinerary for Mekong Delta 2 days tour. Arriving in My Tho, tourists will take a boat to explore along the Mekong River and behold its lush landscapes on both sides.
Visiting ancient houses, tasting typical fruits, listening to the folk songs, enjoying tea, honey alcohol, and riding a small canoe to visit abundant tropical orchards and other ecosystems are the everyday things to do in this site.
Day 2: Can Tho – Cai Rang floating market – Ho Chi Minh City
Next place in the itinerary for Mekong Delta 2 days tour in Can Tho. It was named "Tay Do" and has been well-known as the center of the Mekong Delta. Traveling to this beautiful place, travelers can admire the vast and fertile orchards with longan, orange, mango, grapefruit, mangosteen, etc.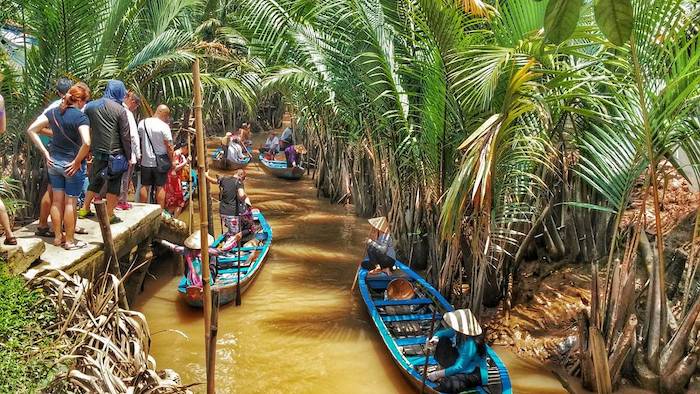 Tourism in Mekong Delta involves in activities on rivers and canals
From Ninh Kieu tourist pier, tourists will take a visit to the 135-year-old house in Binh Thuy - one of the oldest houses in Can Tho. Then, the boat will take tourists to go along the Can Tho River to view the most modern work in the West, the Can Tho Bridge, and the daily activities of local people on both sides of the river.
Trading on the river is a feature of the Mekong Delta. The main products of the floating markets are agricultural products, fresh food, and consumer goods.
Some tourist attractions such as My Khanh orchard, Con Au (Can Tho) or Con Thai Son, Tan Long - Cai Be floating market (Tien Giang), Con Phung (Ben Tre), Phong Nam islet (Soc Trang) are popular sites to visit in this boat trip. Furthermore, strolling in the orchards fulling ripe fruits and rowing on a small boat to explore this beautiful and peaceful land will make travelers feel pleasant and all fatigue seems to disappear.
Ending the boat trip, visitors will be back to the mainland and depart to Ho Chi Minh City.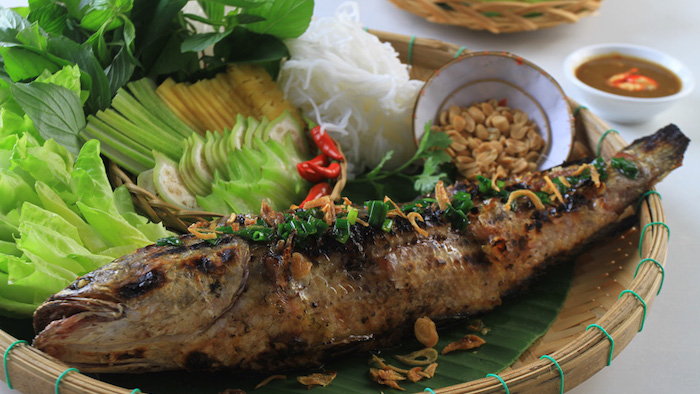 The Southwest cuisine
The itinerary in Mekong Delta is an eco-tourism route that is suitable for all age groups and ages. That allows visitors to live with nature and enjoy the fresh fruits, taste delicious traditional dishes and a lot of memorable experiences in Mekong Delta. For further information about tours in Vietnam, don't hesitate to let us know. Also, if you like the region, please like and share the article with others. Thank you.