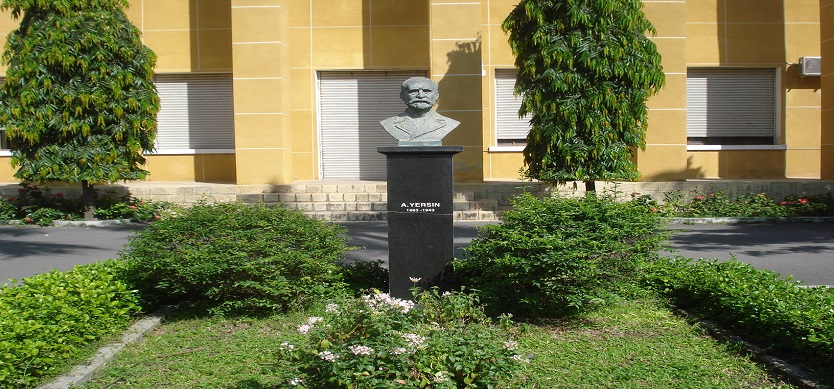 Being the home to one of the most beautiful beaches of the country, Nha Trang has its name known to the world. The best attractions in Nha Trang are set against a stunning backdrop of white sandy beaches with Nha Trang scuba diving experience, verdant mountains, and untouched islands. Great for history buffs, Nha Trang is home to remnants of the Champa Kingdom, Buddhist temples, and gothic-style Catholic churches while natural hot springs, salt fields, and unique waterfalls offer a myriad of sightseeing and recreational activities.
1. Po Nagar Cham Towers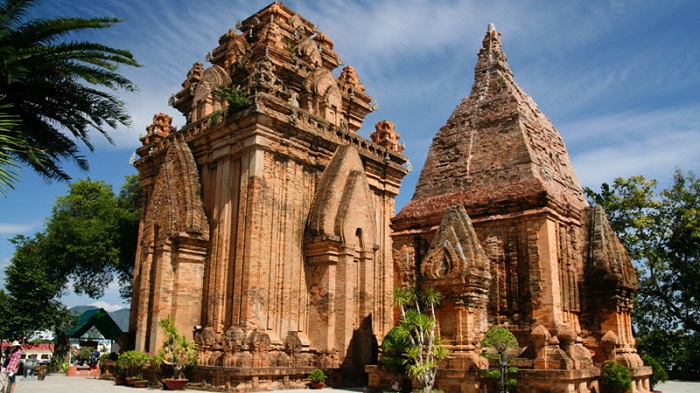 Po Nagar Cham Towers
The Po Nagar Cham Towers are the defining features of Nha Trang that date back to between the 8th and 11th centuries. Set atop Mount Cu Lau, with views overlooking the Cai River, there were originally ten buildings dedicated to Hindu deities, but most have been destroyed over the years. The four remaining towers, built in honor of Po Nagar, Cri Cambhu, Sanhaka, and Ganeca, are still used today as places of worship for the Cham people. Found within a 10-minute stroll from Tran Phu Beach, Po Nagar Cham Towers can get pretty crowded during the annual Thap Ba Festival, which falls around the end of April and the beginning of May.
2. Long Son Pagoda & White Buddha
Long Son Pagoda, founded in the late 19th century, features stunning designs of mosaic dragons made with glass and ceramic tiles while the main sanctuary is adorned with modern interpretations of traditional motifs. At the top of the hill is a massive white statue of Buddha sitting atop a lotus blossom, as well as fire-ringed relief busts of Thich Quang Duc and six Buddhist monks who died in self-immolations in 1963. There are 150 stone steps to reach the top, but around the halfway point lies a 14-meter-long sleeping Buddha and an entrance to another hall of Long Son Pagoda.
3. Nha Trang Cathedral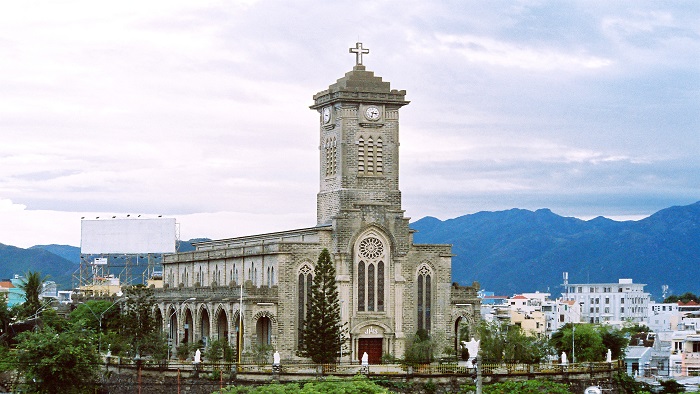 Nha Trang Cathedral
Nha Trang Cathedral, set atop a hill that overlooks the train station, is widely known as the largest church in the city. It was constructed in the provincial French Gothic style during the early 19th century, featuring beautiful stained glass windows and a square clock tower surmounted by a large crucifix. Its three cathedral bells, which were cast in France in 1789, are still in working order. There are also 4,000 tombstones mounted on the sides of the Cathedral, which were placed after the neighboring cemetery was leveled in 1988 to extend the city train station. Nha Trang Cathedral serves the local Catholic community, with Mass being held between 05:00 and 18:30 on a daily basis.
4. Vinpearl Amusement Park
Vinpearl Amusement Park offers fun-filled activities for traveling families, with unique water slides, a massive aquarium, a wave pool, an amphitheater, a shopping mall, and a variety of rides. Situated on Hon Tre Island, the theme park is connected to the mainland of Nha Trang via a 3,320-metre sea-crossing cable car, which offers great views of the bay along the way. Hailed as the biggest of its kind in Vietnam combo tour, Vinpearl Amusement Park's Underwater World Aquarium houses over 300 species of marine life. The entry fee (including return fare for cable car rides) is priced at VND 600,000 for adults, VND 500,000 for children, and VND 480,000 for visitors above the age of 60.
5. National Oceanographic Museum of Vietnam
The National Oceanographic Museum of Vietnam offers interesting exhibits of local marine life, including over 20,000 live and preserved marine specimens. Established in 1922, the institute sponsors ongoing research and community projects, such as captive breeding programs, preservation, and regeneration of local coral reefs. The ground floor houses glass tanks of various sizes filled with marine life such as reef sharks, turtles, anemones, puffers, and lionfish, while the upper floor features thousands of preserved specimens, local boats, fishing artifacts, and an 18-meter-long whale skeleton. The museum's entrance fee is VND 30,000 for adults.
6. Thap Ba Hot Springs Center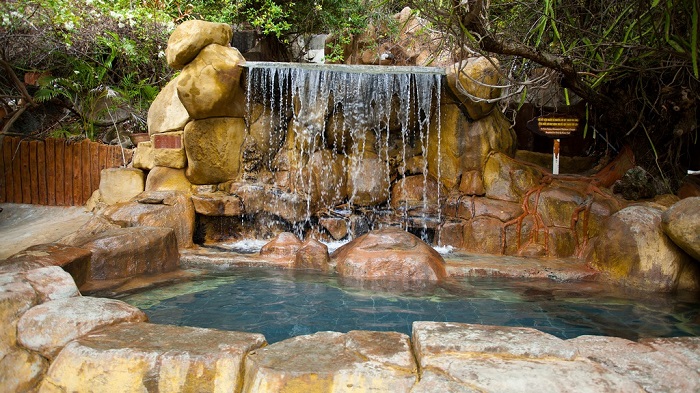 Thap Ba Hot Springs Center
Thap Ba Hot Springs Centre is a great place to relax and rejuvenate after a day of exploring Nha Trang. It is believed that the natural hot mineral springs help detoxify and soothe fatigued muscles, remove dead skin cells, and supply minerals to the body. Accessible within a 15-minute drive from Nha Trang City, the establishment is fitted with private and shared mud-baths, herbal-bath, Jacuzzi, waterfall, swimming pool, and sauna. Due to its popularity, Thap Ba Hot Springs Centre can get very crowded, so the best time of day to visit is between 12:00 pm and 3:00 pm.
7. Ba Ho Waterfalls
Ba Ho Waterfalls is comprised of three natural waterfalls that end with a clear lake surrounded by dense rainforest, offering a peaceful retreat for swimming, picnics, and fishing. The waterfalls have been left in their natural state, for the most part, with several arrow pointers and cement steps set along the more challenging routes. It's a 40-minute drive from Nha Trang City, with wonderful stretches of coastlines and paddy fields throughout the journey. Alternatively, visitors can join a day tour, which usually offers a guided trip to prominent attractions in northern Nha Trang, including Ba Ho Waterfalls, Monkey Island, and Doc Let Beach.
8. Alexandre Yersin Museum
The Alexandre Yersin Museum commemorates the late French bacteriologist with exhibits of his personal belongings and laboratory equipment, as well as original letters and photographs from his travels around Vietnam. Some of his vital contributions to Vietnam include the founding of Dalat, discovery of a vital plague-causing bacterium, and research on agricultural methods and meteorological forecasting. In addition to the displayed artifacts, visitors can also view a short film about Yersin's life at the museum. With an entry fee of VND 28,000, the museum offers guided tours in French, English, and Vietnamese.
9. Suoi Do Pagoda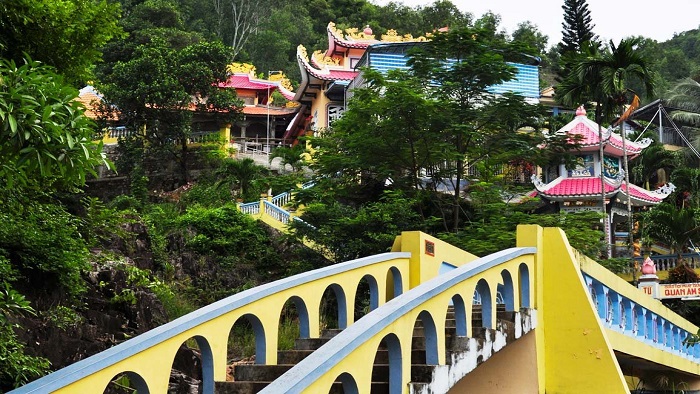 Suoi Do pagoda
Suoi Do Pagoda is a 50-year-old temple that was built in honor of Quan Am, the Goddess of Mercy. It is believed that a young girl claimed to have seen the goddess while playing with her friends at the nearby stream. Set atop a mountain, it takes about 200 steps to reach the pagoda, where you'll be greeted with panoramic views of paddy fields, banana plantations, and neighboring hills. The pagoda is a 30-minute drive from Nha Trang. Due to its hidden locale, it's best to join a tour or ask locals for directions. Do note that wheelchair facilities are not available here, so travelers with physical disabilities may find it challenging to visit.
10. Hon Khoi Salt Fields
The Hon Khoi Salt Fields are some of the most unique tourist destinations in Nha Trang, where female workers harvest mounts of natural salt from shallow fields between the months of January and June. It is an hour's drive from Nha Trang city center, and you can find these salt fields along the way to Doc Let Beach. Thanks to Vietnam's extensive coastline, salt production is a thriving industry in Nha Trang, generating about 737,000 tonnes every year. Hon Khoi Salt Fields are also popular spots for photography, where visitors can capture great views of the salt mountains and locals carrying heavy baskets across the fields.
With Vietnam vacation packages, you will have the best opportunity to explore all interesting destinations in Nha Trang. Let's come and experience with us!