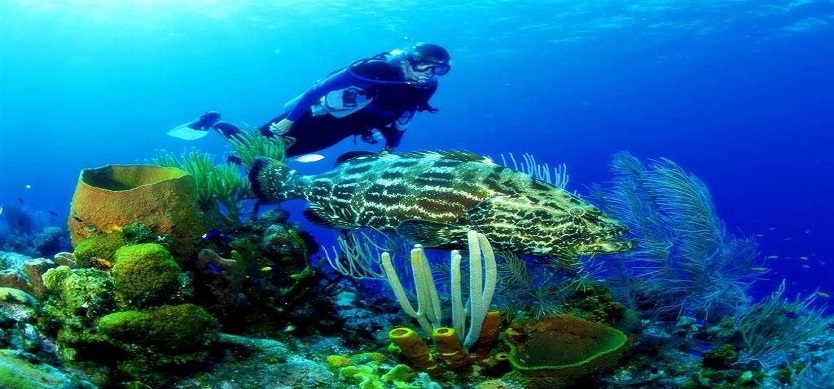 Scuba diving is a must-do activity in Nha Trang if you're looking to get up close and personal with colorful sea creatures and thriving coral reefs via Vietnam tours. While Nha Trang enjoys beautiful weather for most of the year, the best time to dive is between the months of April and August as visibility in the East Sea can go up to 30 metres with average mean temperatures that range between 28°C and 30°C.
Scuba diving experiences in Nha Trang
Scuba diving equipments
Nha Trang own beautiful islands and beaches, so the scuba diving services here are very developing attracting a lot of both domestic and international tourists. According to reviews of Nha Trang scuba diving experience, in order to have a safe and fun scuba diving time, you should spend 5 minutes to get familiar with scuba diving equipments and guidances. The scuba diving equipments include:
- Well-fit diving suits
- Dedicated diving goggles
- The mask fits the face
- The vent pipe must be tight to ensure breathing when diving
- The propeller fits into the foot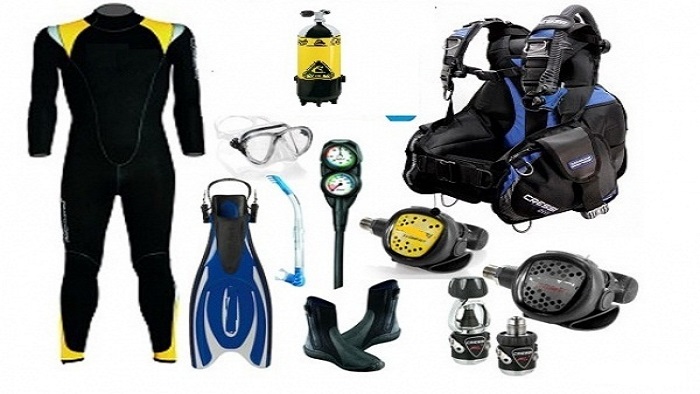 Scuba diving equipments
The suitable time to go scuba diving
Do not scuba dive when you are full or hungry, because it is easy to make you vomit or tired. The most appropriate time to dive in Nha Trang is that after eating for about 2 hours, you also note that if your body is tired, you should not dive because it is very dangerous.
Some other considerations when scuba diving in Nha Trang
- Absolutely not dive alone, but dive with many people.
- Follow the rules of the tour guide.
- Do not swim too deep, swim slowly.
- Do not dive after drinking alcohol because it can cause unpredictable complications.
- After going ashore, shut your mouth, cover your ears and breathe gently with your nose.
- People with cardiovascular disease absolutely must not scuba dive because it is very dangerous.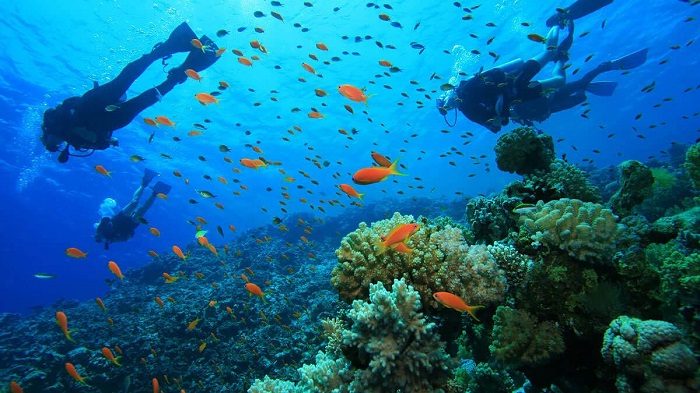 Diving in Nha Trang sea
Scuba diving destinations in Nha Trang
Scuba diving is a must-do activity in Nha Trang. The majority of scuba diving excursions in Nha Trang take place within Hon Mun Marine Protected Area (MPA), which is a 40-minute boat ride from Cau Da Port. Thanks to its various water depths and swim-through tunnels, you can see a wide variety of small colourful tropical fish, moray eels, and pufferfish as well as thriving coral reefs.
One of the most popular diving sites in the marine park is Moray Beach. With a maximum depth of 18 metres, the area is ideal for divers of any certification level. Moray Beach is also a great place to spot hard and soft coral reefs as well as numerous marine species such as clownfish, black frogfish, pipefish, razor fish, giant moray eels, flying gurnards, and seahorses.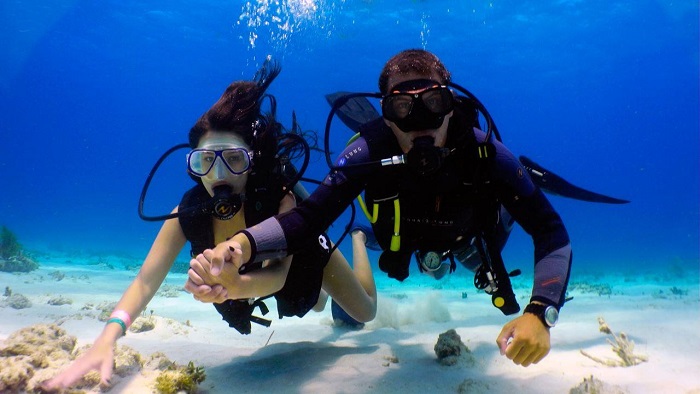 Hon Mun Marine Protected Area
Also located in Hon Mun Marine Protected Area is Madonna Rock, which has a maximum depth of 25 metres with several caverns at varying heights. Accessible only by boat, these caverns provide shelter for the many fish species that breed here. Look out for giant morays, lionfish and scorpionfish.
Due to its popularity, the marine park can get crowded during peak diving seasons. An alternative diving site is located at Whale Island, which is situated 80 kilometres north of Nha Trang. Despite its name, whales are hardly spotted in the area anymore, though there are plenty of interesting species such as trevally, groupers and snappers hidden among the soft coral reefs.
With a maximum depth of 35 metres, Hon Trau Nam is one of Whale Island's most popular dive sites. Expect to spot stingrays and eagle rays cruising along the reefs, not forgetting clownfish, stonefish, and barracudas.
To give travelers the best opportunity to enjoy colorful underwater world in Nha Trang, Vietnam Tour Booking offers holiday packages to Vietnam with Nha Trang in itinerary. Let's visit our website and book the best tour as possible.