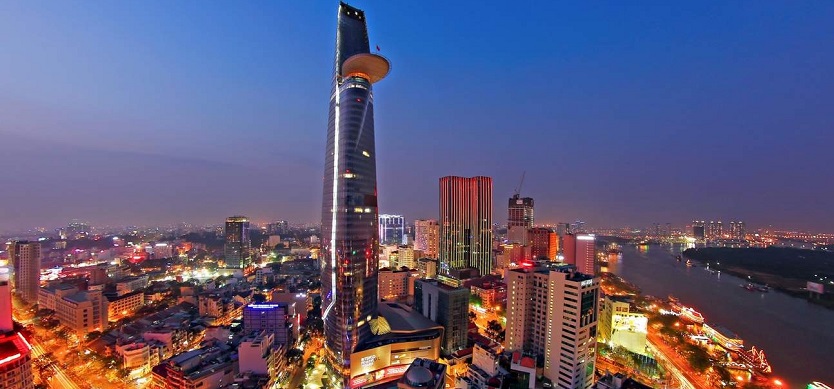 Saigon is considered as a charming land with a lot of things to explore and experience. What makes people love Saigon is a combination of magnificent things and simple and familiar ones. If there are only 24 hours in Saigon, you should do the following things.
1. Visit and take photos at Notre Dame Cathedral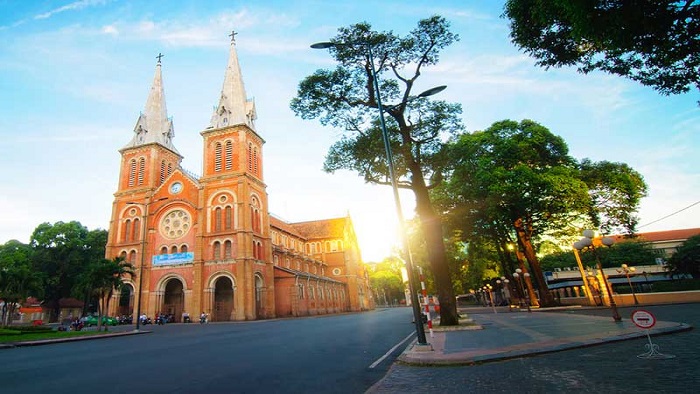 Notre Dame Cathedral
It has been a unique religious architecture from the French colonial period, was designed by architect J.Bourard. It is said that the entire building materials, cement, iron and steel were brought from France. The Notre Dame is not only a popular place for city residents but also the sights of many international tourists. Every day hundreds of foreign tourists visit, take photograph and pray at this church.
2. Shopping at Ben Thanh market
Ben Thanh market is a symbol, an interesting destination for both foreign tourists and local people. Walking surroundings and shopping at the market are exciting activities in the itinerary of Saigon tours.
The market is located in an important location of Saigon city, which makes conveniences to trading activities. It is not only a cultural symbol, an attractive sight when traveling Saigon but also a place where you can find all things from popular to special, from budget to luxury such as clothes, jewelry, souvenirs, candy, fruits,...
Especially, you should not miss an experience of Ben Thanh night market with various interesting things to explore.
3. Watch Saigon from Saigon Skydeck
Bitexco Financial Tower at 262 meters above the ground, is currently the tallest building in Ho Chi Minh City today. With the design concept taken from the shape of lotus bud - the national flower of Vietnam, Bitexco Financial Tower is not merely a building surrounded by glass and steel, but also a symbol of beauty and development of Ho Chi Minh City's economy, Vietnam's key economic region. Bitexco Tower is a typical example of outstanding creativity and design.
One of the highlights of the tower is the first observation deck of the city on the 49th floor. Saigon Skydeck Observatory has opened the ticket for domestic and foreign visitors since January 2011.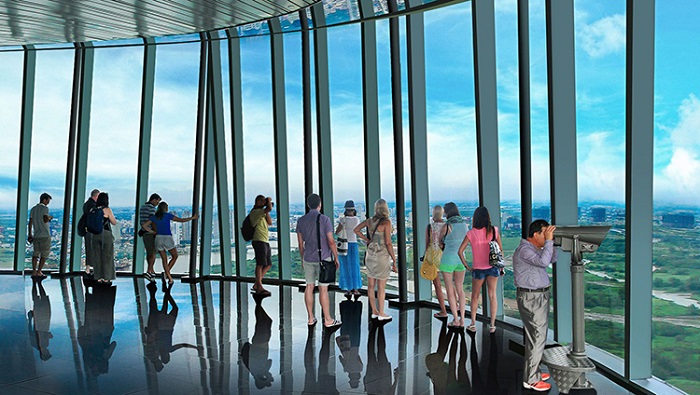 Watch Saigon from Skydeck
Standing in the space of high buildings, with long-range binoculars rotated horizontally 360 degrees and turned 50 degrees angle, you will be admired the panoramic view of the city which the naked eyes can not see. Overview of the South's most dynamic and beautiful city will show up with their unique look when you view from a height of 178 m on the Saigon Skydeck.
4. Enjoy delicious dishes
Saigon is famous for specialties from different regions enchanting tourists including broken rice, noodles, grilled meat rice noodles, banh trang tron... However, it is a miss if you do not try snails when visiting Saigon. Not going to sea, you can still find many types of snails cooked in different ways with interesting tastes at Saigon city.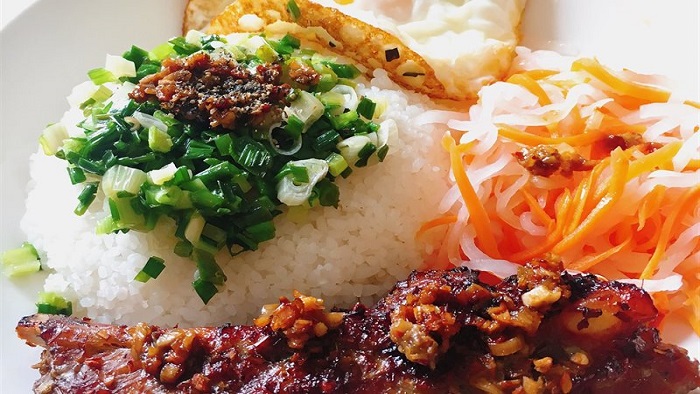 Saigon broken rice
5. Listen to music at tearooms
They said that people go to Saigon in order to drink coffee every day and listen to music at tearoom every week. The tearoom is a feature of Saigon city. Each has a different music style, you can select a suitable tearoom belong to your stylist. Some recommended tearooms include Khong Ten in 112 Le Thanh Ton, Ben Thanh ward, district 1; We in 8 Le Quy Don, ward 6, district 3; Tieng Xua with folk songs in 442 Cao Thang, Ward 12, District 10, etc.
6. Stroll Nguyen Hue walking street
Nguyen Hue walking street is the central road in district 1, and a crowded street. At night, the street becomes more noisy and crowded. From 18:00 every day, almost of restaurants, coffee is full of tourists. You can go to Metro station, Ho Chi Minh Opera House and Thu Thiem Hall from this walking street.
Each destination has a unique attraction giving a memorable lifetime in Saigon. However, if you have much time, let's join Vietnam combo tours, there are many interesting destinations to explore in Saigon.