Coming to Hanoi, many people are impressed by ancient streets in Hanoi Old Quarter, bustling atmosphere at the rush hour and poetic lakes carrying cool breezes. Each season in Hanoi brings it owns beauty. To have a memorable journey to discover Hanoi, you should consider the necessary things to know when traveling to Hanoi, Vietnam.
Overview of Hanoi
Hanoi is the capital of Vietnam and the second-largest city in the country after Ho Chi Minh city. Located in the heart of Red River Delta, Hanoi for a long time is the center of Vietnam civilization and used to be the capital of Vietnam feudal dynasties until the 17th century. Hanoi is also known with the title "the city for peace" and with the position as the political, cultural, economic center of the country, this city becomes the favorite destination of many foreign tourists.
Scattered around the city, there are many historical and cultural sites that hide the interesting information about Vietnam history and culture such Temple of Literature, Ho Chi Minh mausoleum, One Pillar pagoda, etc. From Hanoi, tourists can easily get to visit the famous tourist destinations in the north and central Vietnam such as Halong Bay, Sapa, Mai Chau, Hue, Danang, etc.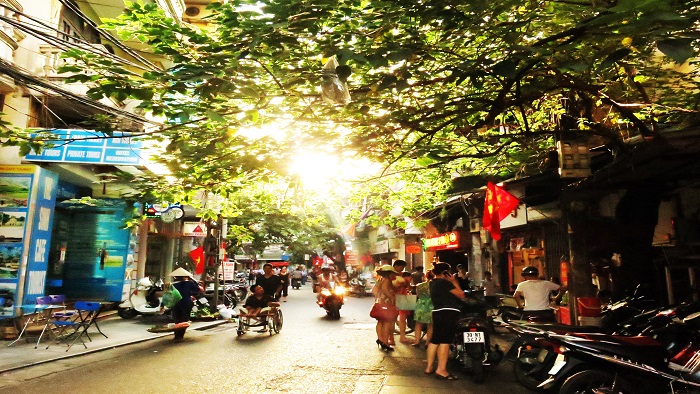 Hanoi Old Quarter
Weather in Hanoi
In North Vietnam, there are four distinct seasons in the year. Therefore, the Hanoi weather is what you need to care about when traveling here. In summer, the weather in Hanoi is usually very hot while Hanoi has a cold winter. Here the spring usually has drizzle and the climate is quite wet. If you want to experience the difference in weather, you should choose to go to Hanoi in the special season. If not, the fall, from September to November, is the best time to visit Hanoi.
Long Bien bridge in the afternoon
Hotels in Hanoi
Is this the first time that you have traveled to Hanoi? You are advised to experience your stay in Hanoi Old Quarter. It is suggested to select and book the hotels near Cathedral Church, Ma May, Hang Hanh, Hang Trong, Hang Bong and Hang Gai. Here you can easily enjoy the bustling atmosphere of Hanoi.
Those who need a quiet space to relax should book a hotel near West Lake. Then, you can rent a motorbike to reduce your travel expenses. Here you enjoy the freshest air of Hanoi as well as the romantic beauty of West Lake every afternoon.
Means of transportation
- Hanoi has many airlines that offer flights to Noi Bai airports such as Cathay Pacific, China Airlines, Eva Air, Hong Kong Airlines, Korean Air, and Vietnam Airlines.
- For domestic flights, you can use Jetstar Pacific Airlines at very cheap prices.
- To travel around Hanoi, you can use public vehicles (buses), taxis, motorbikes, and cars. Besides, many people choose to do sightseeing around Hanoi by cyclo to watch the streets.
- Hanoi also has railways in the northern provinces and the whole country.
- If you stay long in Hanoi, it is recommended that you should go to Hanoi Old Quarter for the bicycle or motorcycle rental.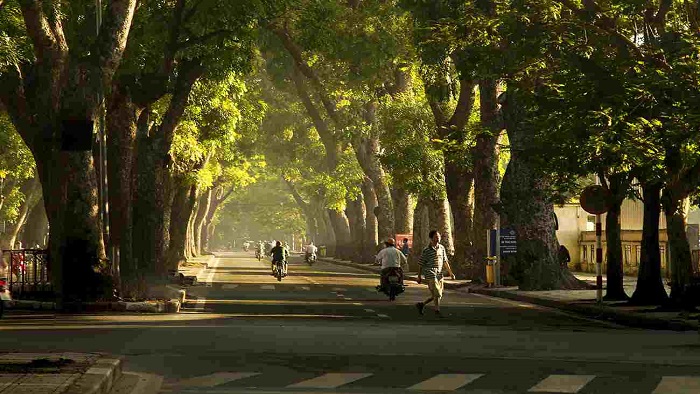 Hanoi street
Other tips for traveling in Hanoi
Although Hanoi provides tourists with various high-quality services, you still need to have careful preparation to cope with unpleasant things when using the services here. In particular,
- When shopping, you avoid shopping in the early morning and asking price without buying.
- You should refer to prices from different places and have to bargain to avoid being forced to buy products with exorbitant prices.
- It is also necessary to bring with you a map to measure the distance to avoid being taken with longer distance by cyclo or motorbike. You are advised to ask prices before using services. The best way is to seek help from the reception at your hotel if you need more information.
- To completely enjoy the beauty of nature, magnificent architecture at large temples, you should not go to the pagodas and temples in the festival season.
- Finally, when traveling to Sapa, you should book the necessary services before. In fact, the number of train coaches and hotel rooms is limited. You also should not come here on long holidays in Vietnam. The reason is that on these days, you will have to go to the mountainous markets together with many lowlanders. If so, you will not have many chances to explore the culture of the upland.
Hanoi is a great city to travel to Vietnam. Hope that the information above will help your Hanoi Vietnam tour smoother. If you need further guides, don't hesitate to contact us or visit our website. Please like and share the article with others if you find it useful. Thank you.