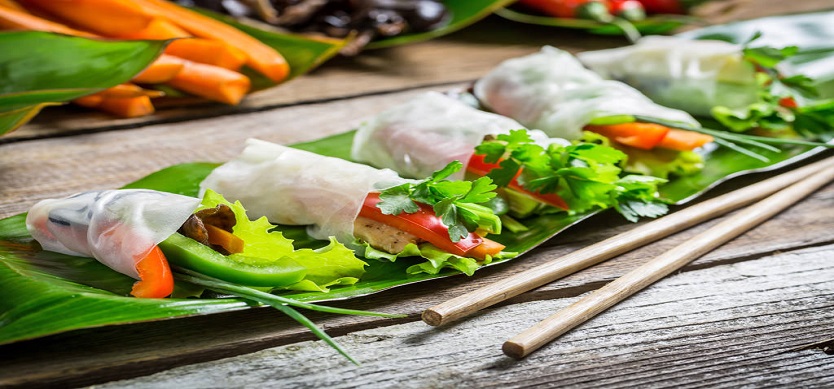 Vietnam culinary is diversity with every characteristic of different regions, this diversity makes the impression of Vietnam to tourists. Pho, spring rolls, "cao lầu", grilled chopped fish, banana flower salad ... are in the list of ten foods to try in Vietnam with the perfect balance of salty, sweet, sour, spicy.
Spring rolls
This is extremely popular street food in Central and Southern Vietnam. Composition of spring rolls are very diverse, but basically include vegetables and foods. Vegetables in spring rolls consist of lettuce, cilantro, green banana, star fruits...; foods eaten together include grilled meat, shrimp, crab ... . Spring rolls can be eaten with sweet sour sauce or a kind of special sauce made from liver, peanut …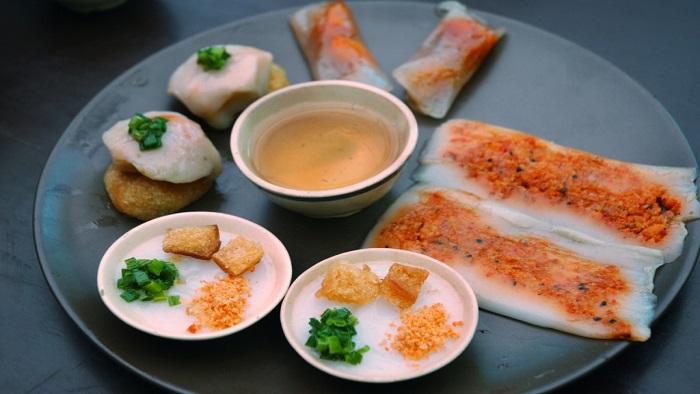 Must-try dishes in Vietnam
Vietnamese Bread
Bread of Vietnam has created a culinary trend in worldwide. The hot crispy bread filled with plenty of green vegetables, salads, pate and meat can satisfy any customers, even the most fastidious people.
Pancake
Pancake dish is a favorite cake of both natives and visitors. This cake are usually very large in size, its covering shell is often thin, crispy, the inside consists of shrimp, pork (beef), bean sprouts, egg. The cake known as Vietnam's pancake is often served with lots of vegetables and sweet and sour sauce or the sauce from the liver and many other spices.
Kebab rice noodles (Bún chả)
Considered as a specialty of Hanoi, you will find the kebab rice noodles everywhere in the city, from food stalls to the restaurants, but kebab rice noodles in the food stalls is the most delicious. The marinated meat is grilled over hot charcoal, served with hot sauce and white noodles. It may be simple but this dish enchanted so many tourists visiting Vietnam.
Pho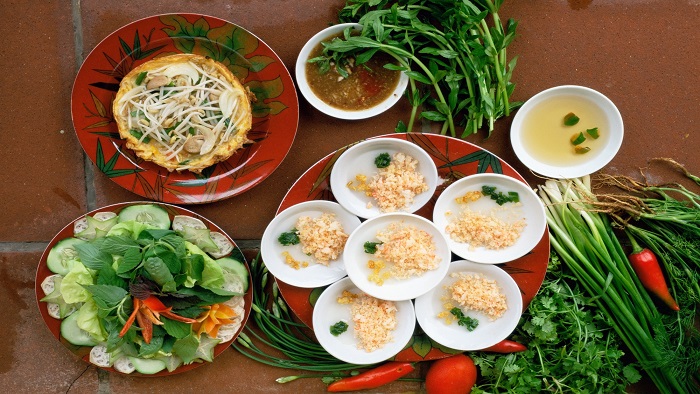 Must-try dishes in Vietnam
It is unclear how many newspapers has been written about this Vietnamese dish with the greatest praise. A bowl of pho basically consists of rice noodles, beef or chicken, a little of onion and sweet soup from the bones. Everytime one can eat pho from breakfast, lunch to dinner, or at night, and always find it tasty and enjoyable.
Broken rice
Broken rice is one of the most popular street foods in Saigon, one can eat the dish in the morning, afternoon or evening. In each restaurant, broken rice will have slightly different taste, but basically, a dish of broken rice includes rice, grilled rip, fried egg, crab rolls with sweet and sour sauce.
To have opportunity to try all of above dishes, you should join our
Vietnam tour packages
which you can both enjoy beautiful landscapes and taste specialities of regions from the north to the south.