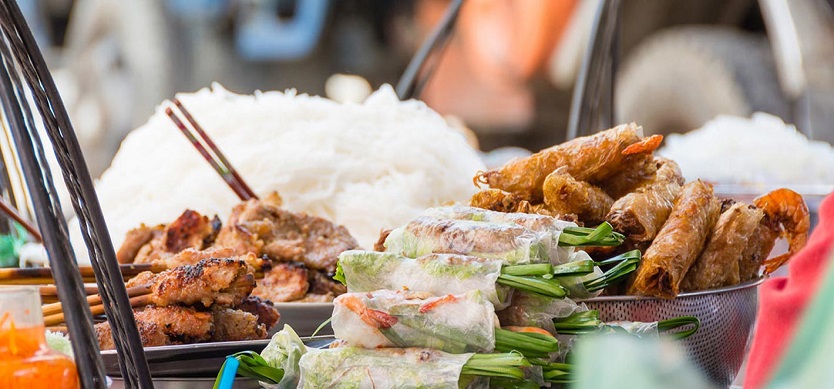 Dining in Ho Chi Minh is not just limited to Vietnamese pho and coffee, as you can also enjoy fresh seafood, noodles, rice, spring rolls, and meats prepared with an array of cooking methods.
Also great for travelers to join Vietnam travel packages on a tight budget, some of these top must-try foods in Ho Chi Minh City are not only hearty and filling but also cost less than VND 40,000 per dish. This is what to eat in Ho Chi Minh for a real taste of the city and Vietnam.
1. Banh Mi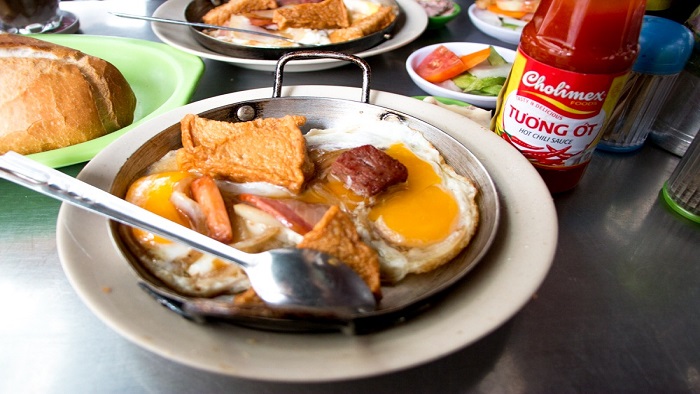 Banh mi eaten with omelets, meat, and pâté
Take a walk anywhere in Saigon and you will eventually run into someone selling banh mi. Tasty, filling and most importantly quick to prepare, these sandwiches are perfect for fast-paced Saigon life. This baguette sandwich is priced between VND 10,000 and VND 15,000, with pickled vegetables, pate, butter, soy sauce, cilantro, chilies, and hot peppers. Quick and tasty, you can also choose from a variety of meat fillings for your banh mi, including roasted pork belly, fried fish with turmeric and dill, boiled sausages, meatballs, boiled chicken, omelets, grilled pork, and Chinese barbecued pork.
2. Pho
Pho is rice noodle that's served in a flavourful soup with beef, bean sprouts, lime wedges, and greens such as basil, mint, cilantro, and onions with a side of chilli sauce for added spice. A basic bowl contains beef, beef meatballs or beef flank, but diners can also opt for more exotic ingredients such as beef tendon, thinly-sliced pig stomach, and flank with cartilage. This popular breakfast option is priced between VND 20,000 and VND 30,000 at any local restaurant or street market in Ho Chi Minh City.
3. Vietnamese Sea Snails
Due to its popularity, there are plenty of roadside stalls and inexpensive restaurants with raw snails, blood cockles, clams, shrimps, and crabs displayed out front. After selecting those that strike your fancy, you can enjoy them grilled, sautéed, curried, or steamed. Priced at VND 20,000 onwards, we highly recommend grilled mussels with scallion oil and peanuts, blood cockles sautéed in tamarind sauce, and clams steamed with lemongrass.
4. Broken Rice
This hearty dish is served for breakfast, lunch, and dinner. This dish started with humble beginnings with Vietnamese farmers serving this rice at home as the "broken" leftovers were not suitable to sell in the market. Nowadays, it is served in Saigon and isn't just for farmers anymore.
Saigon broken rice
Broken rice in Vietnam is usually served with fried eggs, diced green onions, and a variety of meats such as barbecued pork chop, shredded pork skin, steamed pork and egg patty. Diners can also enjoy this dish with a side of pickled vegetables, cucumber slices, and Vietnamese dipping sauce. The dish can be enjoyed any time of the day as it is relatively inexpensive, with street markets and roadside food stalls selling for about VND 20,000 per bowl.
5. Vietnamese Spring Rolls
Goi cuon or Vietnamese spring rolls comprise vermicelli noodles, pork slices, shrimp, basil, and lettuce tightly wrapped in translucent rice papers. Due to its very subtle flavour, you can dip it in a mix of freshly ground chilli and hoisin-based dipping sauce topped with crushed peanuts. This traditional appetiser is a healthier alternative to deep-fried egg roll made with a combination of mung bean noodles, minced pork, and various spices.
6. Banh Xeo (Crispy Pancake)
Banh xeo is a savory pancake that's made of rice flour, coconut milk, and turmeric, stuffed with ingredients such as pork slices, shrimps, sliced onions, bean sprouts, and button mushrooms. Unlike Nha Trang or Hanoi food, the crispy pancakes in Ho Chi Minh City are much smaller in portion as it is usually eaten as a snack or appetizer. The best way to enjoy it is by wrapping it in mustard leaf, lettuce leaves or rice wrappers, together with mint leaves, basil, herbs, and sweet fermented peanut butter sauce. Lastly, dip it in a sweet and sour fish sauce.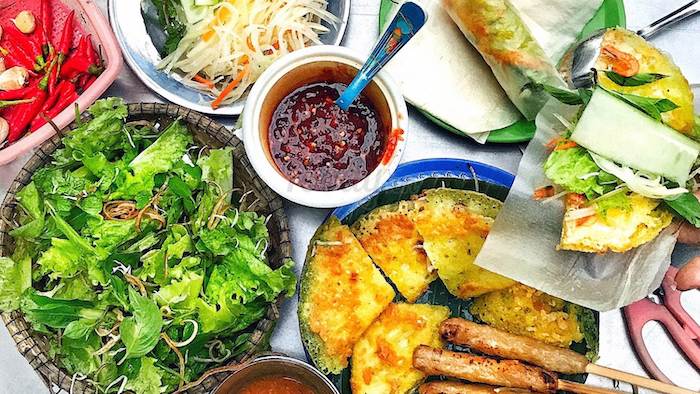 Banh xeo in Saigon
7. Hu Tieu (Rice Noodles)
Though pho is the starlet of Vietnamese cuisine, its humble Saigonese cousin hu tieu is a soup that shouldn't be overlooked. Named after a noodle made from tapioca, there are countless variations served in restaurants in Ho Chi Minh City. One unifying ingredient is the broth. Lighter in flavor and a touch sweet, the broth is made from pork instead of beef. Though the definitive hu tieu is called hu tieu xuong that consists of pork ribs as the main meat ingredient, each restaurant or stall features their own specialties. Toppings can consist of sliced pork shoulder, a whole pork chop, wonton dumplings, meatballs, shrimp, squid, and/or fish. You can even mix up the noodles with some pho or Chinese egg noodles for a bit of textural contrast.
8. Caramelised Fish in Clay Pot
Served in numerous Vietnamese restaurants within Ho Chi Minh City, this dish refers to catfish braised in a clay pot. It is prepared by cutting a catfish into fillets before it's braised in a thick gravy made with a combination of soy sauce, fish sauce, sugar, shallots, garlic, and various spices and seasonings. Due to its intense sweet-salty flavor, it is always served with a plate of white rice.
9. Rolled Cake
Loosely wrapped in a steamed fermented rice sheet, the rolled cake contains a mix of ground pork, minced wood ear mushroom, onions, Vietnamese ham, steamed beansprouts, and cucumbers. You can easily spot vendors selling the dish in prominent marketplaces such as Cholon and Ben Thanh Market as well as local restaurants in Ho Chi Minh City. This traditional Vietnamese dish is sometimes topped with shrimp floss, coriander, and herbs, with a sweet-sour dipping sauce made with fish extract, lime, and chili.
10. Vermicelli Noodles with Grilled Pork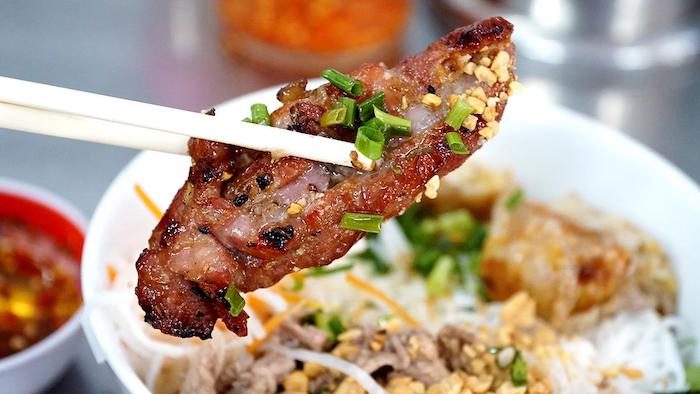 Saigon vermicelli noodles with grilled pork
Brightly colored and fresh in flavor, this noodle dish is a great alternative to the heavier pho or com dishes served in Saigon. Unlike most Vietnamese dishes, the vermicelli noodles with grilled pork are served in one bowl and don't come with additional garnishes. The Saigon version highlights the wealth of fresh vegetables produced in the neighboring Mekong Delta and Da Lat regions. Fresh chopped leaf lettuce, sliced cucumber, bean sprouts, pickled daikon and carrot, basil, chopped peanuts, and mint are served with vermicelli rice noodle and topped with grilled pork shoulder.
Diners can also opt for vermicelli noodles with crunchy slices of deep-fried eggrolls. As with most Vietnamese dishes, you also get a side of fish sauce to mix into the vermicelli noodles with grilled pork for a flavourful ensemble.
Hope that after the post you will have more useful information about famous dishes in Ho Chi Minh City. You don't forget to visit our website to get more useful information.