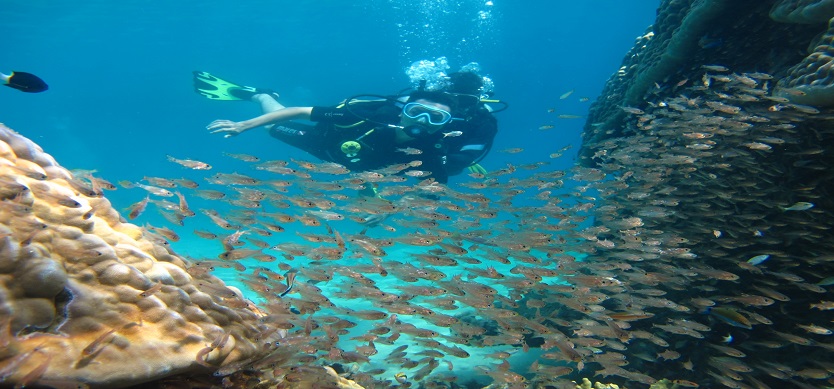 Phu Quoc Island is an amazing destination in Vietnam with a lot of wonderful places to see and interesting things for enjoyment, especially Phu Quoc scuba diving.
Scuba diving in the coral reefs is a popular tourist activity in Phu Quoc, especially young people who are interested in discovering ocean ecosystems.
What you need to prepare, and how to make an exciting and successful diving trip, the post will introduce you to all the experiences which you need to have the best scuba diving trip in there.
Phu Quoc scuba diving experience
In fact, if it is the first time you enjoy the trip, regarding to Phu Quoc travel guide, you should book a scuba diving tour with a professional guide, so you completely set in mind about your safety when enjoying the wonderful activity. Furthermore, besides professional guides, you also will be supported with modern equipment and ensure a safe adventure with many unexpected surprises waiting.
For diving equipment, you should choose a suit that fits snugly and wears professional diving glasses. The mask should fit your face so that water can not overflow. Moreover, ventilation should be tight and not lose to ensure breathing when diving. Flippers must also fit in the foot; otherwise, you will have a lot of difficulties moving underwater. In addition, you should spend 5 minutes getting acquainted with the talent at sea before you start diving.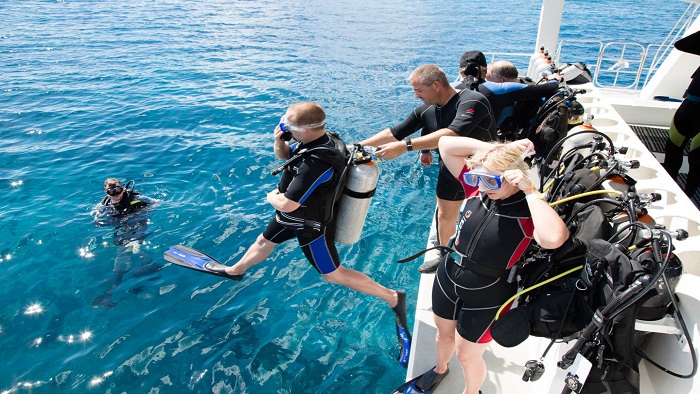 Scuba diving in Phu Quoc
Scuba diving is like a sport, so you should not dive when you are either full or hungry. Diving at noon will make it easy for you to vomit. Meanwhile, dive with a firm hollow will make you extremely tired. Therefore, the ideal time to participate in this exciting activity is after eating for about an hour.
Furthermore, if you are in a bad mood or scared, the advice is not to dive. You should dive when you feel the most comfortable.
Some important notes for diving
Always follow the rules of the tour guide
Always dive with the team and never dive alone
Always swim slowly and do not dive too deep.
Drinking alcohol before diving causes you to dehydrate faster and easily cause unpredictable changes as the pressure increases
When you get to the bank to help with tinnitus, shut your mouth, you should cover your ears and breathe out gently with your nose.
Besides that, the water sea in Phu Quoc is really clean and blue which you just wear swimming glasses and face down in the water you can see the depth of the sea more than 10m and the fish are carefree playful.
Moreover, the swimmers can swim and enjoy the area around the boat. They will also be accompanied by guides to the colorful coral reef. However, you do not touch the soft coral as silk, because this type is very vulnerable; grow very slowly, need special protection.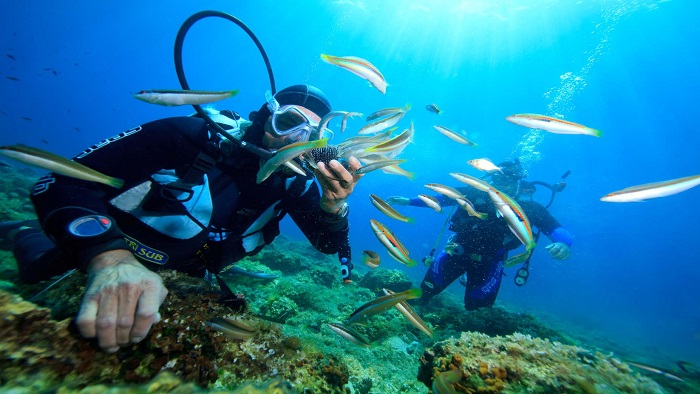 Diving in Phu Quoc sea
Tips and warnings for travelers
If you are cardiovascular disease, you do not enjoy the activity because the patient is not adapted to the sudden change of pressure, the air temperature in between and underwater, leading to a loss of calm or forgetting the coach's instructions. This will be extremely dangerous because they will be overwhelmed, choked water, ear pain, so you should take note before deciding to explore the ocean.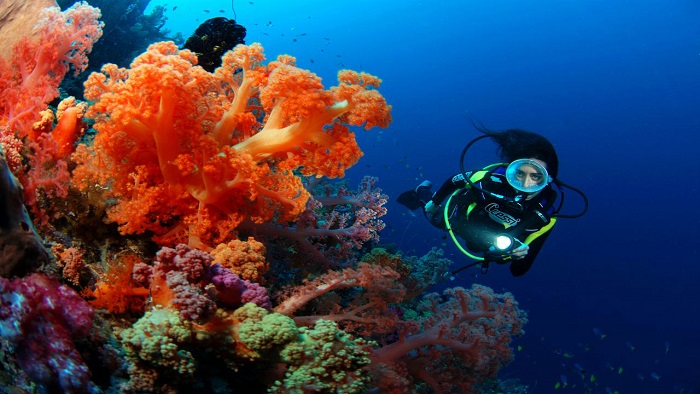 In the heart of Phu Quoc ocean
We hope that after the post, you will have useful information about scuba diving in Phu Quoc Island and have a good time in there. If you want to know more information about the place, you can visit Vietnam Tour Booking to get more.