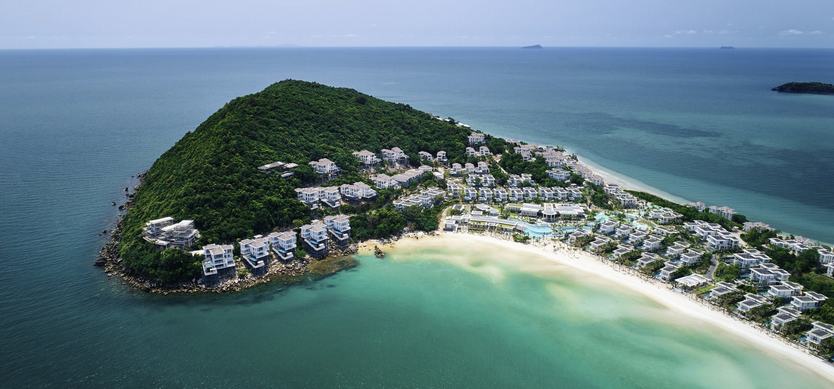 Phu Quoc is one of the most attractive and famous islands in Vietnam with a lot of wonderful and imposing destinations.
Furthermore, the island also attracted tourists to buy fresh seafood and traditional dishes.
Therefore, the post will introduce Phu Quoc travel guide to all travelers which can help them have an unforgettable trip.
Best time to visit Phu Quoc Island
Phu Quoc Island has a tropical monsoon climate with two distinct seasons including dry season from November to April and the rainy season from May to October. The average temperature is about 28 degrees Celsius, cool all year round so you can take Phu Quoc Discovery package 3D2N at any time of the year. However, from October to March is considered as the best time for traveling to Phu Quoc Island because the island has good weather and less rain as well.
Transfer to Phu Quoc island
Phu Quoc Island is known as the highlight travel destination in Vietnam, so the island is investing a lot of money to develop transport and the infrastructure. Therefore, transferring to Phu Quoc is quite easy and convenient. You can choose one means of traveling including flight, bus, and boat.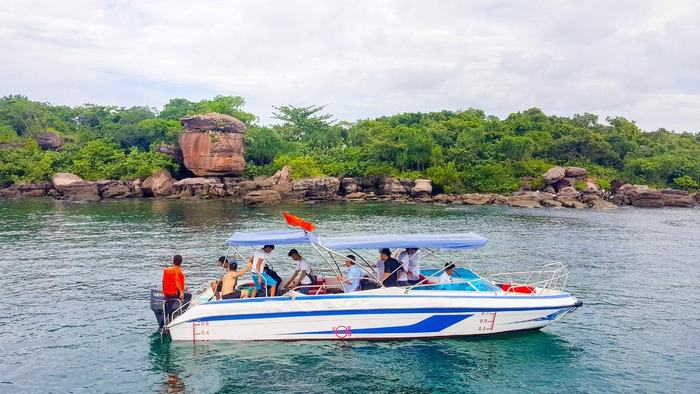 Boat to Phu Quoc
Flight: If you travel by air, you can fly directly from Hanoi or Saigon. Most airlines have Phu Quoc flights. Flights to Phu Quoc travel agencies are also cheap, but they have to be booked a few months before, and low-cost tickets are also subject to conditions.
Bus: If you take a bus during the day, you should stay one night in Rach Gia. The price of the house is not affordable at all.
Boat: Normally high-speed boat will depart Phu Quoc travel at 8 am and 1 pm. If people do not like Rach Gia, then book tickets will go to 8 am.
Places for visiting in Phu Quoc island
Dinh Cau
The first trip to Phu Quoc always visited Dinh Cau because people think this is the declaration of a few days on the island. A beautiful scene created between rock and sea, Dinh Cau always attracts many visitors every day.
The east of the island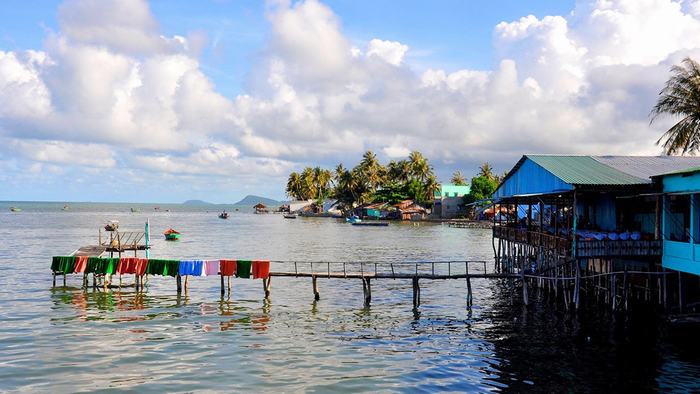 Ham Ninh fishing village
Ham Ninh fishing village: Keeping the character of the fishing village in the past which is the ideal place to watch the sunrise or sunset while touring Phu Quoc. It also sells a lot of seafood that can be enjoyed or purchased as a gift.
Tranh spring: The stream is like a picture painted in the middle of a green tree forest, flowing streams flowing through the large stone to create a beautiful picture. Therefore, the place is one of the places which tourists cannot miss when traveling in Phu Quoc Island. However, you should remember that the place is suitable for traveling in the rainy season only because the stream will do not have water in the dry season.
Phu Quoc Fish Sauce Production: Fish sauce is the famous traditional dish in Phu Quoc island, so if you have the chance to Phu Quoc, you can not miss out on the place make delicious and special fish sauce.
The north of Phu Quoc island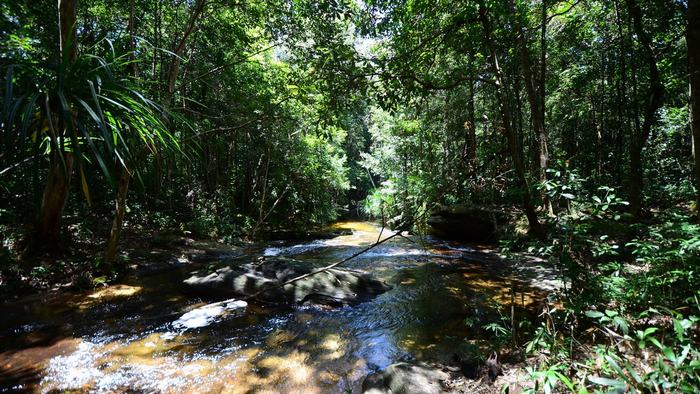 Phu Quoc National Park
Phu Quoc's dog's farm: When visiting Phu Quoc Island, tourists can visit wildlife and the real feature of a rare and famous dog.
Pepper Garden: Phu Quoc pepper is famous for its spicy aroma than other types of pepper grown in other countries.
Phu Quoc national park: There are many exciting discoveries if you join Phu Quoc travels in the forest to enjoy the cool air, you can see the abundant vegetation in this national park.
Ganh Dau: The tip of the sea in the northwest of the island attracts visitors by the wild nature and most characteristic.
The south of Phu Quoc island
Pearl Display: If you go on the right occasion, you can also see the process of getting pearls from the boys in these places.
Phu Quoc prison: This historical relic records the history of his father's time.
An Thoi port is an important and busy port. From here you can take part in exciting tours including snorkeling, coral reefs, fishing, etc.
Bai Sao: Famous for the fine sand, clear sea can see the bottom. It is indeed the paradise of those who love the sea, come here and sure will be attached not to want to return.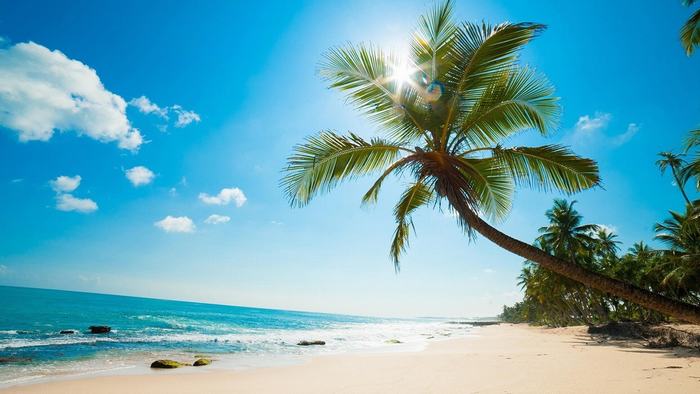 Sao Beach
Foods for enjoying
Phu Quoc is famous for its many attractive specialties. The familiar seafood under the hands of the people here suddenly became desirable specialties. Therefore, when having a chance to visit Phu Quoc island, tourists cannot miss out on amazing dishes that can be found in Phu Quoc night market.
Herring salad
When visiting Phu Quoc, you should not miss the salad with rice paper rolls with a variety of vegetables, less coconut cure and finally, a few pieces of herring, with premium fish sauce, when you chew, you will be surprised to complete. Not only the smell of the dish is very good but the smell of wild vegetables, the fat of coconut and pieces of crunchy fish. However, you should remember that when eating herring salad, you have to drink sim alcohol because herring is a lot of protein and fresh, when eating fish eat a little enzyme too good for digestion.
Ham Ninh crab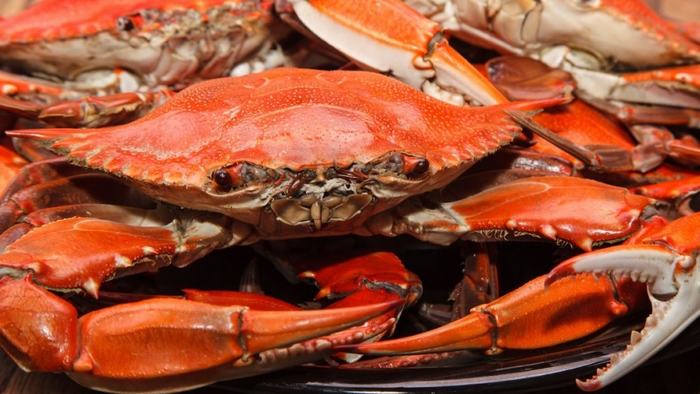 Ham Ninh Crab
Traveling to Phu Quoc without enjoying boiled fish is not complete. Crab is a specialty of this region, almost always there. The crab caught just boiled, bright red, meat firmly, salt lemon pepper is great. Grilled chili with salt, chopped grilled onion, grilled egg, fried squid. These are also worth a try when you travel to Phu Quoc. These are popular dishes in Phu Quoc, which can be found in every restaurant or at Dinh Cau night market.
We hope that after the post, you will have useful information for traveling to Phu Quoc Island, if you need more information or traveling with the tour, you don't forget to visit Vietnam Tour Booking to get more.