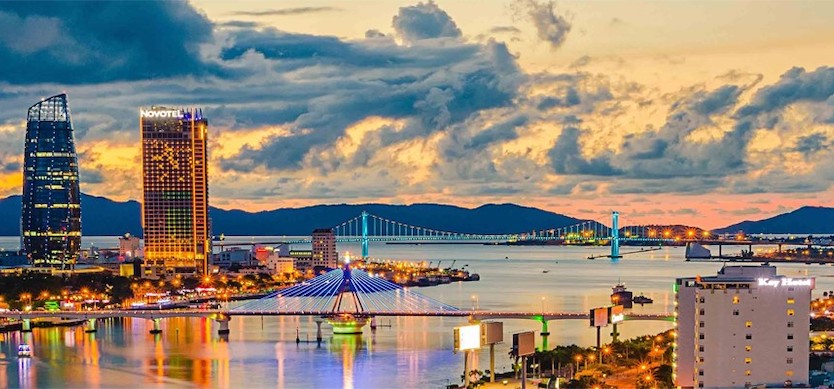 With beautiful nature, mild climate, and high-class infrastructure, Danang, Nha Trang, Vung Tau, and Dalat are considered the best places for living in Vietnam.
Danang
Danang is located in the South Central region, the center of three world cultural heritages including the ancient capital of Hue, the old town of Hoi An, and My Son Sanctuary. This livable city receives the acclaim of many domestic and international tourists because of its impressive natural landscape and clean living environment.
Danang has created its brand and identity in many fields over the past years. It is said that Danang is a great place to live because of its clean environment, low pollution, diversified services, comfortable living standards, and stable infrastructure. In reality, in a few tourist cities in Vietnam, visitors can comfortably take a stroll on the pavement without being surrounded by groups of decoys.
Furthermore, the infrastructure in Danang is well invested, so you can freely travel with the most comfortable and convenient facilities. The shopping centers here also operate all day and night with a rich variety of attractive programs, so you will not have "free time" when traveling here. Danang also invests in amusement parks to create a tourist paradise to attract not only domestic but also foreign travelers.
In 2011, Danang affirmed its trademark when it won the ASEAN Environmentally Sustainable City Award. It can be said that the city is favored by nature when owning numerous famous sights such as Ba Na Hill, Son Tra peninsula and Han river.
The tourist sites that you can not ignore when coming to Danang include the dreaming night scenery on Han river, Son Tra peninsula, Ba Na mountain ecological zone, the famous Non Nuoc stone carving village, the clear water and the beautiful sunset in My Khe beach, etc.
Dalat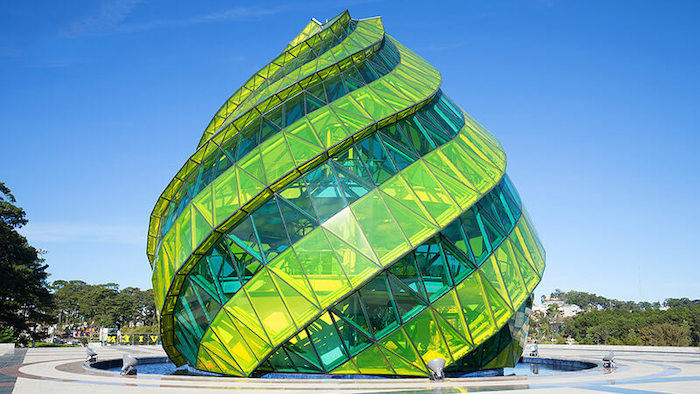 Dalat attractions
Dalat was dubbed the miniature Paris, the city in the fog, the capital of love, the valley of thousands of flowers, or home of pine forest, etc. Setting foot on this land, you certainly feel the unforgettable impression. Situated on Lam Vien plateau, Dalat has long become an attractive tourist paradise for both domestic and foreign tourists.
This place can compare with a giant air-conditioner generating mild temperature and operating all year round. The average temperature fluctuates around 20°C, which is suitable for leisure travel.
Dalat is attractive by its beauty that nature has given with abundant vegetation, including picturesque valleys of brilliant flowers, blooming golden wild sunflowers, fragrant roses, purple lavender, lovely mimosa flowers, etc. All these things blend perfectly to turn this place into a colorful flower forest.
Coming to Dalat, you can see those "specialties" from the native people's gardens to the square, the park, the road, etc. Dalat is very suitable for tourists who have a romantic soul and love nature.
Nha Trang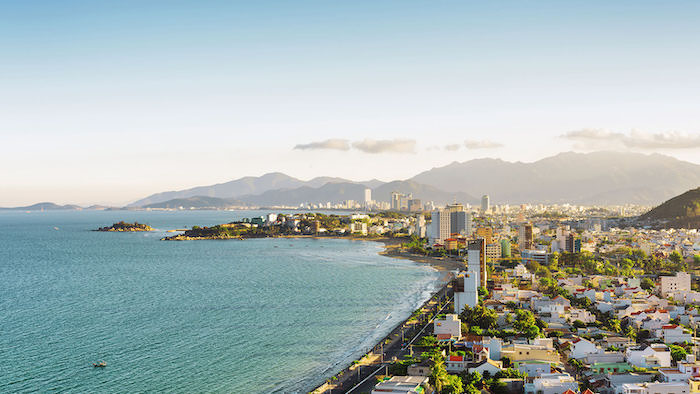 The coastal city of Nha Trang
Nha Trang is home to various famous sites along with favorable natural conditions. Located in the center of Khanh Hoa province, Nha Trang is also known as "the pearl of the Far East" because of owning a series of beautiful beaches, wide roads, and villas hidden in the forest.
Nha Trang beach is featured by white sand beaches stretching along the blue sea, the blue sky and the yellow color of the sunlight. Apart from the stunning scenery, Nha Trang is also attracted by the warm weather and the flooded sunshine and wind throughout the year.
Vung Tau
Located in the Southeast region, Vung Tau city belonging to Ba Ria - Vung Tau province is the center of economics, politics, and cultures. Situated on the peninsula of the same name, Vung Tau is 125 kilometers from Ho Chi Minh City and is surrounded by the coastline of 42 kilometers.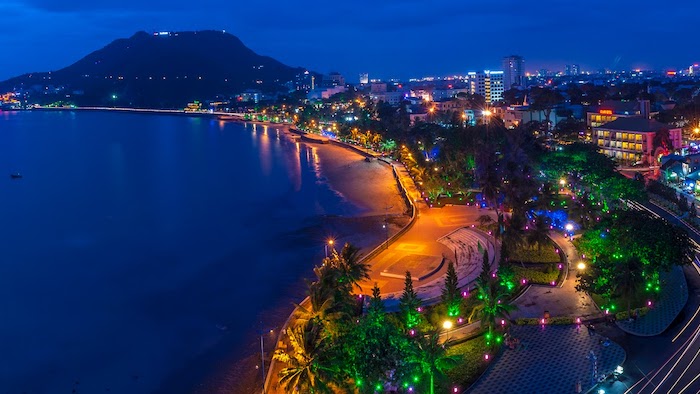 Vung Tau city by night
The city is also embraced by primitive forests, lakes, and rivers, creating a peaceful climate. As a result, Vung Tau is regarded as an ideal tourist destination in South Vietnam.
The long coastline gives Vung Tau an advantage over other cities. Accordingly, it owns many beautiful beaches, bringing profits to local tourism. Coming here, visitors can swim in both Bai Truoc and Bai Sau.
Besides, you should not miss some other tourist spots such as Thich Ca Phat Dai (Platform of Shakyamuni Buddha) pagoda, Christ the King, White Palace, Linh Son ancient pagoda or the lighthouse on the top of Little Mountain.
If not being fond of the bustling atmosphere in Hanoi and Saigon, you are advised to consider the cities above. Hope that with the given information, you will find out a suitable place to live in Vietnam. If you find the article useful for your trip to Vietnam, please like and share it with others. Thank you.