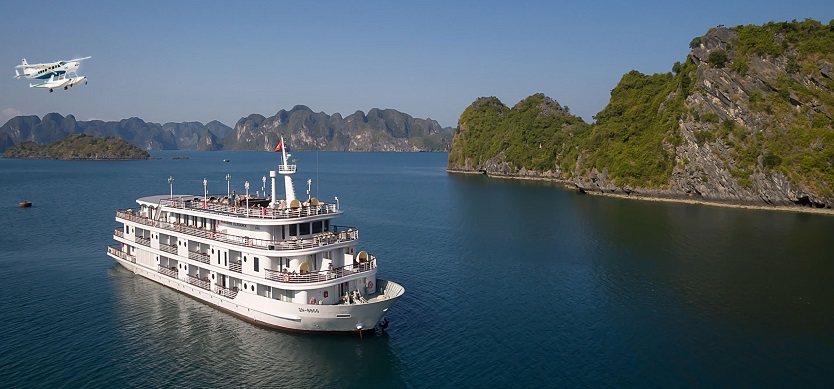 Halong Bay is well-known as one of the highlights of Vietnam tourism. There are many tours operated daily to meet the increasing needs of both domestic tourists and foreign tourists. Depending on each demand and itinerary, tourists will choose themselves the best Halong bay tour from Hanoi.
Sightseeings travellers will be admired in Halong tours from Hanoi
Ba Hang fishing village
Visiting this fishing village, travellers can not only be immersed in the peaceful, serene and charming atmosphere but be admired its compelling natural beauty and learn about the cultural life of the local fishermen as well.
Thien Cung cave: Thien Cung cave is situated in the south-west of Halong Bay, 4 km away from the touristy port in Dau Go island and at 25m above sea level. It is rated as one of the most beautiful caves of Halong Bay. The two sides of the way leading to Thien Cung grotto are craggy cliffs covered by lush trees. Going through a narrow cave door, travellers will come in a space above a quadrilateral surface with a length of 130 m. Entering deeper into the cave, tourists will be amazed by the extremely lively beauty and the magnificence created by the stalactites.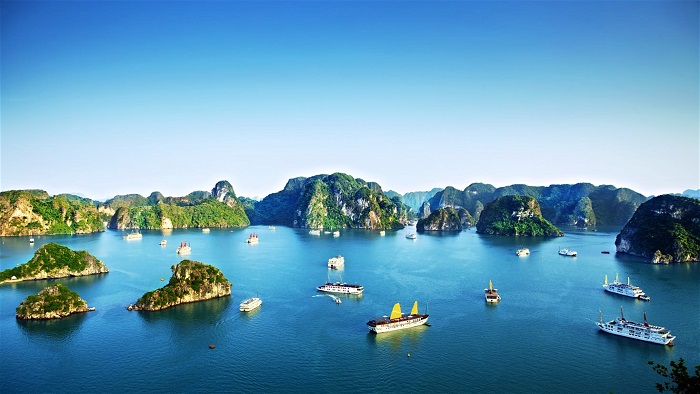 Best Halong Bay Tour From Hanoi
Cat Ba Island
This touristy place is often listed in best Halong Bay cruise tour from Hanoi. It is located in Cat Ba archipelago with about 367 islets and islands. Near Halong bay, it creates a population of islands and caves on the ocean fascinating both domestic tourists and foreign tourists. Travelling to this site, travellers will be enjoyed the fresh atmosphere and emerged the beautiful nature. The climate on Cat Ba island is very cool, fresh and very suitable for relaxing on vacation.
Lan Ha Bay
Lan Ha Bay is located in the east of Cat Ba island, adjacent Halong bay and Cua Van. It is peaceful and arc-shaped bay with about 400 large and small islets creating a compelling huge picture. Unlike Halong Bay's islets, all 400 large and small islets of Lan Ha Bay are covered by lush trees or vegetation.
Cua Van fishing village
This fishing village has been rated in the list of 16 most beautiful ancient villages in the world (2016) by the Journeyrtc.com – a travel website. The criteria for selecting the villages that appear on this list are ancient, graceful and preserving typical traditional culture. Cua Van fishing village has listed by Journeyect.com because it has the convergence of these three most important criteria.
Interesting activities when travelling these tours
Taking a kayak or bamboo boat: It is one of the most exciting outdoor activities often operated in the best Halong Bay tour from Hanoi. Halong bay trips may not be complete without spending time on water activities. Experiencing a kayaking or bamboo boat cruise is an ideal way to explore the bay.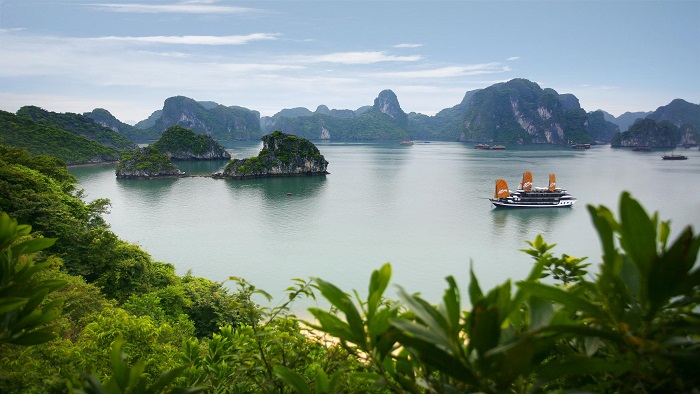 Best Halong Bay Tour From Hanoi
Taking Halong's overview by seaplane: It is a great choice to behold the stunning panorama of Ha Long Bay from above. With more than 2000 large islands and limestone mountains and beautiful bays, Halong Bay is a great place for seeing scenic sightseeing by seaplane. This will be the highlight of travel itineraries in Halong bay tours.
Hope that this article above will be useful for travellers to plan a memorable trip to these popular attractions. If you need more information about travelling, you can visit Vietnam Tour Booking to get more.