Hanoi - the capital of Vietnam is a beautiful city with a lot of interesting things to do and see. When thinking of a trip here, you may concern "when is the best time to visit?"
Just to autumn, Hanoi promptly puts on her a glamorous gown. Time as stops to catch the autumn quietly through the old town, surfing on moss roof and leaving behind a carpet of rustling yellow leaves. The sky is full of nostalgia.
Roads with yellow leaves in Hanoi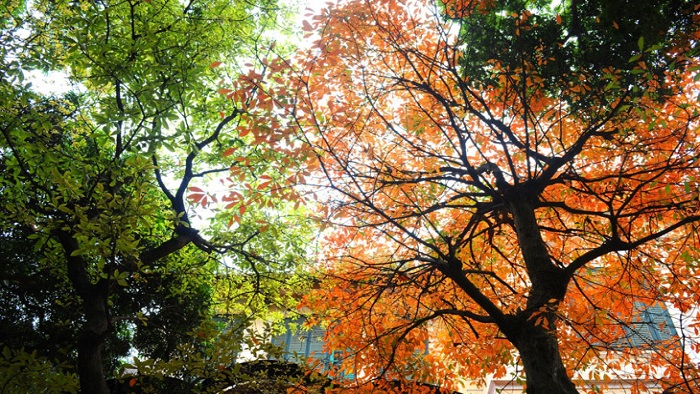 Autumn colors in Hanoi Old Quarter
I have sometimes come to Hanoi on the balmy autumn day, and tiny indescribable emotions are always in my mind. Perhaps no place on this S-shaped land you can feel the autumn beauty gentle and so deep as Hanoi autumn. Space is outlined by the blue color of the sky, sunshine, golden leaves, and the pristine white of "Ao Dai" dress flying on a windy afternoon.
Hanoi autumn afternoon
The fall is a priceless gift nature has given to this thousands of years land, and then only once of coming is a thousand times of missing. I love the early morning of wandering on the old streets and seeing a new day. On an early morning, the streets are too quiet and peace. The morning market is crowded by sisters preparing her full burden of "Com Lang Vong", fresh fruits of autumn to go to all Hanoi streets.
Through the ups and downs, Hanoi remains unique ancient features with old houses, streets, alleys intertwined like a chessboard. 36 Hanoi streets in autumn, yellow leaves fall on moss roofs, stretch down the road. Narrow ancient streets with very special names: Hang Duong, Hang Bong, Hang Trong, Hang Than ... are always bustling with tourists. Between these old houses, picturesque, pretty and romantic small cafes are ideal stops to admire the beauty of Hanoi streets in your Hanoi excursions.
Bikes loaded with yellow sunflowers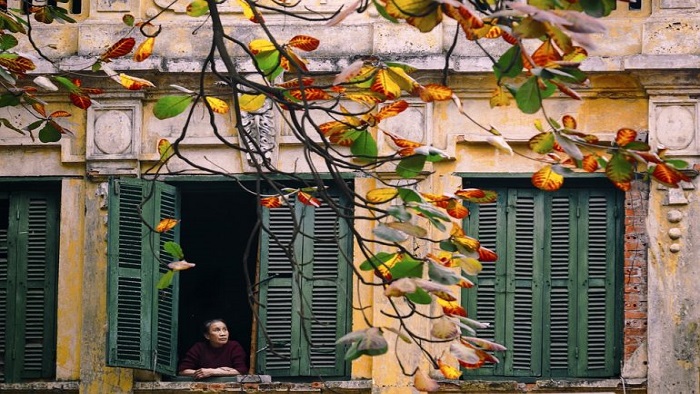 Autumn colors in Hanoi Old Quarter
I love wandering the streets, watching the bikes loaded with yellow sunflowers as carrying the autumn. I also love a magical Sword lake immersing yellow colors of the autumn, and windy autumn nights when I am immersed in the sweet fragrance of blackboard tree's flowers on Nguyen Du street.
Blackboard tree flowers
Only by wandering around in the night, you can feel all the beauty of Hanoi old Quarters. Leaving noisy, narrowness and dusty, now streets come back its taciturn and ancient appearance. Somewhere in street, love songs of guitars sound deeply and quietly. The memories of a faraway time awake, still filled and full of emotion as ever. The dry soul suddenly seemed to be transformed into poets who know and love deeply autumn's cold mist.
This time, Hanoi begins the autumn season. To have full emotions of Hanoi autumn, you should soon book Vietnam tour offered by Vietnam Tour Booking. I wish you have a memorable autumn in Hanoi Old Quarter.