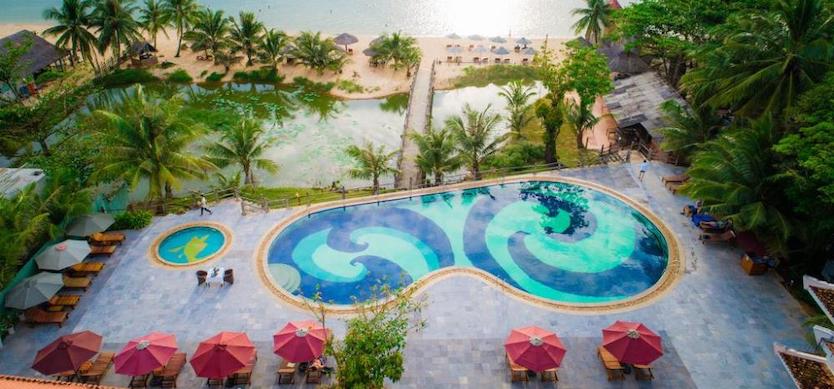 Phu Quoc island is known as a beautiful and "must-see" destination when visiting Vietnam. Therefore, there are a lot of people spend time visiting Phu Quoc or Con Dao each year.
It is also the reason why there is a lot of high-quality hotels and resorts there, of which Phu Quoc Long Beach resort is one of them.
General information
Long Beach Phu Quoc Resort & Spa is located on the idyllic beach of Phu Quoc Island, which is uniquely designed to impress a traditional village of Vietnam with wooden furniture, rough brick to feel cozy and close with nature.
Luxurious, full of charm, detail and trend of escape are meticulously made to make Long Beach Phu Quoc Resort & Spa stand out in the area.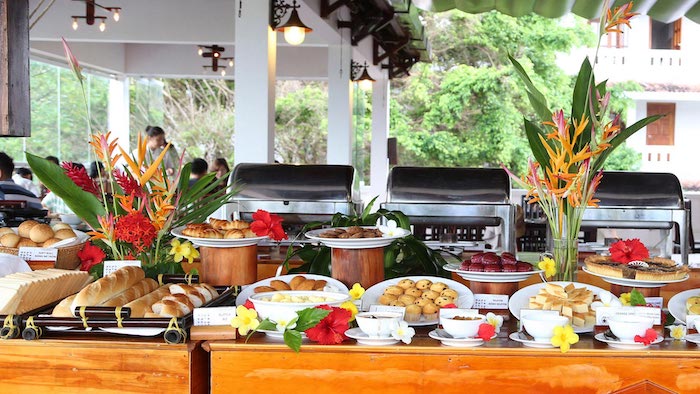 The cuisine of Phu Quoc Long Beach resort
Stretching along the pristine coastline, the 118-room Long Beach Resort opened in its early stages of owning the unique architecture of the traditional Vietnamese village. Hence, when visiting the resort, you will get feeling like staying in a house of Vietnamese people.
Furthermore, this resort offers a new standard of comfort and convenience. Borderless elegance along with careful attention to detail, design and genuine sense of escape has made the resort stand out in the region.
Phu Quoc Long Beach resort is known as one of the resorts which have an excellent location in Phu Quoc and most beautiful décor. It is the reason why the room of the resort is always in the "run-out" situation in the peak season.
So, if you want to visit Phu Quoc Island and stay in Phu Quoc Long Beach resort, you should book in advance to make sure that you will book a suitable room for you and your family.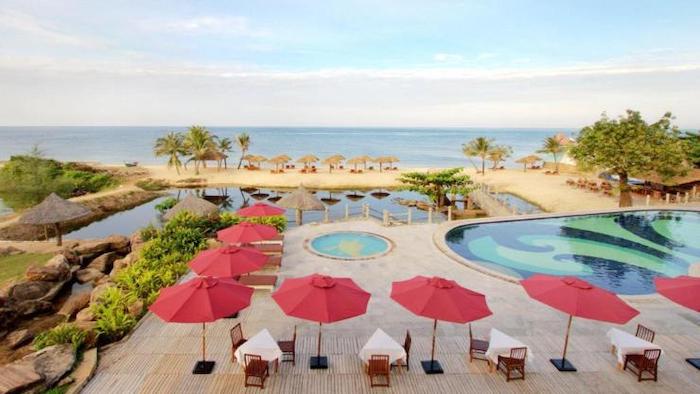 The resort has a beautiful view of the sea
Types of rooms in Phu Quoc Long Beach resort
Superior room
Step into the brand-new Superior Room up to 34sqm and step inside the spacious, elegant and well-furnished guest room, amid the clear blue sky and tropical scenery.
Ancient Deluxe room
With its classic wooden architecture and furnishing, the 36-square-meter Ancient Deluxe room will bring a fresh and relaxed atmosphere together with a unique antique charm to bring you an enjoyable and the provincial time.
Family Studio room
Luxuriously decorated, the Family Studio room has an area of 44 square meters with beautiful bedrooms combined with the living room so that the family can enjoy the time together. Accordingly, it is an ideal choice for a family trip.
Ancient Suite
With an area of over 84m2, the Ancient Suite is the largest room of the resort with the spacious layout, and elegant design in classical style will create a different exquisite space.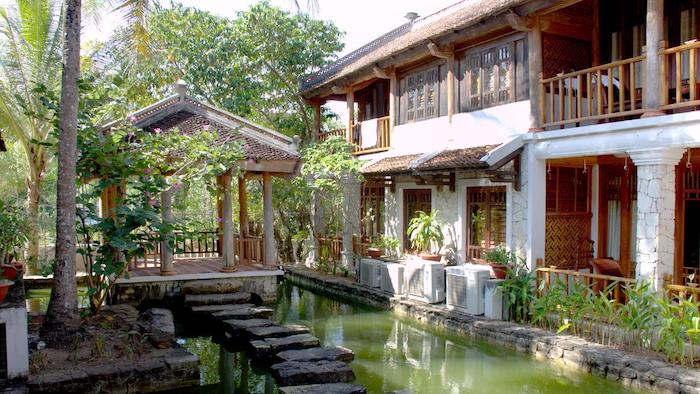 The scenery inside the resort
Best season to travel to Phu Quoc
Peak season
According to our experience of Phu Quoc package tours, the best time to go to Pearl island is the dry season, from the end of October until March of the following year. Also, it can last until May if the weather in Phu Quoc is favorable.
Why should you choose these months?
At this time, the weather in Phu Quoc is less rainy, and the waves are quieter and more refreshing, very appropriate for traveling and relaxation.
As a result, it is also the peak season attracting many visitors to Phu Quoc. If you travel at this time, let's find out and book your room in advance to avoid the inconvenient conditions of being out of the accommodation and price increase.
Low season
The remaining months from the end of April to the beginning of October, the number of tourists decreases because this is the rainy season in Phu Quoc. Sometimes, some storms hinder many fun activities of tourists. Therefore, room prices and services here are sharply reduced.
If traveling this time, you should go during season changes which is the beginning of April or the end of October. The rainfall is not very high, so you can still see the beautiful scenery and the price is comfortable, helping you get a great trip that saves a lot of money.
What will be more fascinated than enjoying the beautiful attractions of Phu Quoc while staying in a world-class place like Phu Quoc Long Beach Resort? Don't reluctant but plan a trip here now! If you need more information about the resort as well as other famous and beautiful hotels in Phu Quoc island, you can visit Vietnam Tour Booking to find more. Please like and share the article with others if it's useful for you. Thank you.