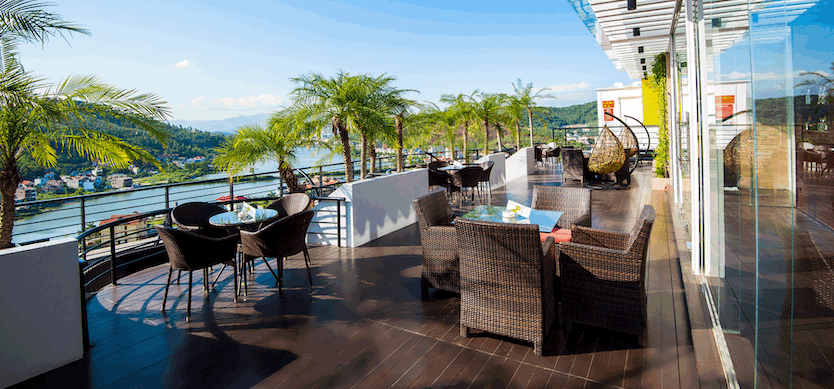 Halong Bay has been recognized as a natural wonder of the world many times by UNESCO with thousands of islands. Thanks to its captivating scenery, Halong bay draws the attention of both domestic and international tourists. It becomes one of the most well-known tourist attractions in Vietnam.
To meet the increasing demand for tourists coming to this beautiful bay, the accommodations of Halong Bay are enhanced in both the quality of services and facilities. In which, Royal Lotus Hotel Halong, a 4-star hotel in Halong, is regarded as one of the top-rated hotels in Halong Bay, a fantastic place to stay in Vietnam.
Location
Royal Lotus Hotel Halong - Halong Bay is located in Bai Chay. It is about 70 km from Cat Bi International Airport and about 180 km from Noi Bai International Airport. It also takes only 5-minute walking to Halong port or the commercial center of Halong Bay. Therefore, it is convenient for tourists to transfer between touristy spots in Halong Bay.
Accommodations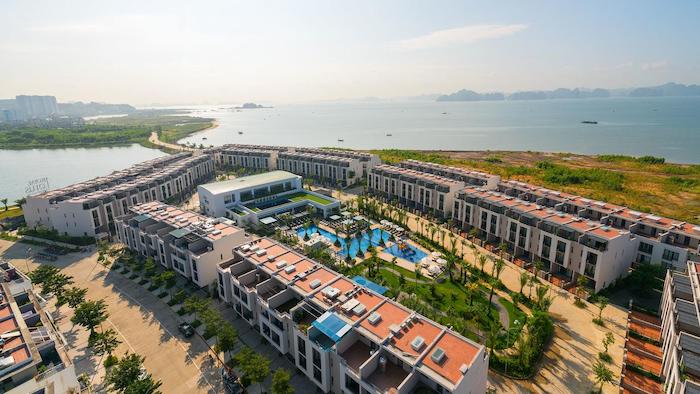 Royal Lotus Hotel in Halong
Royal Lotus Hotel Halong Halong bay provides impeccable and international standard services. It is proud of 147 elegant rooms with luxury and modern amenities. This hotel deserves to be the first option for those who are looking for accommodations in Halong Bay.
There are four types of rooms in this hotel, including the Deluxe room, Junior Suite, Suite, and Senior Suite. All are spacious and decorated elegantly. Also, this hotel offers some services such as free tea and coffee, minibar, multi-channel flat screen LCD TV, in-room safe, high-speed internet access, individually controlled air-conditioning, telephone, lotus and tub room.
Restaurant and bar
Eating in Royal Lotus Hotel Halong bay, tourists will be served with both delicious local dishes and international cuisine. Western dishes are cooked skillfully, and the hotel offers them with Spanish wines. Coming to Lotus Dine Wine Restaurant of Royal Lotus Hotel Halong, customs also enjoy tasty foods in a space decorated with contemporary style.
On the 16th floor of this hotel, travelers will be provided light snacks and a range of specialty cocktails while enjoying the breathtaking panoramic views of Halong Bay in the elegant and modern rooftop bar.
Recreation
Besides extremely comfortable rooms and luxury restaurants and bars, guests can also experience pampering spa treatments in Bai Bua Spa, swimming pool and fitness center in the hotel. Bai Bua spa is located on the 3rd floor and has 13 massage rooms, 2 Jacuzzi rooms.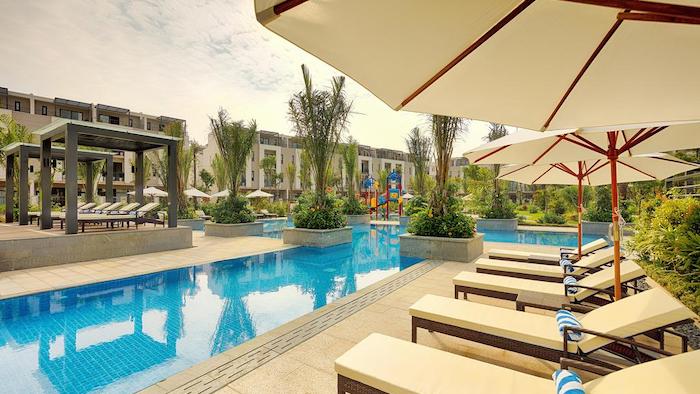 The high-class services in the hotel
With the gorgeous indoor swimming pool on the 4th floor, guests can try a deep dive and enjoy the incredible 360-degree scenery over the Halong city and bay. The fitness center has a large room equipped modernly to help guests keep their exercising routine.
Services for meeting and events
Besides, Royal Lotus Hotel Halong also offers services for organizing the wedding party and conferences. With the group of professional event planners, the hotel will give guests the best advice and options to ensure the success of the events. The thoughtful services, modern amenities and special offers that are provided by the hotel will give guests the best experience.
Best time to visit
Summer in Halong is lovely. The sunshine color from the blue sky shining down combines with the beautiful landscapes of the white sandy beaches, the green mountains, and the blue water, creating a picture as water painting, making it more attractive and fanciful.
This experience will bring tourists a funny and unforgettable memory on summer days. However, you should not be here from August to October when it is raining because it will be not convenient for the trip.
The autumn and winter in Lan Ha bay offer visitors a sense of being extremely close to nature. Foreign travelers often come here in this period from November to March. Sunshine is gentle with the cool breeze of the ocean giving visitors the feeling of complete relaxation and freshness in each breath.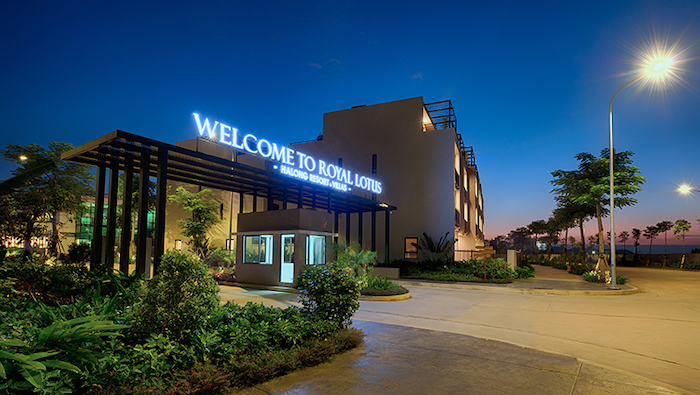 The hotel by night
The scenery of Halong Bay is like a paradise with small rock islands, quiet white sandy beaches, floating houses, small boats of the local fishermen, and crystal clear water, etc.
With a convenient location, world-class facilities, and outstanding services, Royal Lotus Hotel Halong promises to make your Halong Bay tour more fanciful than ever. For further information about trips to Vietnam, feel free to contact us or visit our website. Don't hesitate to like and share the article with others if it's useful for you. Thank you.