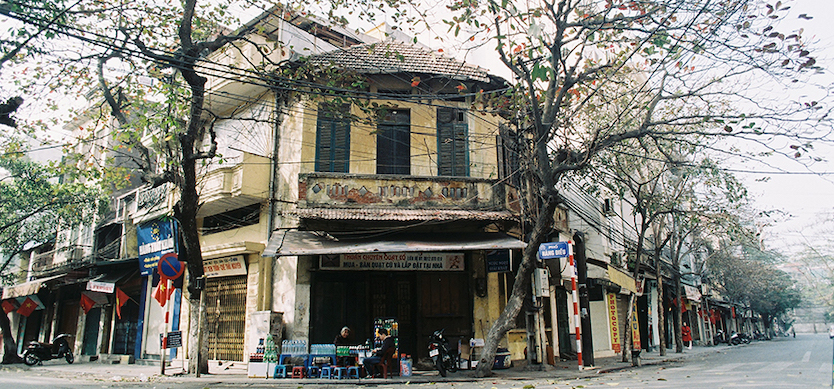 Hanoi is a popular destination in Vietnam. Going through four seasons in one year, Hanoi wears different coats, but the unique beauty of Hanoi still stands regardless of the passing of time.
Hanoi's charm reminds us of famous sites in Hanoi such as Hanoi Old Quarter, Hoan Kiem lake, Imperial Citadel of Thang Long, Hanoi Cathedral and Temple of Literature. They are some of what to see in Hanoi. And then, we will together explore these destinations.
Hanoi Old Quarter
Hanoi Old Quarter is home to the ancient cultures of the capital. With typical architecture in the late 19th century, the Old Quarter consists of houses located close together and communicating alleys. Also, the highlight of this place is the ancient streets and the autumn in Hanoi Old Quarter. Each street is named after its characteristic trade.
The night markets of the Old Quarter are usually held on Fridays, Saturdays, and Sundays on Hang Dao, Hang Ngang, Hang Duong, Hang Khoai, and Hang Giay streets. The night market is always bustling and sells many idyllic items bringing the ancient style of Vietnamese people. Hanoi Old Quarter is also where you can see the beauty of the soul of Hanoi people.
Hoan Kiem Lake
A distinctive feature of Hanoi's geography is that the inner city has many lakes and is surrounded by large rivers. Hoan Kiem lake is associated with the most historical vestiges in Hanoi. This lake is located in the heart of the capital and includes the ancient turtle tower on a small peninsula in the middle of the lake.
Besides, the cultural atmosphere has been established to serve the demand of visitors. This is also aimed at creating fun places for the local people on weekends. Walking street is a combination of many activities of art and entertainment that are attended by numerous young people and foreign tourists.
Next to Hoan Kiem Lake are impressive constructions that attract a lot of visitors to Hanoi, including But Tower (Pen Tower), Dai Nghien (Ink Stand), The Huc Bridge leading to Dac Nguyet Tower or Tran Ba Temple on the way to Ngoc Son Temple.
Hanoi Cathedral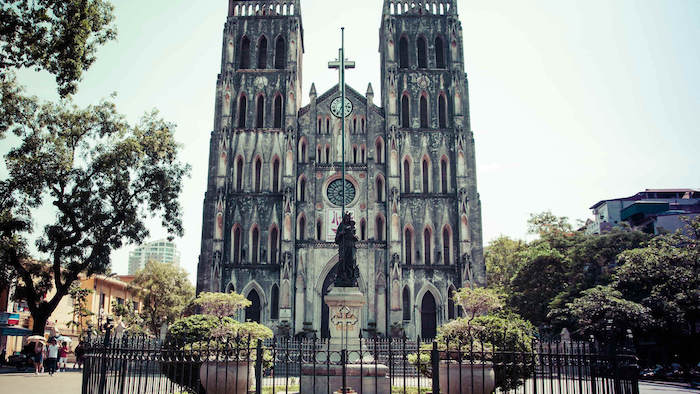 Hanoi Cathedral
Located at No. 40 Nha Chung street, Hang Trong ward, Hanoi Cathedral is one of the popular destinations in Hanoi. This destination not only draws the Christians but also is a favorite place of young people and travelers from various regions. The church is designed in the style of Gothic architecture with high walls, dome, and many windows.
Inside the church is the nave decorated with wooden patterns that are inlaid with gold combined with the system of Saint pictures made of colored glass.
Imperial Citadel of Thang Long
Imperial Citadel of Thang Long is a relic complex closely connected with the development of Thang Long - Hanoi. It is also an important relic in the system of historical relics of Vietnam.
The site is one of the ten special national heritage sites proclaimed by the Prime Minister in 2009 and was inscribed on the World Heritage List by UNESCO's World Heritage Committee in 2010. Its Outstanding Universal Values are reflected in its historical longevity, its continuous role as a seat of power, and its multiple cultural layers.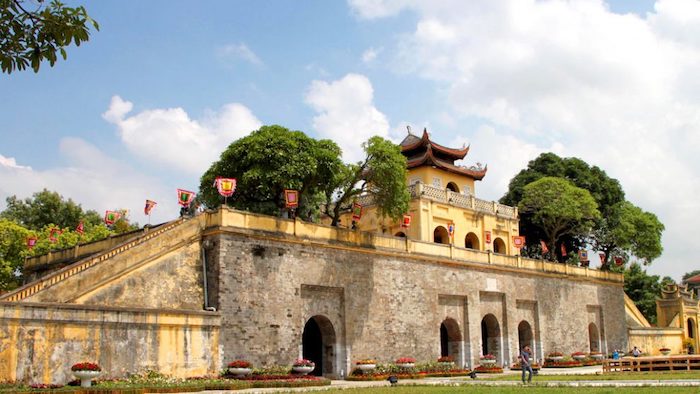 Imperial Citadel of Thang Long
Coming to the Imperial Citadel, you can visit famous sites such as the archaeological site at No.18 Hoang Dieu, Doan Mon gate, Kinh Thien Palace, North Gate, and Hanoi flag tower belonging to Vietnam Military History Museum.
Temple of Literature
Temple of Literature is a top-ranked cultural and architectural complex in Hanoi. This construction is the pride of the Hanoi's people because it is associated with the thousand-year cultural traditions of Thang Long - Dong Do - Hanoi.
Temple of Literature is seen as a symbol of knowledge and Vietnamese education. That is where sages, the ancestor of Confucianism and Chu Van An - the typical teacher of the high virtue of Vietnam are worshipped.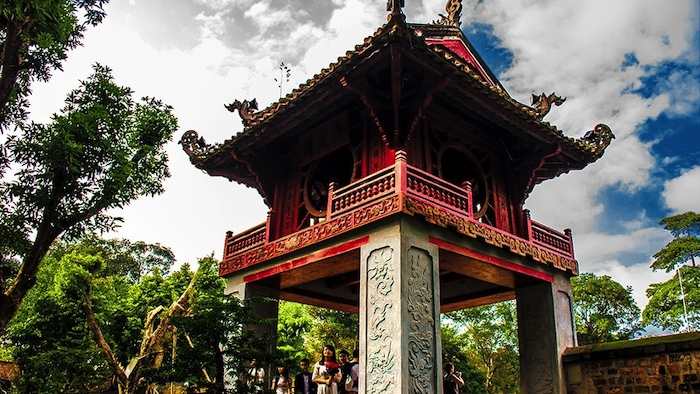 Temple of Literature
If you are fond of Vietnamese cultures and traditions, it is advisable no to ignore the famous destinations above. It is undeniable that you will gain lots of valuable knowledge and experience. For further information about Hanoi - Sapa - Ninh Binh tours, feel free to contact us or visit our website. If you find the article helpful for your trip to Vietnam, don't hesitate to like and share it with others. Thank you.