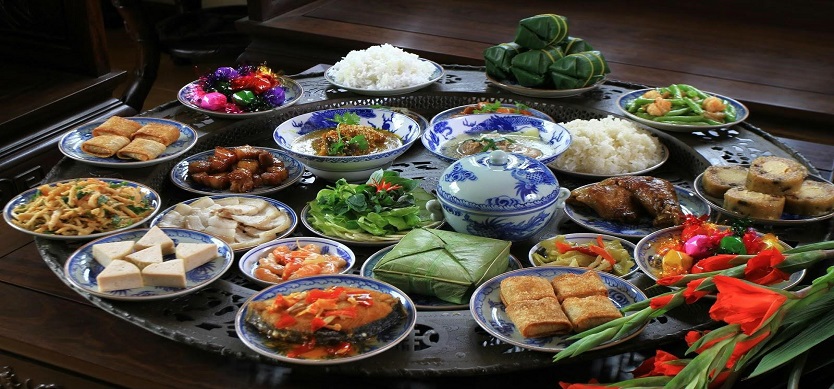 Tet is a traditional holiday in Vietnam. On this occasion, besides house decoration, Vietnamese people prepare a lot of unique foods such as banh chung, pickled onions, and pork sausage to welcome the New Year. So now, please read the article below to learn more about traditional food in Vietnamese New Year.
Banh Chung (Chung cake), banh tet (Tet cake)
Banh chung is the only type of cake with a long history in Vietnamese culinary culture. Legend has it that banh chung was the symbol of the Earth and was created by Prince Lang Lieu to express gratitude to his ancestor and fatherland.
The main ingredient of banh chung is glutinous rice as the emphasis on the importance of rice in Vietnamese daily life. In addition, the food includes green beans and pork. All the ingredients are wrapped in la dong (a kind of leaf) to form a square. Then, banh chung is cooked in a large pot. When being served, bánh chung is very fragrant, soft and good-looking.
​Traditional Food In Vietnamese New Year
In the South and Central Vietnam, banh tet is made from the same ingredients as banh chung in the North.
O mai (salted dry fruits), jam
On New Year's Day, almost all Vietnamese family has a box of jam and o mai on the table to serve guests. Besides, this is a favorite food of many Vietnamese families. Many types of jam displayed on the same tray also imply the desire for reunion.
O mai is made from the produce of the land and sky like fresh fruits in the forest and salt in the sea combined with the skillfulness of labor. A little block of o mai contain all the tastes: sourness, spiciness, saltiness and sweetness. This food brings the meaning of saying goodbye to the sadness and welcome the joy in the New Year's Eve. Enjoying pieces in o mai and jam together with a cup of hot tea not only is the delight in early spring but also features the image of traditional values of Vietnamese families.
Pickled onions
"Fat meat, pickled onions, red parallel sentences
New Year pole, strings of firecrackers, green Chung cake."
Vietnamese cuisine always attaches importance to harmony and balance in tastes. Therefore, the tasty and greasy flavor of banh chung is often accompanied by sour and spicy tastes of pickled onions.
Now, although the life is more and more prosperous with many luxury dishes, Vietnamese people still have this food on Tet. The taste may vary from region to region. For example, pickled onions in the South is usually seasoned with sugar while chili pepper is added to the Northern dish. This main purpose is to create harmony between meals.
Giò (Pork sausage)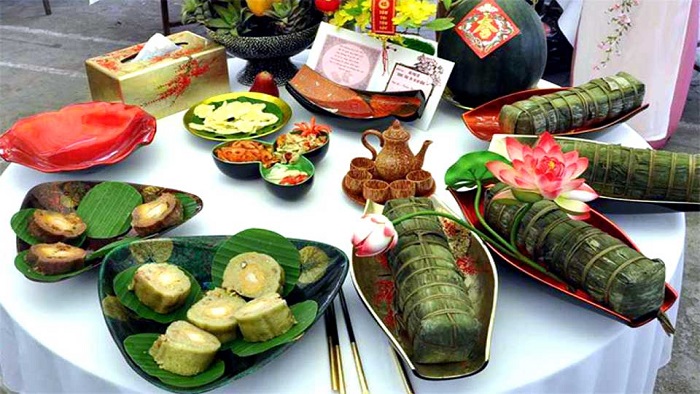 ​Traditional Food In Vietnamese New Year
For the Vietnamese people, a plate of pork sausage is considered a must-have meal in the Vietnamese tray on New Year.
Pork is crushed in a stone mortar so that it becomes soft and smooth. Then, the pork is wrapped in banana leaves to form tubes and tied up by giang strings. The pork is usually boiled or steamed. Pork sausage is cut into round slices. When being displayed on the plate, the pork sausage is required to be arranged neatly, white, smooth and good-looking. Slices of sausage often have a few small holes because the steamed water creates the foam. If using beef as raw material, the food is called giò bò (beef sausage).
On different occasions, Vietnamese people prepare various special foods. In conclusion, Vietnamese cuisine is quite diverse. When traveling to Vietnam, you should take a food tour to enjoy delicious foods here.