Located approximately 70 km northwest of Ho Chi Minh City, Cu Chi is the ideal destination for those who want to escape from the noisy atmosphere of the bustling city, enjoy the natural green scenery and learn about the life of the people of Cu Chi. For referring, this article will introduce some things to know in Cu Chi Tunnel in Mekong Delta tour in order to help travelers plan a memorable trip.
About Cu Chi Tunnel
Cu Chi Tunnel
This tunnel has been listed as one of the 12 world's most attractive underground architectures rated by CNN. It is an underground defence system made up of secret tunnels connecting one village to the others during the war.
Cu Chi Tunnel is not only a haven for guerrillas but also a center of community life. This tunnel system, with a total length of nearly 200 km, is designed extremely intricately. There are schools, the living quarters, the kitchens, the storage rooms, working rooms, and even movie theaters were used to be the entertaining area with traditional songs and dances built under the bombarded villages.
The continuous connection between underground villages with the most necessary conditions for the living makes the Cu Chi tunnels look like an underground city.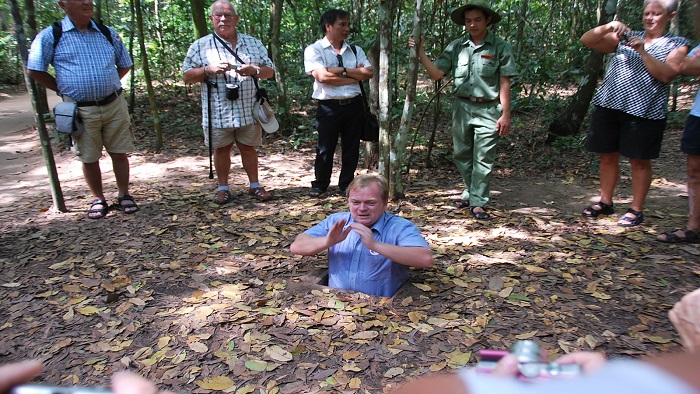 Cu Chi tunnel tourist area
How to get to Cu Chi Tunnel
From Hanoi, tourists can move to Cu Chi Tunnel by motorbike or plane. If you choose to visit Cu Chi by motorbike, you will drive along the national road 1A to Phan Thiet, Long Khanh, then, turn to Nguyen Chi Thanh road in Binh Duong province to Cu Chi. This route might be difficult to move with other means of transportation, but it is easier to drive by motorbike.
If you choose to visit Cu Chi by plane, you can go to Noi Bai international airport and take a flight to Tan Son Nhat international airport, then you can take a taxi or bus to the Cu Chi Tunnel tourist area.
Exploring the underground city
This is the most wonderful thing that tourists want to experience in Cu Chi Tunnel. This tunnel system has a structure like the tree-root hotel in Doraemon comic series. As well, this is also honored as one of the 10 most attractive underground works in the world.
Because the tunnel doesn't serve the water, it is better for you to bring the water bottle along. Don't forget the glasses, flashlight, unless that, you have to turn back the ground because the tunnel has many branches with a lack of light.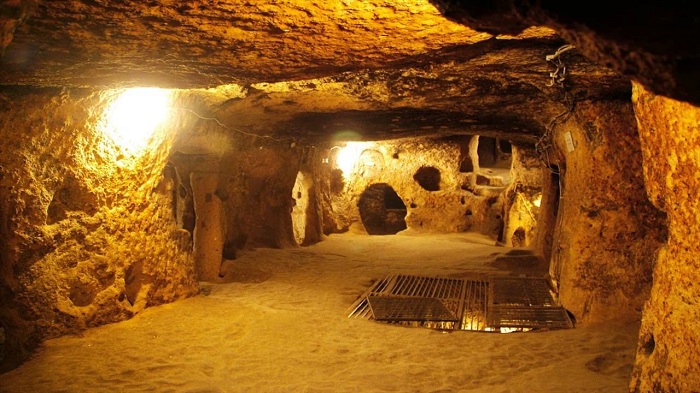 Inside Cu Chi tunnel
Shooting paintball gun
The shooting paintball gun is one of the most interesting activities travelers should note as things to know about Cu Chi Tunnel on Mekong Delta 2-day tours. After visiting Cu Chi tunnels, travelers can join this game with their friends.
This game is designed as a fake battle, lasting about 1.5 to 2 hours and it only starts when there are enough members to form two teams. The players will be equipped with a real soldier with guns, armor, protective goggles, mask, radio communication, plastic daggers, etc. The ammunition used in the gun is bullet-sized paintball made of wheat flour and food coloring.
Basing on the old battlefield terrace, this area was improved by reproducing the battlefields on a smaller scale than the one in wartime. They all bring a sense of realism to the players with the atmosphere of battle, rugged terrain, heavy guns and paintball shoot.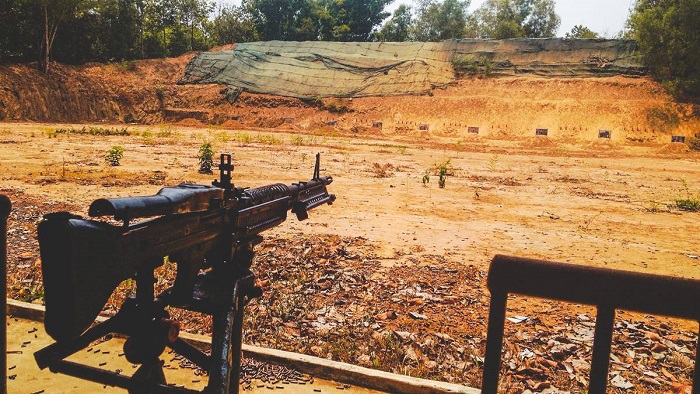 Shooting gun area
Trung An fruit orchard
It is also one of the interesting places for tourists to relax during the weekends. There are about 10 orchards in Trung An orchards. The price of fruits is very affordable. Space is covered by the cool green of the fruit tree and the tranquility of the village. Besides sightseeing, travelers also have the opportunity to taste rambutan, mangosteen, jackfruit and plenty of tropical fruits as well as the specialties of Cu Chi.
Cu Chi Water Park
Cu Chi Water Park was built on a land that used to be a marshy wilderness. After many years of renovation and construction, this place has transformed itself into a tourist attraction with a large water park, zoo, playground for children, tennis, billiards, yachts, fish, frogs, cafes and restaurants, hotels, etc. It is also the place bringing visitors peaceful moments while sipping the cup of coffee.
Hope that this article will be helpful for travelers to find out more things to know about Cu Chi Tunnel in Mekong Delta and have a great trip with an unforgettable experience to this attractive touristy place. If you need further information, please contact us via website Vietnam tour booking. Thank you!