The following sites will give you an opportunity to witness a fairy scenery of colorful butterflies and get beautiful photographs.
Tam Dao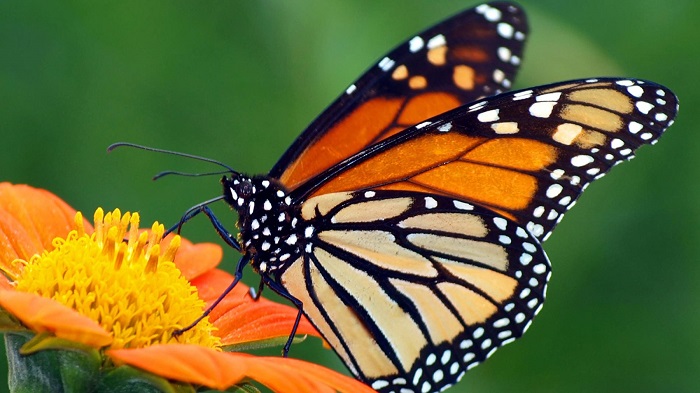 Tam Dao butterfly
Tam Dao is located far from Hanoi capital approximately 80 km. Located at an altitude of 900 m above sea level, the atmosphere here is fresh, cool all year round. It offers the stunning scenery covering a large area of the North Delta tours. Visitors will not only be ecstatic before the mountainous scenery, majestic waterfalls, and streams but also be attractive by the floating "cloud" of butterflies.
These days in March, April or October every year, on the slopes, canyons and streams everywhere you also see the butterflies of all shapes and colors.
Tam Dao is home of more than 150 species of butterflies including black blue butterflies hiding themselves in moss stone walls, butterfly wings as big as the paper, the butterfly as tiny as fingernails of kid. Here, you will experience a wonderful feeling among hundreds of colorful butterflies.
Ba Be lake
Ba Be lake is located in Nam Mau village, Ba Be District, Bac Kan province, far way 230 km from Hanoi, and is recognized as one of the 20 special freshwater lakes of the world that need to be protected. At an altitude of 145 m, with clear blue water, the lake as a beautiful pearl hides between the majestic mountains.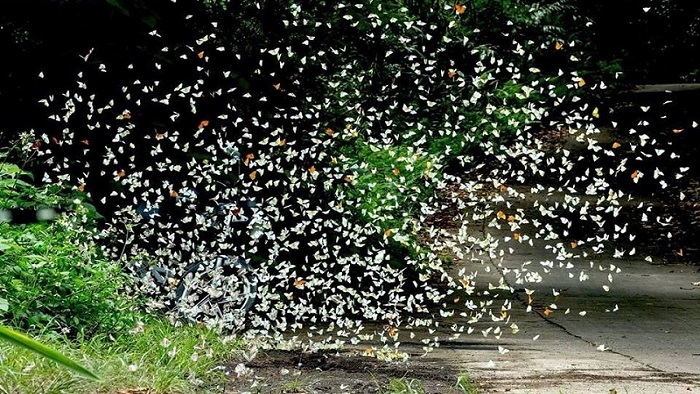 White butterflies fly around the trail
Every summer (from April), Ba Be lake becomes more charming when the white butterflies fly around the lakeside. At the wharf, tourists will be surprised by countless colorful butterflies flying rhythmically.
Small butterfly wings fly as snow is falling. Surfing boat between the charming scenery as water-colored painting with the green color of trees and blue color of the sky, white butterflies surroundings, will give you a dreamy feeling as immersing in the wishful realm.
Cuc Phuong National Park
Cuc Phuong National Park, about 120 km away from Hanoi to the southwest, is located in three provinces including Ninh Binh, Hoa Binh, and Thanh Hoa. As the gift of the Creator, Cuc Phuong butterflies suffuse in late spring and early summer. The most common butterfly is the white butterfly, besides Attacus atlas, swallowtail butterfly ...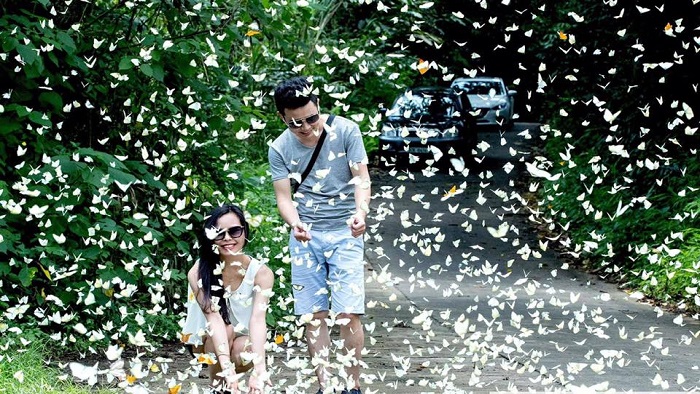 The colorful world of butterflies makes the forest become sparkling
Colorful world of butterflies makes the forest become sparkling among others like Phu Quoc National Park. On sunny days, you will see clouds of butterflies flying along the forest edge. Arriving Cuc Phuong national park, visitors will get a wealth of stunning photographs of butterflies and admire the miraculous beauty of nature.
Also, along the road to Ea Nhai irrigation lake in Krong Pak district, Dak Lak, you will see butterflies flying on sienna trees. Butterflies are often crowded from 10 am to noon. Under the blue sky, yellow butterflies mixed in sunny colors will contribute to your journey more exciting.
Ma Da forest
Ma Da forest is located in Vinh Cuu District, Dong Nai province, far away 90 km from Ho Chi Minh City. Coming here in May and June, you will save the beautiful moment with millions of different butterflies. The vivid green nature "mountainous Ma Da", colorful butterflies dancing around the ground and trees, create a poetic picture.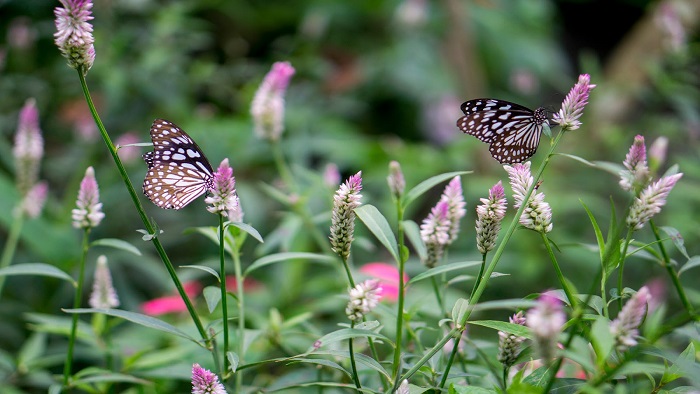 Butterfly in Ma Da forest
The wings of green, white, purple, yellow, black butterflies with a diversity of patterns take visitors a beautiful land as dreamy fairyland. This is also an opportunity for photographers to get panoramic images of butterflies or zoom to hunt photos of the butterflies' unique characteristics. Get Vietnam travel packages to see thousands of colorful butterflies in the forest.