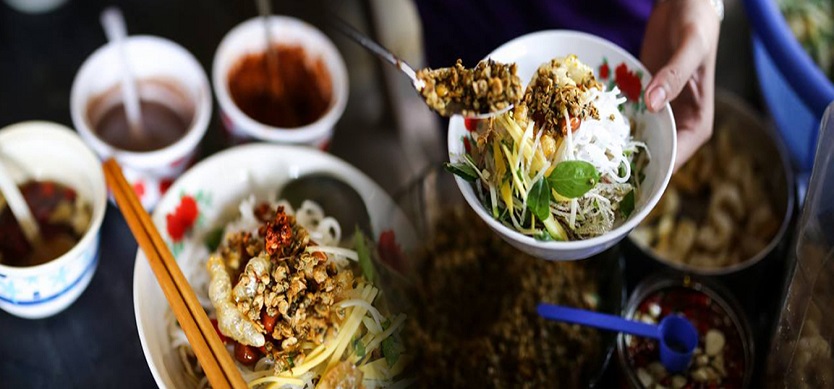 Hue is famous for the royal culinary, but the burden of street food is also a unique feature here.
1. Com Hen (mussel rice)
The most delicious mussel rice is in Hue. The mussel rice is a rustic dish everywhere. It is made from white rice cooked and cooled. With the rice, it is added the mussel meat, additives, and crispy fried greaves. Besides, the mussel rice is served with Hue shrimp sauce which is fleshy, tart, spicy and pungent. Vegetables eaten with the mussel rice cosnsist of: banana flower, bean sprouts and sliced white body taro. The final composition is roasted peanuts on top of the dish.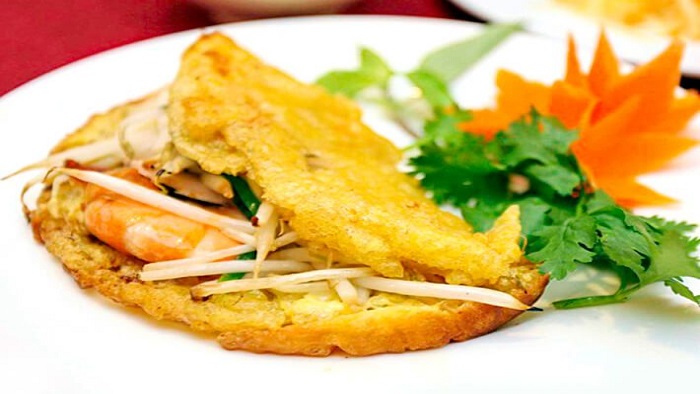 Specialities in Hue
2.Banh Canh Ba Doi
Located on Dao Duy Anh Street, at the end of an alley there is a noodle soup restaurant without the sign, but people usually name Ba Doi restaurant. Although this restaurant's noodle is julienned like Quang Binh's one, but the soup is cooked in Hue style.
This soup has the natural salty taste of shrimp. When enjoying a noodle soup bowl, diners will add the pepper, salt, lemon, chili oil and chopped scallions packing on the table, which make the dish more delicious ... So that Banh Canh Ba Doi is one of the most delicious street foods visitors can not miss in Hue.
3. Alley sweet soup
Our ancestors used to say if Hanoi has "36 streets", Hue also has "36 types of sweet soups". Nobody knows when Hue alley sweet soup was borned, it is called that because it is usually located deep in the corners or alleys with lots of different types.
Each type of sweet soup has a special, delicious, subtle flavor as the people here. Corn sweet soup is pure cool sweet, cooked from young corn in Hen dune; lotus seed sweet soup is special flavor of Tinh Tam Lake lotus - lotus type is given "to kings". Besides, the sweet soup with lotus seed wrapped logan is quite sweet and many different types of sweet soup such as pomegranate sweet soup, sticky rice cake and green pea paste, taro sweet soup, coconut cubes wrapped in casava flour, grilled pork wrapped in casava flour …
4. Bun bo Hue ( Hue beef rice noodle)
Hue beef rice noodle is the soul of Hue cuisine. Hue beef rice noodle includes a piece of pork leg, a piece of pork roll, a small piece of cooked pig blood and slices of beef. Vegetables eaten are very fresh and plentiful. Address with the most famous Hue beef noodle soup: 13 Ly Thuong Kiet Street (next to the Unions guesthouse ). In addition, everywhere in Hue you'll easily find a quality beef noodle restaurant. A bowl of bun bo hue has price of 30,000 VND.
5. Grilled pork noodles and grilled pork wet cake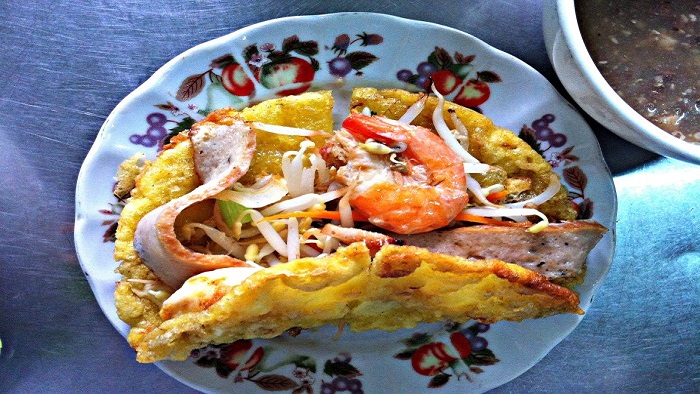 Specialities in Hue
A special feature of these dishes is grilled pork and sauce; especially there are so many fresh vegetables. You can try two dishes along Kim Long area to Thien Mu pagoda.
6. Hue cakes: water fern-shaped cake, rice dumpling cake, Bánh Nậm
If you have the opportunity to visit Hue, you will see connection between these cakes and the lives of people in the ancient capital.
Bloating Fern-shaped cake is usually served in small bowls, with the rice flour, shrimp paste, fried onion, and fish sauce. You may find other places serve the dry shrimp paste, unlike the one in the picture. It depends on what style you want. The fish sauce for Bánh bèo is quite sweet and not so salted.
You can go to the "bloating fern-shaped cake streets" like An Dinh Palace, Ngu Binh Street, Nguyen Binh Khiem Street ... in order to enjoy the "culture of the water fern-shaped cake" here.
Rice dumpling cake is covered with banana leaf. In each cake, there is a piece of shrimp and ground pork. The fish sauce goes with Bánh bột lọc is different from Bánh bèo. It is saltier, therefore, it is served in a very small plate. How to eat it? You peel the leaf, dip the cake with a sauce, then put it in your mouth… Yummy!!!
Bánh Nậm - What you expect is the rice floor, with a bit of shrimp and pork meat being smashed so you can't see the meat clearly. You can only 'feel' it when eating. The fish sauce to go with Bánh nậm really depends on your flavor, whether you want it to be salty or sweet. Therefore, you can either eat Bánh nậm with the fish sauce for Bánh bèo or Bánh bột lọc
7. Hue lemongrass skewers (Nem lụi Huế)
Many people often say "Nem lui is one of the characteristics of Hue cuisine". To enjoy this special dish you should go to Nguyen Hue street. Customers who ate lemongrass skewers one time will eat next to the second, the third, even people eat every day as "addiction" and always keep the good compliment.
When eating, you take rice paper, wrap with grilled meatballs, vegetables, pineapple, star fruit, bean sprouts, sliced green banana, chili ... and then tie by onion leaves and serve with a special sauce called soup. Teh soup for the lemongrass skewers is prepared from dozens of different materials such as vegetable oil, pork liver, cornstarch, sugar, soy sauce, cinnamon, anise flower mixed with coconut milk.
All dishes are the most famous street food in Hue you don't miss when joining
Vietnam tour packages
travelling to Hue. Let's try them one time you will never regret.