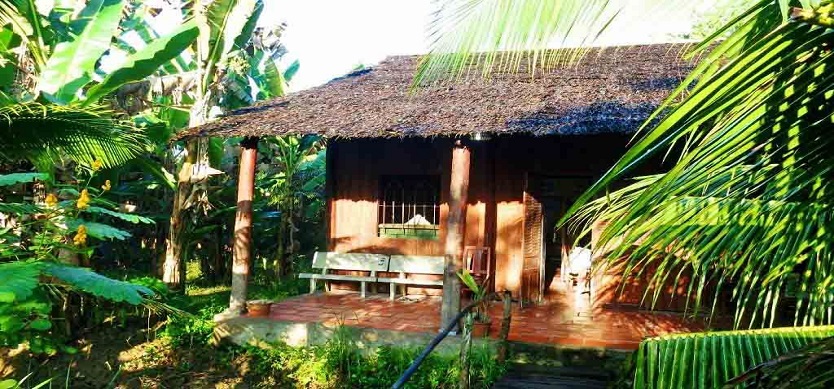 The best way to understand a land is experiencing the culture and customs of the indigenous people. Homestays in Mekong Delta is an ideal way to know about the real daily life of this charming land- Mekong Delta. This post will show you the useful information about homestays in Mekong Delta, hope that you will follow it until the end.
About homestays in Mekong Delta
"Homestay" is a name for a community-based tourism model that tourists will eat, live together and participate in daily activities with indigenous families. Because of promoting comfort and closeness, homestay – a new form of travel has become one of the favorite travel forms of tourists.
Eco-tourism is the most famous tourism form in Mekong delta, it is a form that combines the sightseeing tour with adventuring tour that tourists can experience living like a real local.
Traveling Mekong Delta in Vietnam, travelers will have the chance to be immersed in the daily life of the local people and learn how to make delicious local specialties. The homestays in Mekong Delta are associated with natural landscapes as the countryside, rich orchards, very beautiful riverside gardens of coconut trees. Therefore, tourists can not only behold the stunning green scenery but enjoy the fresh air and immense space as well.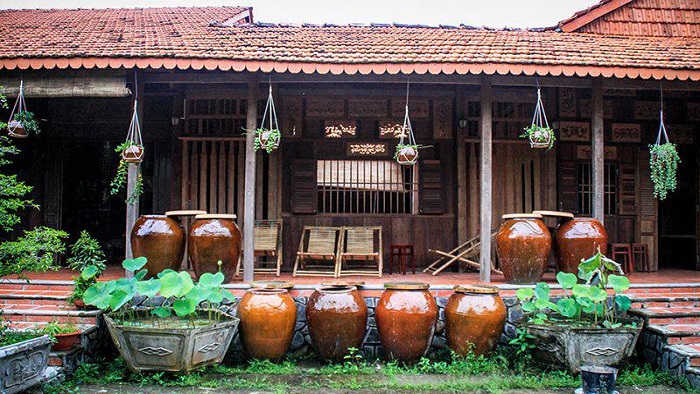 Traditional-style homestay in Mekong Delta
Great place for relaxing
Departing from Ho Chi Minh City, tourists will take the visit to popular tourist spots in Mekong Delta such as Can Tho, Cai Be floating market (Tien Giang province), rich fruit orchards and handicraft villages.
Taking a visit to floating markets and some local factories that produce rice paper and coconut candy will be exciting experiences for travelers. Lush fruit orchards and immense fields are great places to relax in this land.
Visiting these places, tourists will have the opportunity to immerse themselves in the real local life by staying with a Vietnamese family in one night.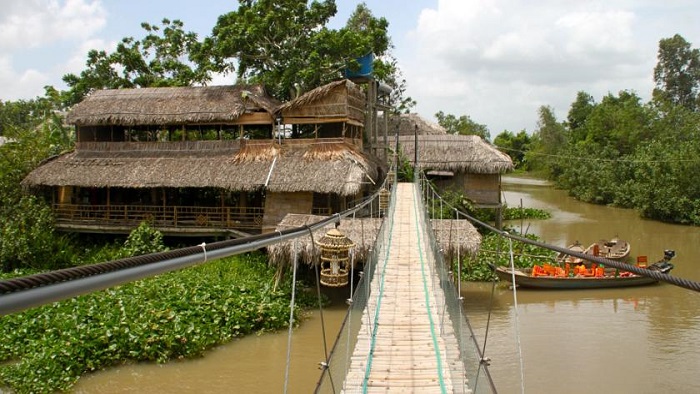 Homestay in the Mekong
Cultural exchange
It is one of the advantages travelers will get when taking homestays in Mekong Delta to know more about the local culture. Coming there, travelers will have the opportunity to learn about the art of making local dishes such as Banh Xeo – a delicious Vietnamese pancake, rice paper.
Mekong River Delta is home to many kinds of tasty and unique dishes. It is a great chance for tourists to enjoy the dishes and challenge whether you dare to try the unique and scary dishes or not.
Moreover, visitors will also have a cozy dinner with the local family, listen to folk songs and exchange about the differences between two cultures as well as two lifestyles.
Experiencing new forms of tourism
Getting up early in homestays in Mekong Delta, visitors will gain more exciting experiences as enjoying the Vietnamese-style breakfast cooked at home and exploring the land with the Mekong Delta bicycle tours.
When walking through the village, visitors can interact with the indigenous people who are really honest, thoughtful, friendly and enthusiastic to the guests and witness the process making up "chieu" - the traditional mats and take a visit to the Thoai Ngoc Hau temple – the place worshiping one of the settlers of this area.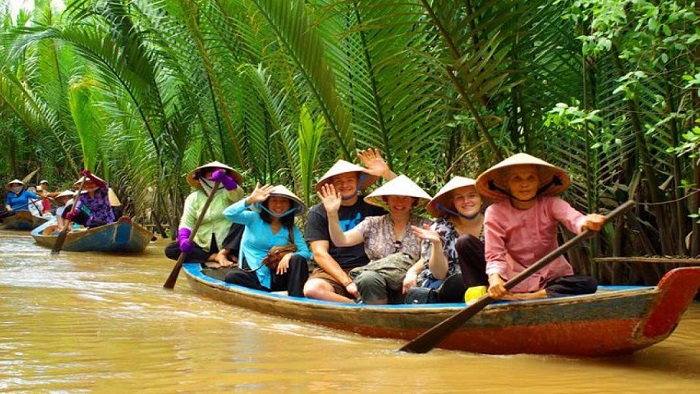 Boating in Mekong delta
Let's be ready for a busy day with many activities in the fruitful orchards and follow the locals to learn the daily tasks. If you are interested in, let's ask your tour guide to join the local's daily work such as fishing, planting rice, cooking, picking the fruits, etc.
In addition, there are many interesting outdoor activities in the daily life of the locals such as catching fishes, working as farmers in the fields and taking small sampans to explore lush and small canals. Furthermore, traditional festivals like the Coconut festival and fresh tropical fruit festivals are activities attracting a large number of tourists and travelers should not miss them when traveling there.
Thanks to the exciting experiences that homestays in Mekong Delta bring for travelers, it has become the popular form of tourism in this charming land. If you have any questions about Mekong homestay or Mekong delta tours, feel free to contact us via Vietnam tour booking. Thank you and have a great trip!