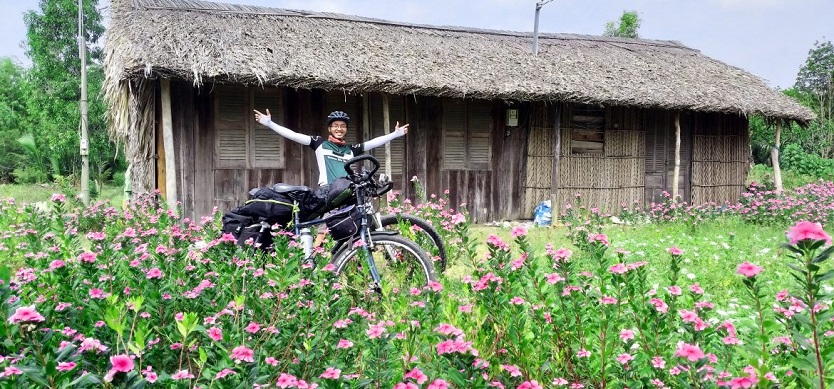 Bicycle tours help you discover a lot of destinations. In addition, this form of traveling is extremely good for health and reduces carbon emissions.
The Skyscanner website selected the journey along the Mekong River as one of the six most beautiful tourist routes on the bike. Please read the article below to learn more about bicycle tours in the Mekong islands.
Mekong River Delta in a nutshell
Being the last part of the S-shape forming Vietnam map, Mekong river delta is the largest and most flourished river delta of Vietnam. With the history of 300 years from the first steps of Vietnamese people to this land, Vietnamese people have created a unique culture which is the mixture of Viet, Hoa, Khmer and Cham people. Nowadays, this river delta is not only the rice bowl of the country but also one of the most important tourism centers in Vietnam with the strength of eco-tourism.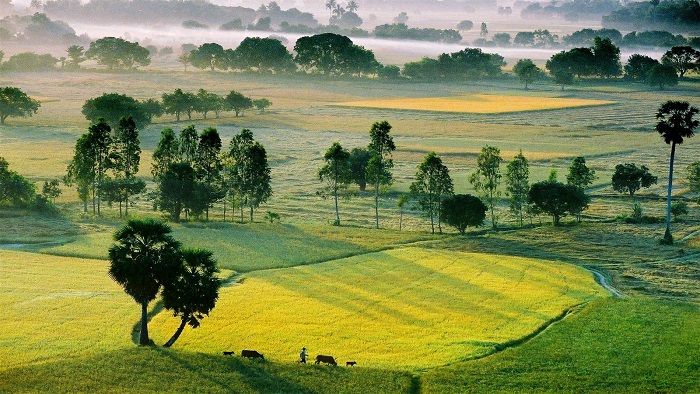 The peaceful beauty of Mekong river countryside
After a journey of 4900 kilometers, the majestic Mekong River flows into the sea, supplying abundant alluvium for the local people. This is a flat area with fertile land, stunning scenery, and biodiversity. On the bike, visitors can leisurely go through the fields, orchards, and countless canals. From charming little villages, tourists can take a boat where they can taste seasonal tropical fruits and local cuisine.
Enjoy bicycle tour in Ben Tre
The breathtaking natural scenery, a rich variety of fresh fruits and hospitable locals are all the things that appeal to international visitors. In recent years, there has been a remarkable increase in the number of foreigners. Here you can easily see the image of groups of foreign tourists riding the bicycle around tourist spots in Ben Tre - My Tho full day. They control the bicycle through the rural roads under groves of coconuts to visit traditional handicraft villages bringing traditional features, cultures, festivals, customs.
Chau Thanh, which is considered as the most exciting tourist district in Ben Tre, has dozens of different tourist sites. Every day this district welcomes hundreds of international visitors.
Visitors are often organized in groups and guided by the locals or discover what they like by themselves. They leisurely cycle around the village roads to visit the beautiful scenery and explore the villages with traditional craft such as coconut candy, coconut-made handicraft products, mat weaving and rice paper making on Phung and Quy islands.
They also go to the hick restaurants to enjoy the dishes with coconut flavor and visit the cultural and historical relics. At times, some foreign travelers ask the locals to go to their homes to take pictures of fresh fruit gardens.
Besides Chau Thanh, many other districts such as Giong Trom, Mo Cay Bac, Mo Cay Nam, Cho Lach, and Ben Tre City are where many tourists choose to take a bicycle tour to get enjoyable experiences and exercise as well.
In addition, you can go to Cho Lach, where you can discover famous trees and flowers; take a trip to Mo Cay Nam to explore Thom river (An Thanh). Giong Tom is featured in My Long craft village and Son Doc "phong cake". These villages are familiar destinations that foreign tourists reach by bicycle.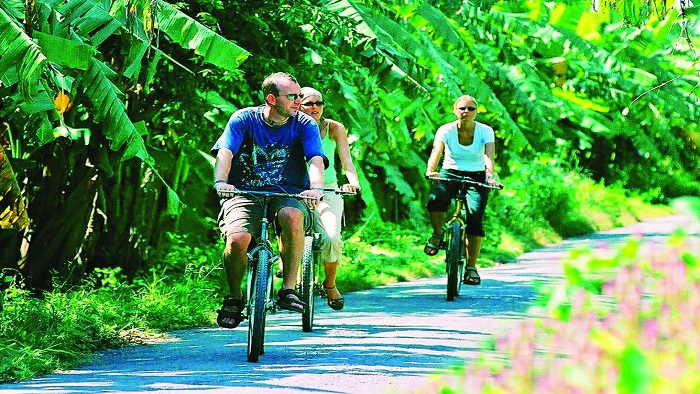 Biking in Mekong river delta
When coming Ben Tre City, they cycle along countryside roads; visit homestay gardens such as Ba Danh, Nhon Thanh, and Duyen Que; explore the Nhon Thanh mat-knitting village; drink honey tea and enjoy kinds of fruits.
Some tourists take a bicycle tour accompanied by a guide while some others hire a bike to discover themselves the landscape.
Taking a bicycle tour around the Mekong is one of the most exciting activities when visiting Mekong islands. In addition, there are many other interesting things to do like visiting floating markets and taking a yacht.
Biking on the small roads in the countryside seems to be an ideal choice for many urban people, that is why so many people when coming to Mekong river delta are so excited about these activities. We hope that after this post, tourists will have a wonderful experience in Mekong river delta. Being a tour distributor, Vietnam tour booking is very happy to offer you the great tour options in Vietnam. Thank you!