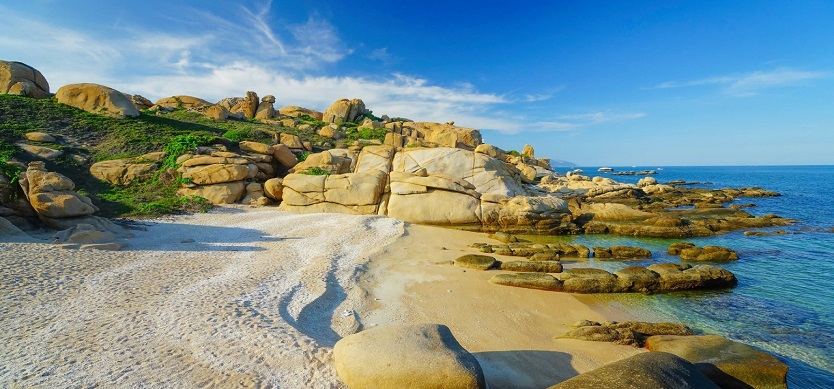 Cu Lao Cau is a small beautiful island in Binh Thuan province, Central Vietnam. It is near to the tourist city of Phan Thiet, so if you are in Phan Thiet in your Vietnam package tour, don't hesitate to spare your time to visit this island, we guarantee this island will not make you disappointed. If you are not sure about it, let's check the information below.
Overview of Cu Lao Cau
Cu Lao Cau, Hon Cau is the name of a small island in Tuy Phong District, Binh Thuan Province, northeast of Phan Thiet city. The island is far away about 10 km from land, the length of this beautiful island is 1.5 km, the largest point is about 800m. It is very prime with blue sea, surrounded by thousands of colourful stone blocks with different shapes. Hon Cau is completely isolated from the world of technology without electricity, only with solar energy. Besides rainwater, only a single source of fresh water is taken from Tien wells. Therefore, the island is only suitable for those who love nature and adventure tourism.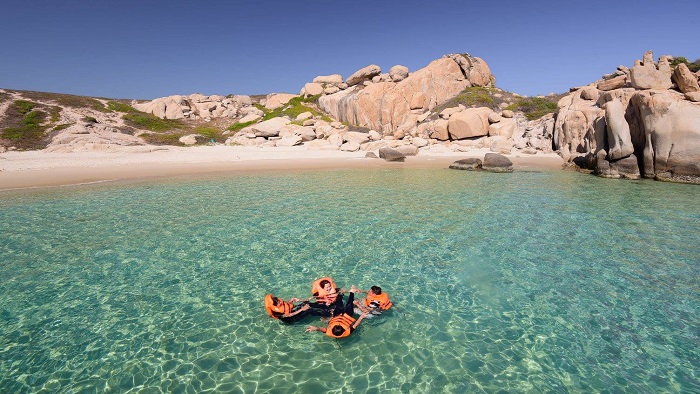 Cu Lao Cau seawater
According to local fishermen, the island is called Cu Lao Cau because it has a lot of gracilaria crassa. Currently, the island is under the control of border guards, so all activities on the island will need permission.
On the island, the climate is divided into two seasons: south wind season and north wind one. Between January and June according to the Lunar year, which is the ideal time to visit Cau island because of the peaceful sea, crowded boats, fresh cool air. From June to December according to the lunar calendar is the season of the north wind, rough seas, arid plants, so you should not go to the island.
Trip to Cu Lao Cau
Cau Island is a small island so you can easily explore the whole island in 1 day. There are places named by local fishermen as Love cave, Sung Suong gully, Tien beaches, coral reefs beach, Suot fishing beach ... that you only visit when going with local people.
You may also contact to Mr. Tu Huu as a guide for you. In addition to Cu Lao Cau beach with clear water which you can see the bottom or watch "stonewall" with strange shapes, there are very much attractions to those who love discoveries can experience.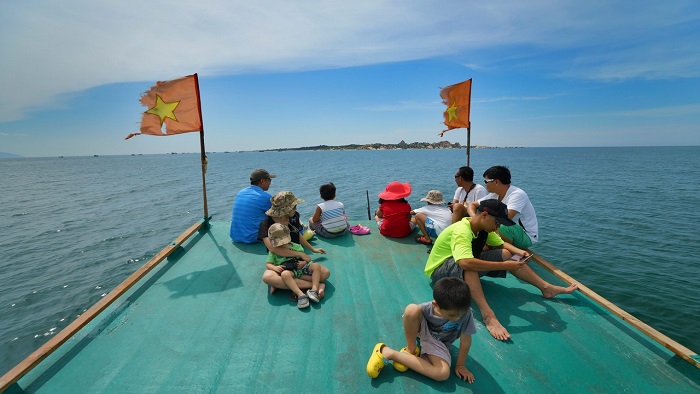 Go to Cu Lao Cau
What to see and do in Cu Lao Cau
Visiting Yen cave
This is a cave with hundreds of birds nest. Previously, people go there to take the nests and the eggs but now with the protection of the border guard on the island nest birds proliferate more and more.
Camping on beach
If camping here you will have the opportunity to listen to the waves slapping under the sparkling starry sky. This experience is hard to find in big cities or tourist areas with bright lights.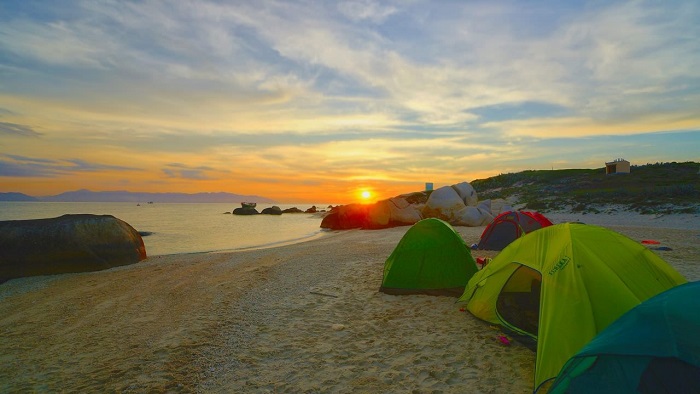 Camping on the beach
Taking Photos in Ba Hon cave
Next to Yen cave is Ba Hon cave that was created by three large upright stones with an interesting shape to take pictures.
Diving to see coral reefs
A biological characteristic of Hon Cau is surrounded by waters with the presence of typical tropical marine ecosystems. These are the coral reefs and seagrass having great value for biodiversity. This is also the habitat and breeding grounds for many species of rare aquatic organisms. So, It is a great place for you to be able to watch coral.
In Vinh Tan commune, there is a travel company that organizes tours for visitors to go the island, dive and see coral reefs. A private cruise can carry 12 visitors with a price of $ 200 / one trip. In the morning, arrive on the island, dive to see coral, catch fish, shrimp on the reefs. In the evening, back to shore (not allowed to sleep overnight on the island). If not through the company you remember to bring the diving equipment. However, this is not recommended if you have no experience in the field of diving.
Visiting Nam Hai Temple
On the island, there is a temple of Nam Hai God, and Nam Hai festival is held every year on the full moon of April.
Cu Lao Cau is such an ideal place for you to explore the sea beauty of Vietnam. With the wonderful natural landscape and friendly people, Cu Lao Cau leaves good impressions in tourist's hearts. If you still have any question about the tours to visit Cu Lao Cau, please feel free to contact us via the website Vietnam tour booking. Thank you and have a great trip!