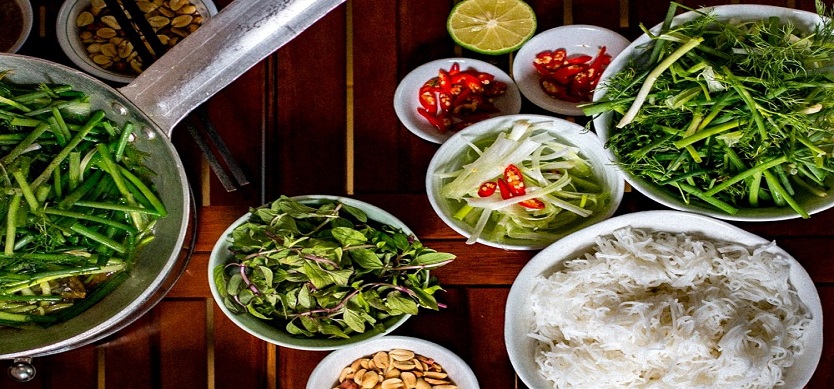 Hanoi is a culinary paradise for cuisine lovers to explore with age-old traditional dishes whose flavor cannot be found anywhere else. From junk food to main dishes, all flavors blend together to engrave on the mind of diners from various regions. Here are the best places to enjoy Hanoi cuisine including Bat Dan pho, Yen sticky rice, Dac Kim noodles with kebab, and Thinh Vuong roasted birds.
Bat Dan pho
Bat Dan pho is a must-mention name Hanoi in the list of Hanoi specialties. Every morning, tens of customers stand in queues to wait for a bowl of pho. The restaurant is quite crowded on Saturdays and Sundays. Most diners come here in the hope of savoring Hanoi's standard pho.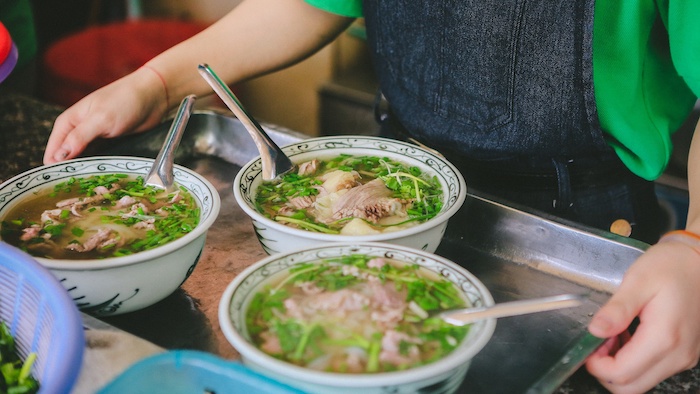 Bat Dan pho
Phở Bát Đàn carries many typical features of traditional Hanoi "phở bò" (noodle soup with beef) that has a fragrant smell and greasy taste. Besides, the food is created by clear broth and numerous fresh and soft beef pieces; therefore, it is attractive to not only Hanoi's people but also diners from other places, especially foreign tourists. Located on Bat Dan Street, the restaurant opens from 6:30 a.m to 8:30 a.m.
Yen sticky rice
Yen sticky rice is one of the most famous sticky rice restaurants on Nguyen Huu Huan street, Hanoi. The restaurant serves every meal during the day. Despite being crowded with customers, the restaurant does not keep the customers waiting for a long time because it has a lot of staff. Of all the dishes here, steamed glutinous rice with stir-fried chicken and mushroom is most selected.
Dac Kim kebab rice noodles
If you are a gourmet, Dac Kim noodles are certainly an unforgettable dish for you. It can be said this is the most famous restaurant of kebab rice noodles in Hanoi with the price from 50,000 to 60,000 VND. There are three types of chả served in the same bowl: grilled meat (pork side), grilled meatball (minced meat) and pork rolled in Blumea lanceolaria.
This dish is served with hot sauce and pickled turnip cabbage and carrot with sour and sweet tastes. Then, pepper is sprinkled over the bowl of sauce to bring a savory smell. The food can be accompanied by some kinds of raw vegetables such as salad, coriander, Vietnamese balm, basil, and shiso.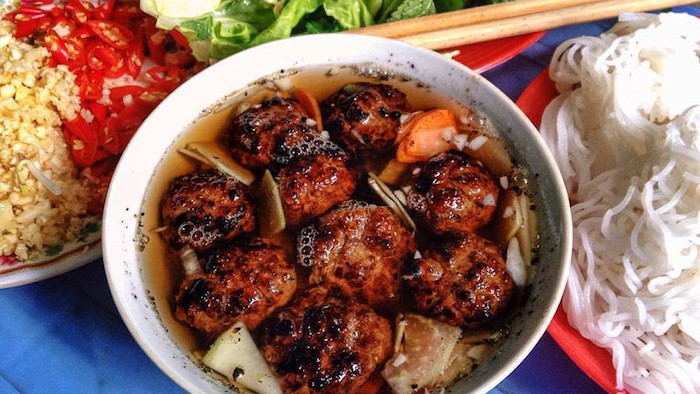 Kebab rice noodles in Hanoi
Thinh Vuong roasted birds
To enjoy the roast bird, you should go to Thinh Vuong on Ta Hien street. The most special people in the restaurant are the roast pigeon. In fact, the roast bird can be found all over the streets, but just Ta Hien and Hang Buom build up a brand name with this food. A roast bird that is served hot costs 100,000 VND. The bird meat is cooked medium and the crispy skin is highly marinated. This is an ideal food for cold winter days. In addition to roast birds, the restaurant also serves dry beefsteak which owns an exotic taste compared to the normal beefsteak.
Hanoi is really a great place to learn more about Vietnam. Coming to Hanoi, you should not miss the opportunity to enjoy the dishes above with Hanoi food tours. If you need further information, don't hesitate to let us know. Please like and share the article with others if you find it useful. Thank you.