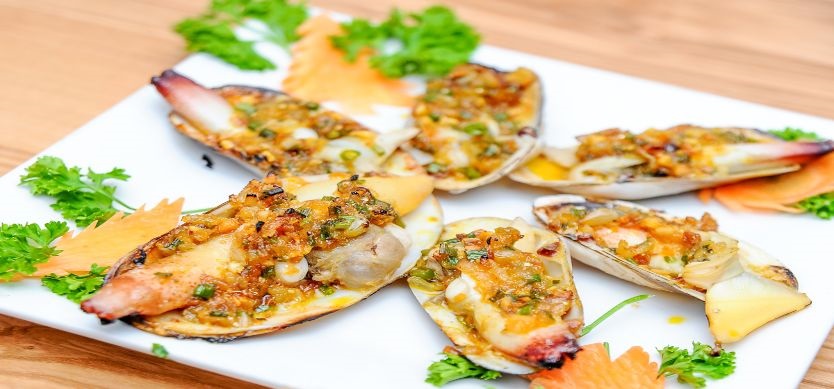 Halong Bay is often well-known for its amazing landscapes, cave exploration, and wonderful overnight cruise. In addition, one more thing making a very positive contribution to the fame of Halong Bay is its cuisine as well as its specialties often included in the Halong restaurant menu. The lists of popular Halong dishes offered in the best Halong Bay restaurant menu shared below will give travelers good options to try when traveling to Halong Bay from Hanoi.
Squid sausage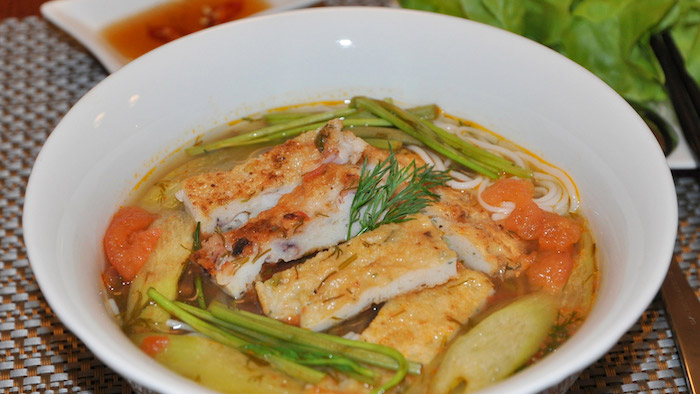 Squid sausage noodles
The famous squid sausage has been listed in the top 10 delicious dishes in Asia. Trying to taste it once, travelers will recognize that it is really worth in the rankings. Processing squid sausage requires manual dexterity and experience to make it with the best quality. Each piece of squid sausage has a naturally yellow, aromatic flavor and is rich in protein and freshness. All bring dinners a strange and attractive experience. This dish is often offered in Halong Bay restaurant menu as one of the highlights of the restaurant menu.
Stuffed pancake with squid sausage
This dish is the perfect combination of stuffed pancakes ( called "banh cuon") and squid sausages. It is served with typical sauce, herbs and some other spices. Besides its two main ingredients, its sauce plays an important role to make this dish more attractive.
Hoanh Bo wine
This special wine is made from the local glutinous rice. The sticky rice is cooked and then brewed. After this rice is fermented, it is soaked with some typical leaves taken from the Hoanh Bo forest in order to brew. After a period, this mixture turns into wine and then it is put in jar or bottle to be easy to use gradually. Hoanh Bo wine has a nice combination of a sweet and sour taste. It is good to stimulate digestion, refreshment, especially in the summer.
Seahorse crab
There are many different dishes made from sam such as seahorse crab soup, raw, sweet and sour, deep-fried egg, steamed, sauteed vermicelli, grilled, etc. These dishes are so delicious that travelers coming to Halong bay should not miss tasting.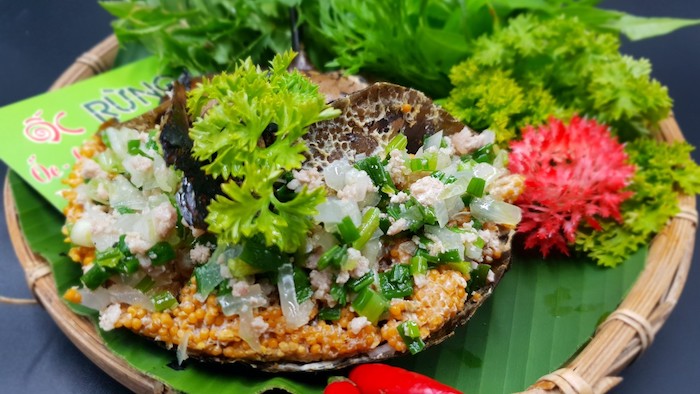 Seahorse crabs
Vermicelli with mantis shrimp with the cornucopia of fresh materials from Quang Ninh sea area, where is considered to be home to a super-delicious mantis shrimp, vermicelli with mantis shrimp is rated as one of the most attractive dishes not to be missed in Halong Bay.
The highlight of this dish is its mantis shrimp which has a strong taste and delicious meat. Vermicelli with mantis shrimp is also cooked with many other materials as sweet cabbage, shrimp, dried onion, green onion, coriander, tomato, chili, broth and so on. That all makes this dish become rich and has an unforgettable taste.
Austriella corrugata
This dishes are quite popular in the Halong Bay restaurant menu as well as Quang Ninh's restaurants. The Austriella corrugata can be cooked into many dishes such as grilled, steamed, stir-fried with noodles or vegetables, etc. These dishes listed above are delicious and famous dishes often served in both Halong restaurants and small stalls. Hence, it is very easy for tourists to find and enjoy them. Hope that this article will be useful for your Halong cruise trip.
Hope that after the post tourists will have more useful information about cuisine in Halong Bay. You don't forget to visit our website to read more necessary information.