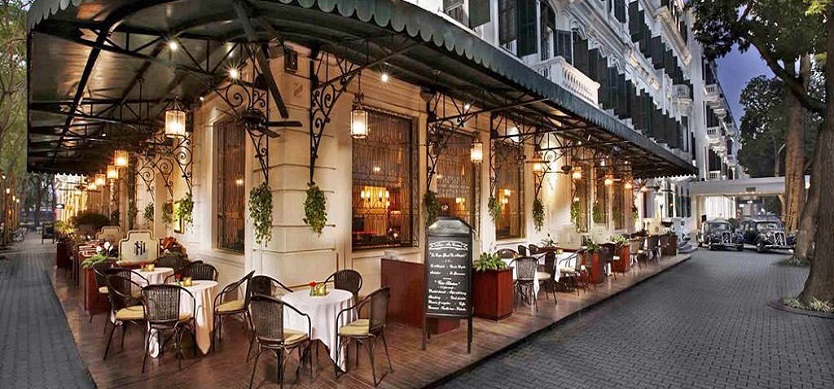 It is not difficult to choose a hotel in Hanoi. In fact, there are various kinds of hotels here ranging from cheap, budget to luxury hotels in Hanoi.
However, not everyone knows the best area to stay in Hanoi that offers the hotels with good quality, a favourable location, and a reasonable price.
Depending on specific needs, you can choose the most suitable hotels when taking Hanoi excursions. Currently, three areas that are most preferred by tourists in Hanoi are Hoan Kiem District, Ba Dinh District, and Tay Ho District.
Hoan Kiem District
If you are keen on the bustling atmosphere, it is recommended to choose the hotels in the center of Hanoi Old Quarter, particularly the area near Dong Xuan Market, Ma May, Hang Ngang and Hang Dao. A common point of the hotels in this area is that they have a lot of floors and provide small rooms.
A wide range of hotels is available near Hoan Kiem Lake. Staying at a hotel of this area is convenient for travelling because they are situated close to famous attractions such as Ho Chi Minh Mausoleum, One Pillar Pagoda, Temple, West Lake and Tran Quoc Pagoda. For the selection of hotels near shopping centres, restaurants and amusement parks, you can refer to hotels on Ly Thuong Kiet, Hang Trong, Hai Ba Trung and Ba Trieu streets.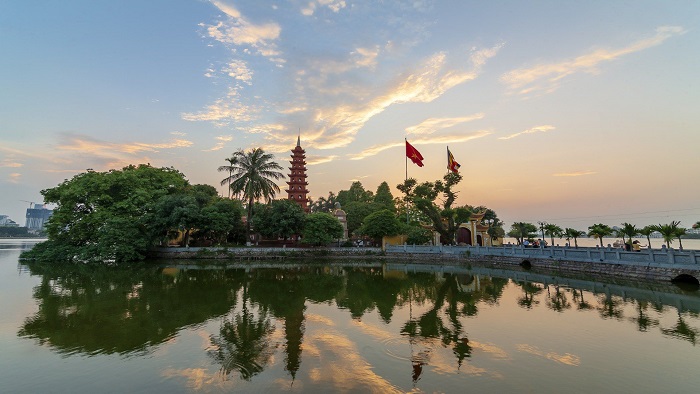 Best Area To Stay In Hanoi
Good and quality hotels in Hoan Kiem District are designed with modern and luxurious facilities and have a beautiful view of the street landscape. In addition, almost all of them achieve international standards. Every hotel includes restaurants, swimming pools and bars. You can comfortably choose from a variety of foods and enjoy massage services.
Ba Dinh District
If renting a hotel in Ba Dinh District, it is quite easy for you to move to top points of interest in Hanoi such as Ho Chi Minh Mausoleum, Ba Dinh Square, Van Mieu Quoc Tu Giam and Imperial Citadel of Thang Long. The hotels here are suited for relaxation. However, the nightlife in this area is not as bustling as the Hanoi Old Quarter.
In Ba Dinh district, there are numerous choices of hotels with different prices, from cheap to luxury hotels. For example, if you want to stay at a hotel with average prices, you can choose Blue Hanoi Inn Hotel or Hanoi L'Heritage Hotel. On the other hand, to enjoy high-quality services, it is suggested to consider Eco-Luxury Hotel Hanoi or Hanoi Legacy Hotel.
Tay Ho District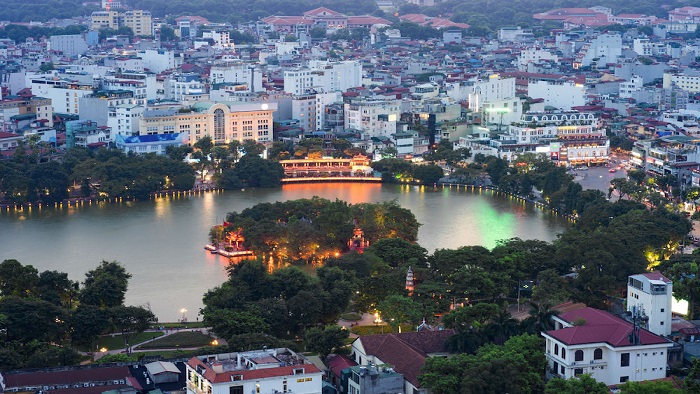 Best Area To Stay In Hanoi
With fresh air, Tay Ho District is home to many beautiful hotels offering relaxation services. Ho Tay (West Lake) is the largest lake in the centre of Hanoi where popular tourist destinations such as Tran Quoc Pagoda, West Lake, Ho Chi Minh Mausoleum, Ba Dinh Square, Dong Xuan Market, Phu Tay Ho, and Thang Long Water Puppet Theater are located.
Luxury hotels in Ho Tay are equipped with modern facilities following international standards. With the wide and quiet space, the rooms here are ideal for those who are fond of leisure travel.
For the hotels with average prices, the rooms are also relatively spacious and provided with full of facilities including wifi, cable TV, safe, air conditioner, refrigerator, mini-bar, restaurant, a bar overlooking the lake. Each room is kept neat and tidy. Besides, a large balcony will give you a view of the romantic scenery of West Lake, busy streets and the Red River.
The choice of accommodation has a great contribution to getting a good holiday. Hopefully, with the information about the best area to stay in Hanoi above, you can choose a place suiting your demand.