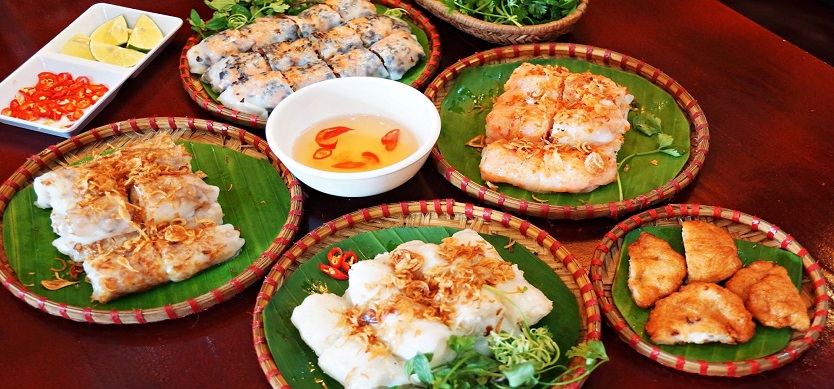 According to a poll conducted by the Telegraph (UK), Hanoi ranks the second position among the top cities having the most attractive cuisine in the world. As the description of this prestigious newspaper, Hanoi has a slow and peaceful pace with the ancient town and tile roof covered by moss. Traveling to this capital city, tourists often cannot ignore discovering the old town and the street food tours in Hanoi.
For those who want to explore the diverse cuisine of Hanoi as well as the delicious street foods in this capital city, note these famous dishes, drinks in Hanoi listed below to plan an unforgettable trip to the city.
1. Typical dishes of the Hanoian
Pho: It is the name associated with Hanoi city and also the beauty, sophistication of Vietnamese culinary culture. The brand names for this dish must be mentioned are Pho Bat Dan, Pho Thin, Pho Co, and so on. The average price of "pho" is from 30,000 to 60,000 VN Dong (about $1,3 to $2,7).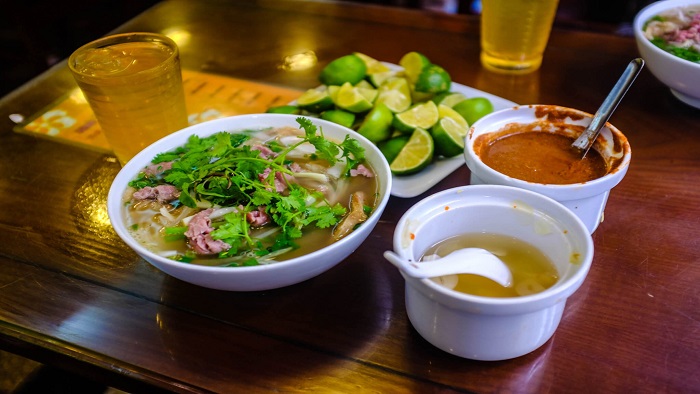 Amazing Street Food Tours In Hanoi
Bun cha: This dish includes three main ingredients: vermicelli, grilled meat, and sauce. The grilled meat is hot, fragrant and very attractive. The sauce also plays an important role in the taste of bun cha and it is considered as the soul of the dish. Bun cha is quite popular in Hanoi so visitors can get easy to find and taste this dish in any street in the city. In addition, the famous addresses to enjoy bun cha that travelers can find are bun cha stalls in Hang Manh and Dong Xuan Market, etc.
Banh cuon: One more dish often included in street food tours in Hanoi is banh cuon. The addresses highly recommended for visitors to taste this very attractive dish are banh cuon Thanh Van (14 Hang Ga Street), Mrs.Hoanh stall (66 To Hien Thanh Street), An Quang stall (Hang Bo Street), 68 Hang Cot Street, 26 Dao Duy Tu Street, etc.
Chao suon in Ly Quoc Su Street: It is a porridge cooked with cooked sparerib and pork. There are four stalls selling this dish in Ly Quoc Su Street.
2. Famous snacks and drinks in Hanoi City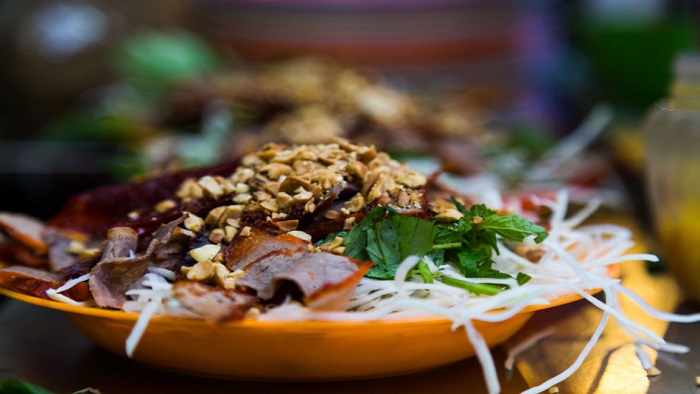 Amazing Street Food Tours In Hanoi
Ice-cream: Trang Tien, Thuy Ta, West Lake, Tran Quoc Toan, Lo Duc Street, etc are favorite addresses for ice-cream that are loved by both local people and foreign tourists. One of the must-do things in Hanoi is eating ice-cream in an ice-cream factory (Trang Tien) or enjoying it while strolling around Hoan Kiem Lake are interesting things to do for those who visit Hanoi.
Banh ran in O Quan Chuong: It is a Vietnamese fried pancake with attractive taste and cheap price.
Egg coffee: The name of this coffee seems to be strange for tourists, especially foreign tourists. Egg coffee in Hanoi attracts both the locals and foreign visitors because of its charming taste of coffee mixed gently with egg yolks and a little sweet cream. Giảng egg coffee shop (39 Nguyen Huu Huan Street), Dinh egg coffee shop,…are famous coffee brands in Hanoi.
Fresh beer in Ta Hien Street: This is quite a famous site for foreign travelers to taste local beer and experience the nightlife of Hanoi's ancient squares.
Moreover, thit xien nuong or nem chua ran (grilled meat on the stick/fried fermented pork roll); Banh My Hanoi (bread with grilled meats and vegetables) and many other tasty street foods are often included in street food tours in Hanoi.
Hope that after the post, tourists will have amazing time in Vietnam as well as a full chance to enjoy all delicious cuisine in the beautiful country. If you need more information, you can contact or visit Vietnam Tour Booking.