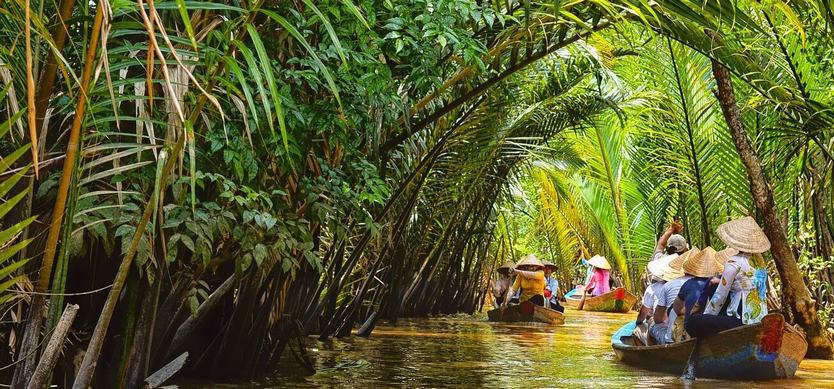 To make a truly meaningful and impressive Mekong Delta tours from Ho Chi Minh City, tourists should pay attention to tourist attractions, means of transportation and luggage.
"The Southwest" (in Mekong Delta, Southern Vietnam) draws the attention of foreign tourists all over the world. It attracts visitors with not only the beauty of nature but the beauty of culture and the hospitable local people living there. Peaceful rural paths, large rice fields, an extensive network of inland waterways and touching folk songs make the Southwest special. That is deeply engraved in tourist's mind.
Must-see places in the Mekong Delta
Each province in the West has its own characteristics that satisfy tourists to take a visit and explore. Traveling the West, visitors should not ignore the following places.
An Giang
This place is famous for many popular tourist sites such as Sam mountain, Cam mountain, and many outstanding festivals.
Bac Lieu
House of Bac Lieu, hundred-year-old longan fruit garden, Uncle Ho temple, and Bac Lieu bird garden are well-known sites in this province.
Floating market in Mekong Delta
Ben Tre
This province is famous for its extensive coconut gardens. Also, many orchards are stretching away to the horizon.
Ca Mau
Ca Mau is the Southern-most province of Vietnam. Wild nature, pristine landscape, and longstanding culture are favorite things in this 300-year-old land. It is considered as one of the most attractive tourist destinations in the Southwest.
Can Tho
This destination is the biggest city of Mekong Delta in Vietnam with a potential economy due to the intertwined river system, extensive orchards, and immense fields.
Dong Thap
Visiting this site, travelers will have the opportunity to enjoy the fresh and cool air of fertile rice fields. Rowing bamboo boats or going canoe on the canal to visit Nguyen Sinh Sac Monument, Go Thap Monument will give travelers memorable experiences.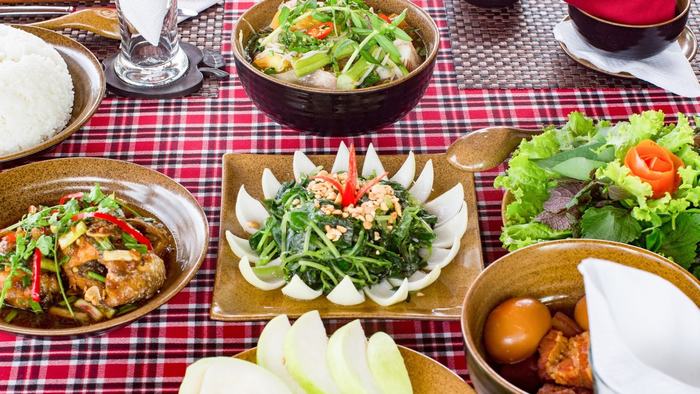 Stunning cuisine of Mekong Delta
Hau Giang
Phung Hiep floating market, Long My ruins are famous sites in this land.
Vinh Long
Traveling this province, visitors can experience sitting on the boat floating on the waterway and visiting green orchards fulling tropical fruits. The tranquility of this land will help tourists escape from busy works and daily worries.
Tien Giang
Thoi Son islet, Cai Be gardens, Cai Be floating market are exciting places to visit in this province.
Long An
It is famous for many historical relics and nearly 100 vestiges of Oc Eo culture such as Binh Ta, Ton Thanh Pagoda.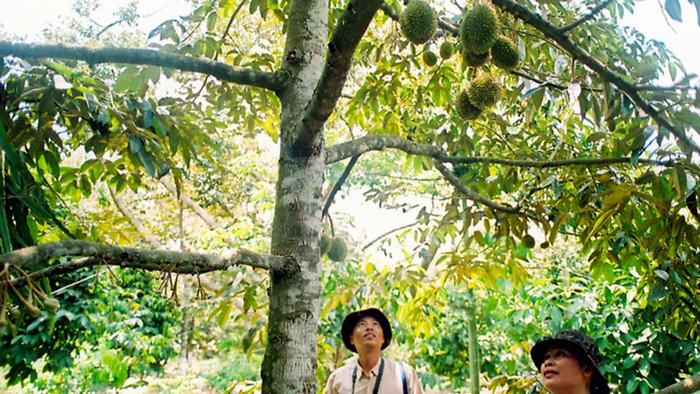 Orchards in Mekong Delta
Luggage for carrying
Taking the visit to the Mekong Delta in Vietnam, visitors should bring light luggage to get comfortable when transferring and to take some fresh fruits or specialties in orchards. The luggage should be as light as possible, and visitors should limit to carry expensive items.
Electronic equipment, such as cameras, cameras, telephones, music players should be covered with nylon to prevent them in case of falling into the water.
There are many ATMs placed in the Mekong Delta so that travelers should carry just enough cash to prevent theft.
It is noted that tourists should carry mosquito repellents when visiting the West because this site has a lot of mosquitoes.
If you are planning a Mekong Delta trip for your upcoming vacation, hope the above tips for Mekong Delta Tours from Ho Chi Minh City is helpful to travelers.