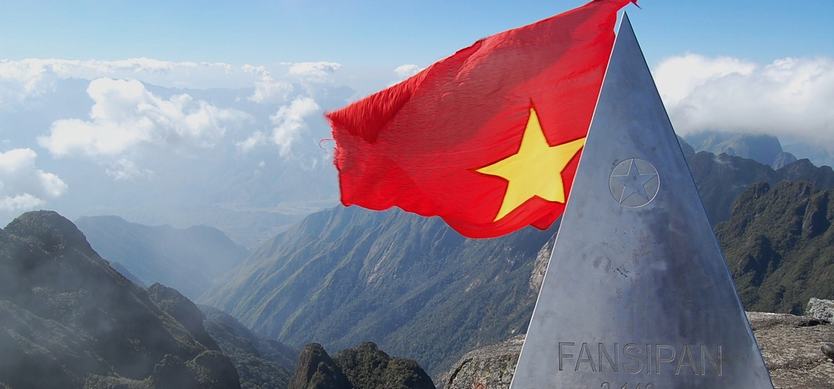 Mount Fansipan is the highest peak in Vietnam, towering above the Hoang Lien Son mountain range in the far north of the country.
The hike will take you through misty bamboo forests and over golden rice terraces, all the way up and above the clouds. If you choose to climb Fansipan, you'll spend time in beautiful Sapa, mingling with diverse hill tribe members and experiencing some truly incredible mountain scenery.
You'll get some fun ridge walks with panoramic views. Plus Fansipan doesn't require any technical skill (no ropes or special equipment, just sturdy hiking boots!), but it still offers a challenge to those who want one, especially on the more challenging routes.
Three route options to conquer Fansipan
Fansipan has three different route options depending on your skill level and how much time you have. It's recommended that you go with a guide– they can show you where to go, help carry supplies, and offer cultural insights that would otherwise be missed. Most hikes take a few days, so be prepared for some camping. The entire experience will take you on an adventure that you won't want to miss!
The easiest route
From Tram Ton, starting at 1900 meters, it will take you about 10 hours of hiking to make it to the peak. It's a gradual climb and can often be done in one day.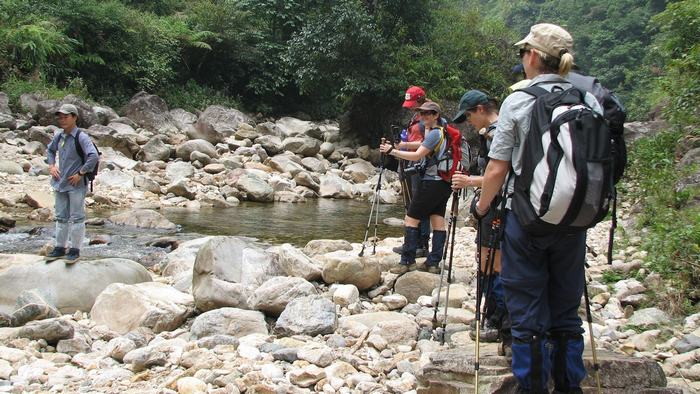 Conquer Fansipan Peak
The moderate route
From San Sa Ho – Sin Chai. You start at 1260 meters and will hike about 12 hours total to reach the top. This climb will have you doing some scrambling around obstacles, so it's a little more challenging.
The difficult route
From Cat Cat Village. This route is the most challenging option. You begin at only 1245 meters and hike approximately 18 hours total to the summit. This route will challenge you the most, but it will also take you on the best adventure. It's got the most impressive views and mixes it up with some fun obstacles to climb over or around.
So you've decided you want to make the trek, that's awesome!
Some notes when conquering Fansipan Peak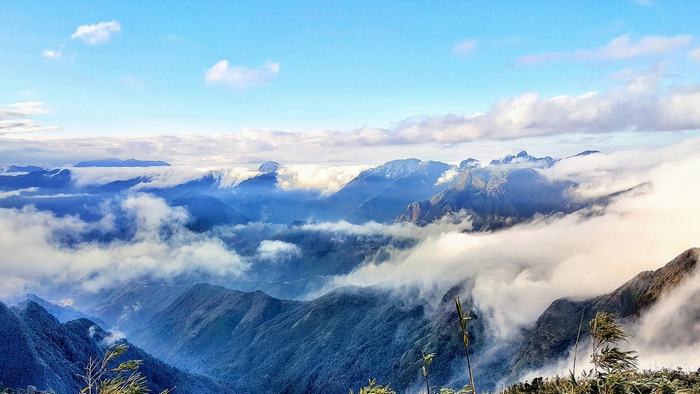 The view of Fansipan Peak
Here are some things to keep in mind to make sure you stay safe and have the best experience possible:
The best months to go are from April to May, because it's warm and the flowers are in bloom, but anytime from October to May is usually okay as well— just be prepared for colder temperatures and quite a bit of fog during the winter months.
Avoid hiking from June to September. It's the rainy season and makes for very wet, difficult climbing (plus it's outright dangerous!).
Bring warm clothes, temperatures up in the mountains can get very cold, especially at night during the winter months– but it can even get cold during the summer, so be prepared. You'll also want a raincoat so you can keep dry!
The hike can be wet and slippery, so you'll want some sturdy, non-slip boots. Rubber boots are a good idea because they'll keep your feet dry.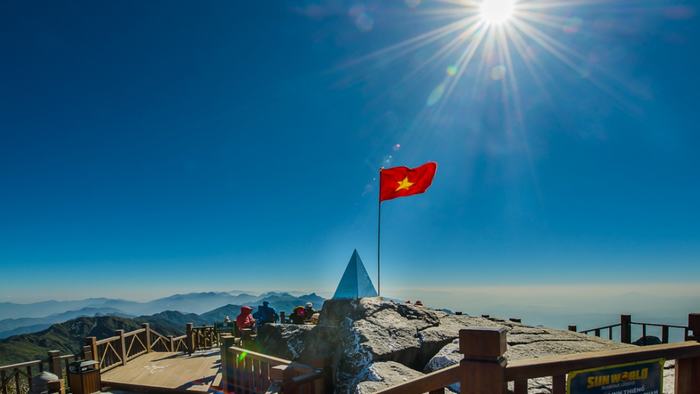 Conquer Fansipan Peak
We do recommend that you go with a guide. However, if you choose to go with just friends, then keep these safety tips in mind:
Make sure you bring plenty of water and dry food, matches and a flashlight.
Avoid grassy areas or reaching under rocks, as that is where some snakes and scorpions tend to make their home. However, although caution is a good idea, don't stress about it! It is not a big problem with Fansipan; we just like people to be careful.
GPS devices should be able to get a signal for most of the hike, so use one to keep your bearings (plus there are apps that will track your route so that you can show people later!).
If you do get lost:
Find an area that is flat and high up to make a signal fire. Fresh wood will make the most smoke.
Follow along streams to reach water sources (which is where you can be sure to find people!).
Any type of serious hike does take some preparation and caution, but with a little care you can have a truly memorable experience climbing to the 'Roof of Indochina.' Take a guide, make some memories, and see a new piece of the world!
Let's take Fansipan Peak 2D1N and explore right now!
For more information about Vietnam Package Tours, you can visit our website. If you have any questions, feel free to contact us. Have a nice trip!