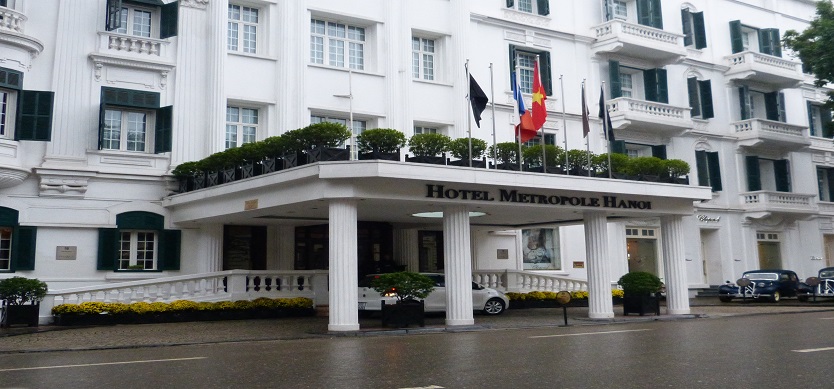 As the first five-star hotel in Hanoi with a history of more than one century, the Sofitel Legend Metropole Hanoi brings a classic French style. After that, we will introduce you to things to know about Sofitel Legend Metropole Hanoi.
Sofitel Metropole is famous for its delicious food, good facilities, elegant style, and professional services. In particular, Sofitel Legend Metropole is featured by the luxurious facade with the system of top-ranking stores with the most famous brands around the world including Hermes, Louis Vuitton, Cartier, Ferragamo and Jaeger Le Coultre.
Located in the center of Hanoi and near the famous sights of Hanoi such as Hoan Kiem Lake, Opera House, Hanoi Old Quarter and the Administrative Center of the city, Sofitel Legend Metropole Hanoi is considered the first choice of businessmen and tourists.
Titles
- "Best Hotel in Hanoi" by Asia Money magazine
- "Best hotels throughout the world" by Condé Nast Travelers magazine
- "One of the Best Hotels in the World" by the Travel & Leisure magazine
- "Best hotel for business in Hanoi" by Business Traveler Asia Pacific magazine
- "Best hotel in Hanoi" by Hong Kong Destin Asian magazine
- "The most luxurious hotel in Hanoi" by the Vietnam Economic Times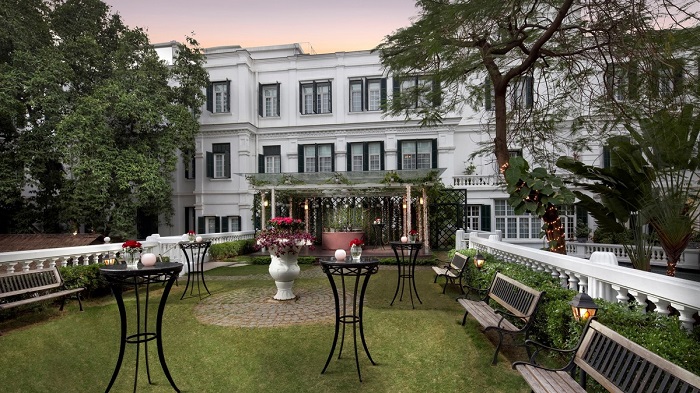 Sofitel Legend Metropole Hanoi
Hotel rooms
The hotel has 364 deluxe rooms that are designed in elegant style and fully equipped with international standard facilities such as air-conditioner, TV, IDD telephone, wifi, voice mail, safe, mini-bar, music, fire alarm, bathtub, shower, shaver, hairdryer, tea and coffee making tools.
The hotel is divided into two areas: the Old Metropole area and the New Opera area with room types:
The Old Metropole area consists of Classic, Classic Deluxe, Classic Suite. The New Opera area includes Premium, Opera Suite, and Deluxe Suite.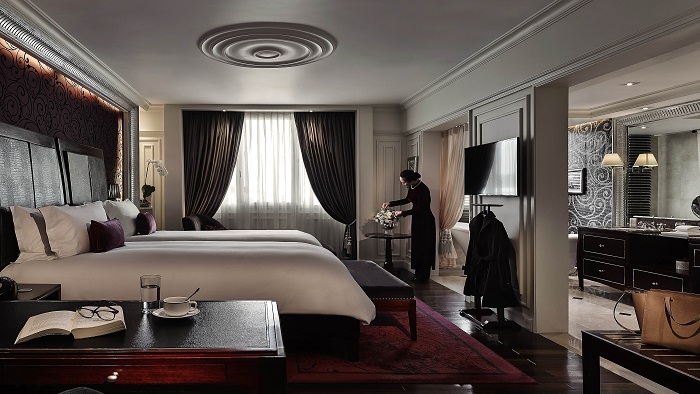 Classic Deluxe room in Sofitel Legend Metropole Hanoi
Restaurants and bars
Le Beaulieu French Restaurant
Le Beaulieu French brings classic space with sophisticated design. You can enjoy the excellent French dishes at the restaurant. Le Beaulieu French has long been famous for brunch on every Sunday and dinner parties.
Spices Garden Vietnamese Restaurant
Spices Garden Vietnamese is beautifully decorated and specializes in serving traditional and modern Vietnamese cuisine. From the restaurant, you can admire the beautiful garden of the hotel.
Angelina - Italian Steak House Restaurant
Angelina - Italian Steak House is a combination of restaurant and bar with the Italian unique flavors and the famous wine types of various countries around the world.
Poolside Bamboo Bar
The furniture carries the antique taste through rattan chairs and ceiling fans. Besides, you can also enjoy snacks and cocktails here.
Le Club Bar
At Le Club Bar, you will not only enjoy the drinks and cocktails but also watch the garden of the hotel. You can also choose to enjoy breakfast, lunch, afternoon tea, chocolate buffet and dinner in the wonderful space of live music.
Met' Pub
Met' Pub is a much loved by live music, good food and a wide range of beers, strong wine, and whiskey for you to choose from.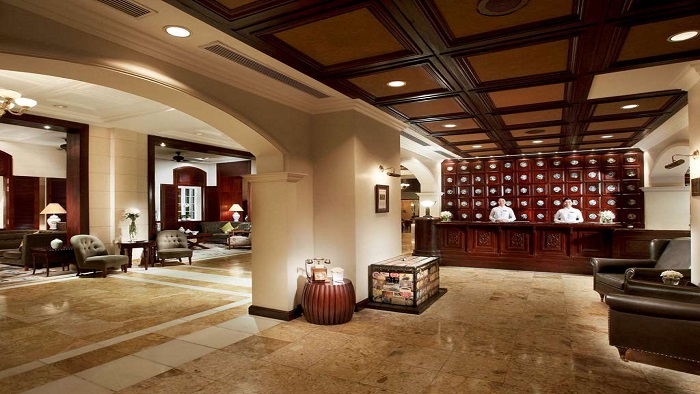 Sofitel Legend Metropole Hanoi
Other facilities and services
Clark Hatch Health Center
This Center is equipped with gym machines and equipment. At the center, you also get support from fitness and massage experts. In addition, the center has a sauna, a jacuzzi, and an outdoor swimming pool.
Business Center
Business Center is located between Metropole Hotel and Opera House. Here there are full of services like the photocopy, fax, scan, telephone, broadband internet, and conference rooms. The facilities meet all the needs of various types of conferences and parties.
There are many rooms for conference and workshops with different sizes and the capacity of 6-250 seats.
In general, Sofitel Legend Metropole is a good hotel to stay in Hanoi. Hope that the information above about Sofitel Legend Metropole Hanoi will be useful for you. Let's visit Vietnam via Hanoi tour booking. Thank you!