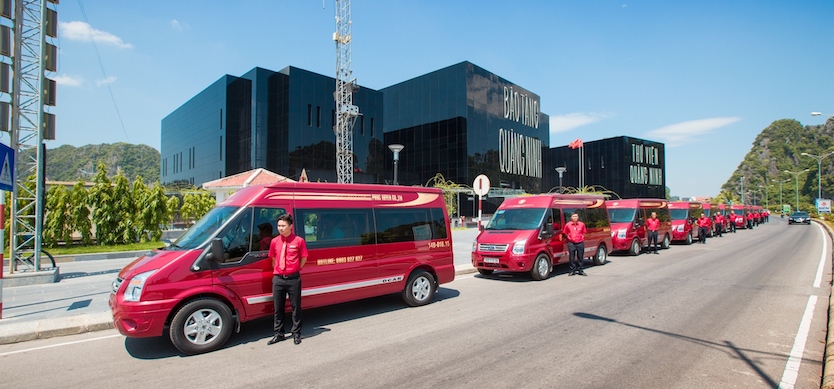 Halong Bay is located in the Gulf of Tonkin in Vietnam, so it's very convenient for tourists to get here from Hanoi with these best ways. Let's explore with us.
Halong Bay of Quang Ninh province with thousands of spectacular islands and breathtaking landscapes is one of the highlights attracting a large number of both domestic and foreign tourists annually.
"How to transfer from Hanoi to Halong Bay" is always an issue that is not too easy to solve. Thanks to technology development, there are many choices to meet the needs of all travelers to transferring between two famous tourist destinations.
Coach
It is considered as the cheapest way to transfer from Hanoi to Halong Bay. Traveling by coach is a unique way to experience the local culture. However, it may be difficult to fully understand the customs of Vietnamese passenger cars or exchanging information with the drivers for foreigners.
Besides, in the case passenger cars crash or miss the station, foreign travelers will probably get lost the way. Therefore, it is not the ideal choice for travelers who take a Halong one-day cruise trip. Moreover, the journey will not be complete because travelers must depart early. For those who have time to explore more about the local culture, there is nothing to hesitate to choose this vehicle.
Tourist bus
Traveling by tourist bus, travelers will get more convenient than going by coach. The travel company owns these buses. Shuttle car is usually accompanied by tours for passengers to help tourists travel easily and save time by choosing the mean of transport.
As the coach, tourist bus takes 4 hours to transfer from Hanoi to Halong bay, therefore, if visitors take the one-day trip in Halong, make sure that the journey begins before 8 AM to ensure tourists have enough time to admire Halong Bay before returning to Hanoi. If the trip lasts for a few days, a tourist bus is a saving and flexible option.
Seaplane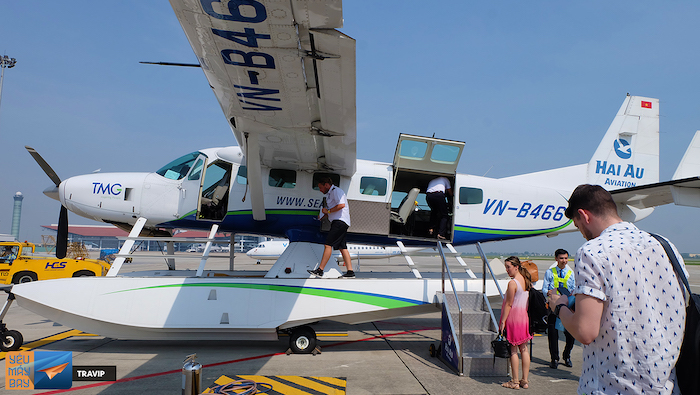 Hai Au seaplane
The seaplane is a luxury airborne vehicle with a reasonable price that is worth to try. It just takes 45 minutes to travel from Hanoi to Halong bay by this vehicle. That saves more time than other ways so travelers can enjoy more beautiful Halong landscapes.
Although it is more expensive than the other means, the cost of the seaplane is much lower than the helicopter and not too high when compared to renting a car.
Motorbike
It is not an option for most travelers, but for those who prefer thrills, motorcycles can be a good option for them. However, just like a car or a coach, traveling from Hanoi to Halong by motorbike will take about four hours and can leave travelers feeling tired throughout the journey.
For amateur drivers, traveling by motorcycle on this route is very dangerous. Therefore, make sure you understand the way and be ready to cope with the risks before departure.
Top attractions of Halong Bay
Titop island
Titop island is located about 7-8 kilometers to Bai Chay Port in the Southeast. Titop has a crescent-shaped sandy beach. The name of the island is to commemorate the occasion that on November 22, 1962, President Ho Chi Minh and an astronaut of the Soviet Union Gherman Titov visited the island. Titop island with the white and flat sandy beach is indeed an attraction in Halong.
Heaven cave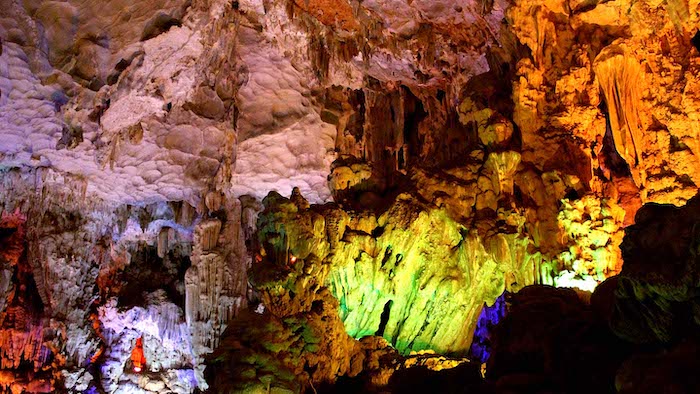 Heaven cave
Heaven cave is located near Dau Go cave at the height of 25 meters that is the most beautiful cave in Halong Bay. Heaven cave with a width of 10.000 square meters has a complex structure including many levels with the ceiling and the walls which are very high. Especially at anywhere in the Heaven cave, we can see many stalactites and stalagmites with strange shapes.
Three Peaches beach
Three Peaches is one of the most famous beaches in Halong Bay, about 22 kilometers to Bai Chay Port in the Southeast, near Cat Ba island. It is a beautiful beach with wild nature as a picture. The reason for its name is because three white sandy beaches are shaping an arch, embracing the mountains with peach shape.
Monkey island
Monkey island is 1 kilometer far from Cat Ba town, with a feature of the monkeys living in the island. They are very naughty and friendly who usually eat and play with travelers. Also, the island has a resort along the white sand and green beach, suitable for playing and relaxing.
Cat Ba National Park
Cat Ba National Park is situated in Cat Ba island, used to be recognized by UNESCO as the world nature reserve with diverse flora and fauna including many rare creations. It is an exciting and useful trip for travelers, especially those who like to explore and experience nature.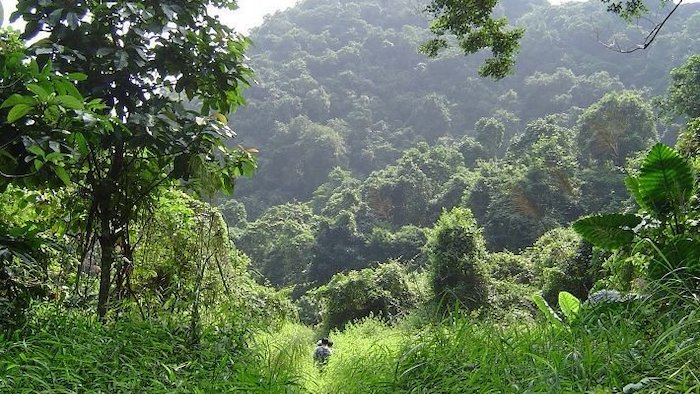 Trekking in Cat Ba National Park
Luon cave
Luon cave is located on Bo Hon island, about 14 kilometers to the south of Bai Chay Port. In Luon cave, there are many upstanding cliffs with clear blue water as a mirror all year round. At the edge of the water, there is an arched gate opening at the foot of the island which is Luon cave. In here, tourists can take part in kayaking which is very interesting and also relaxing.
In Vietnam, Hanoi - Halong is one of the most popular tourist routes because Hanoi is the only prominent tourist place located near Halong Bay. Therefore, it is convenient for travelers to allocate time and balance the itinerary most appropriately. If you need further information about Vietnam tour, don't hesitate to let us know. Please like and share the guides if they are useful for you. Thank you.