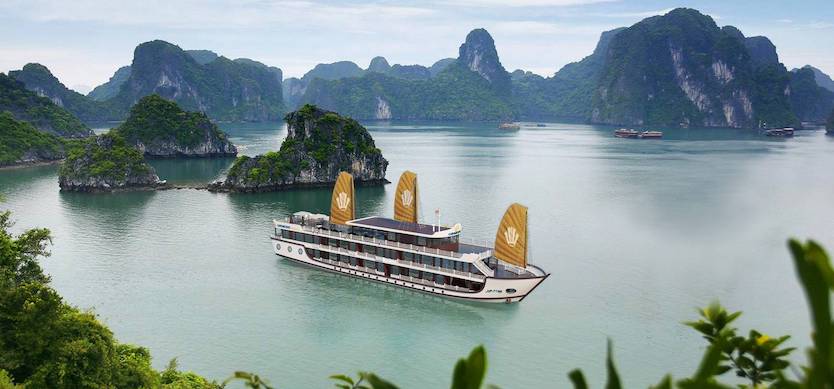 Legend says a descending dragon created the majestic limestone karsts that rise from the emerald waters of Halong Bay. With charming beauty and countless amazing cave, Halong Bay is worthy of a famous destination for both domestic and foreign tourists. Floating on a peaceful cruise is a perfect way to witness entirely the breathtaking scenes of nature in Halong Bay.
There are literally hundreds of boats floating around Halong Bay every day, meeting all interests and budgets. But to find the one that caters to you, you need to know what you are looking for. That means:
How to travel
For tourists in Hanoi and around, the open bus is the top choice. These buses are available in Luong Yen bus station or My Dinh bus station with a price of $10/pax. For those in Ho Chi Minh, Hue, other provinces, you will fly to Hanoi and then take a bus to Halong.
However, if this is the first time you travel to Vietnam, it is not easy to take a local bus as well as choose a suitable Halong cruise. So, I recommend booking a tour with a reliable travel agent such as Halong Bay Tours, Vietnam Tour Booking,... If anything happens, you are able to deal with them.
Book a suitable cruise tour
There are hundreds of Halong Cruises in all category, you are recommended to choose a good one, from the mid-range cruise, to ensure the safety, comfort, and pleasure. However, a budget cruise is not a bad selection if you know how to book from a reliable company.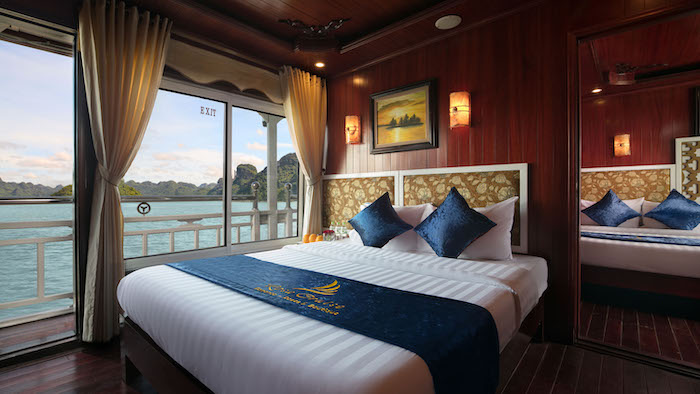 Staying in a Halong cruise
Of course, It is different in everyone's budget. A good price shouldn't be cheap but reasonable for the quality. Before giving a choice you need to plan when to go, how long your tour lasts, and how many people. Besides, It is so important to see what a company's reputation is before booking with them. The cheap cruises may not be a good one. The small one but with a good reputation can be a suitable choice for you. Let's choose the ones suitable for your budget.
Among hundreds of cruises on Halong Bay, some are owned by big companies, some are run by private families, others invested by the affluent in other areas. The cruises run by big and reliable companies are more recommended for you. They have more experience, more professional in providing cruising service. In addition, please read carefully the inclusion and not included in the tour price of Halong bay tours.
Budget Cruise: you can get good ones such as Glory Cruise, Imperial Classic, Phoenix Cruise, Swan Cruise, Majestic Cruise, Alova Gold cruise...
Mid-range Cruise: If you prefer deluxe cruises, we can recommend Paloma Cruise, Pelican Cruise, Gray Line Halong, Glory Legend Cruise, Dragon Pearl Junk, Lavender cruise...
Luxury Cruise: If you are looking for a luxury cruise, our recommendation includes Au Co cruise, Signature Cruise, Royal Wing, Bhaya, Jasmine Cruise, Indochina Sails, Paradise Cruise, Aphrodite Cruise ...
Memorable experience only on Halong Cruises
Halong private cruises are considered as floating hotels with comfortable and convenient cabins on the sea. Overnight on these cruises, gently breaking waves will put you to sleep smoothly.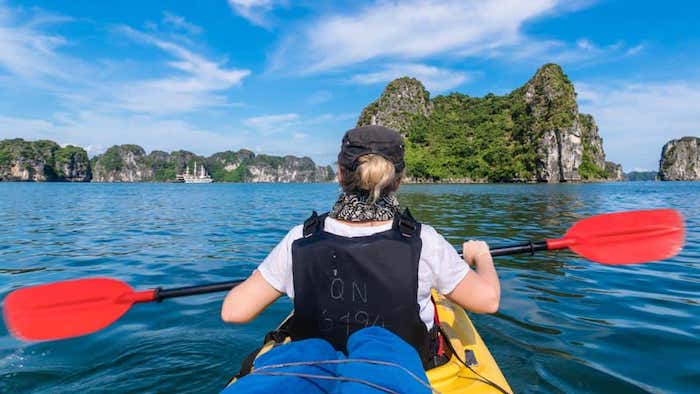 Kayaking on a Halong Bay cruise tour
Here are things to do for responsible travel in Halong Bay:
Take a kayak or a sampan to visit the fishing village
Collect rubbish and wastes in Halong
Offer life vests to the local fishermen
Re-plant mangroves forests in Halong Bay
Get a fishing trip with locals
Explore colorful and amazing caves with stalactites
Repaint and build floating schools for local children
Enjoy delicious seafood as well as Western - Asian cuisines while cruising magnificent karsts